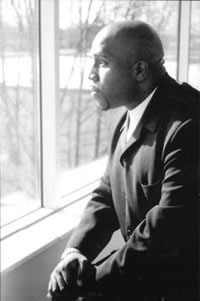 Anthony "Antster" Howard
June 16, 1969 - July 30, 2007
Anthony Howard's Bio from DetroitGospel.com
Detroit native, Anthony Howard, a graduate of Full Sail Real World Education-Film School of Winter Park, FL, has taken his dreams and is making them a reality with fervor and tenacity. Notably, Anthony's film, "Radio Room," was being considered for the Russell Simmons/Stan Lathan Def Filmmakers series. Other production/directorial credits include several television commercials: "HereWe.com," "Reading is Fundamental" – a public service announcement, and a Florida television-magazine show called "Plug-In." He produced a show, "Battle of the Poets," at one of downtown Detroit's premiere theatres, the Masonic Temple, with "COCO" the comedienne as the Host who said, "This gentleman has brought integrity to the industry." Anthony would love to produce two of several projects he has in the works, one being a gospel soap opera called "Citizens of Heaven" and a screenplay "To Gain The Whole World," which he has been shopping to TV-ONE cable network and BET. His extensive meetings in Maryland with the CEO and VP of Marketing, respectively, were very encouraging.
Also a freelance writer for "Gospel Artists Magazine," Gospelzone.com and Str8up.com, Mr. Howard has been extending his experiences and insight on religion, relationships, entertainment media or any other thought-provoking topics, and not just here and nationally but internationally.
---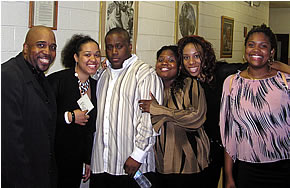 Anthony Howard (far left) with local gospel group, Familiar Praise
Although not included in his DetroitGospel.com bio, Anthony was the CEO of his own production company, "Detroit's Talented Extravaganza." At the time of his death Anthony was directing the gospel stage play, "Unequally Yoked," which is scheduled to open August 25, 2007. For more information about "Unequally Yoked," produced by 2 the Moon Productions, please visit www.gospelplay.net.
Anthony was also managing gospel hip hop artist, The Convictor, and had managed other local gospel groups including Familiar Praise.
---
Because Anthony was so young, active, and involved in so many projects, many did not know that he suffered from heart disease. While we have not received definitive information on the cause of death, Anthony had a pacemaker and had experienced several episodes in which his pacemaker was called on to get his heart beating normally. It is our understanding that at the time of his death, the pacemaker was no longer able to do so.