With Worship Leader Min. Orlando Wright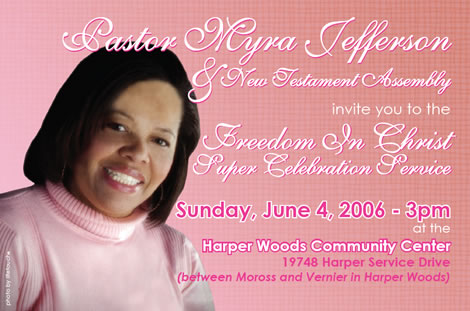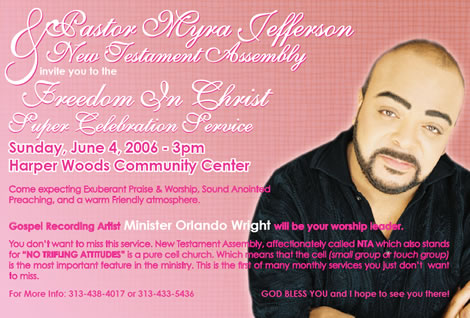 THIS IS THE FIRST OF MANY MONTHLY SERVICES
YOU JUST DON'T WANT TO MISS!

Pastor Myra Jefferson and New Testament Assembly invite you to the
FREEDOM IN CHRIST SUPER CELEBRATION SERVICE

Sunday, June 4, 2006, 3PM
at the
Harper Woods Community Center
19748 Harper Service Drive (between Moross and Vernier in Harper Woods)
For More Info Call :
313.438.4017
or
313.433.5436
Gospel Recording Artist MINISTER ORLANDO WRIGHT will be your worship leader.
Come expecting exuberant praise and worship, sound anointed preaching, and a warm friendly atmosphere.

You don't want to miss this service. New Testament Assembly, affectionately called NTA which also stands for "NEVER TURNING AROUND," is a pure cell church. Which means that the cell (small group or touch group) is the most important feature in the ministry.