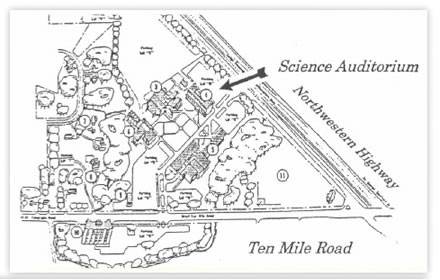 Tree of Life Bible Fellowship meets in the Science Building auditorium (S100), on the campus of Lawrence Technological University in Southfield, Michigan.
Directions
Lawrence Technological University is located at the corner of 10 Mile Road and Northwestern Highway (U.S. 10) in Southfield, Michigan (a suburb of Detroit).
The address is:
21000 West 10 Mile Road
Southfield, Michigan 48075
The Science Building is on the east side of the campus. The entrance to the building is facing the southbound service drive of Northwestern Highway. The Auditorium (S100) is found immediately upon entrance to the Science Bldg.
Enter on Northwestern and Use Parking Lot D.
Visit Tree of Life Bible Fellowship Church on the web at
www.GoodFruit.org