Urban Way Interview with Carriers of The Cross
Urban Way Interview with Carriers of The Cross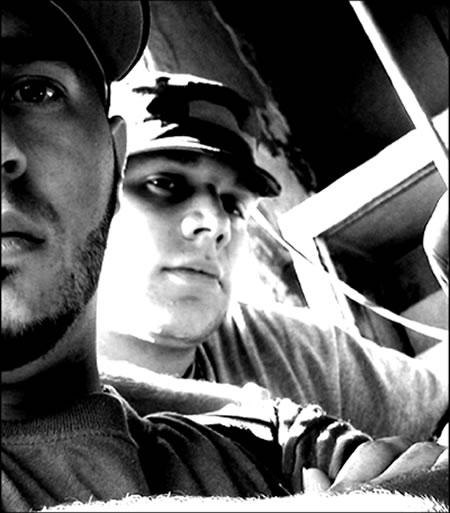 "Anyone who does not take his cross and follow me is not worthy of me."
-Matthew 10:38 "If God is so real, then why isn't He in hip-hop?" Years ago, that was a question that stumped Eddie "Substance" Cortes. Now, it's no longer the puzzle it once was. Substance and his partner Jeremiah "Prophesyer" Smaha form the gospel rap duo known as the Carriers of the Cross, and with production by Remy "Remyx" Basuri, they're exhibiting God's power through rap and proving that there is a certain hunger for God's truth that holy hip-hop is perfect for satisfying. In August, the guys released their current project, "Against the Grain." This time around, the guys were blessed to procure national distribution. However, it's clear what their focus is; for them, the sales will establish them in the industry to continue the work they do, but the souls are their biggest reward. That's easy to tell considering that the Carriers are more than a rap duo, but a multi-faceted ministry that seeks the well being of their physical and spiritual communities. Each year, they host "2 Restore", an event where they bring churches together to bless their community through music, charity, and the love of Christ. I had the opportunity of sitting down and talking with Substance. He's a humble guy with deep rooted convictions, and while speaking with him, it was obvious to me that his experiences are what have emboldened him with a profile fit for being "against the grain."
Conway: How did you come to know Christ?
Eddie:
I didn't really have a relationship with Christ or go to church when I was younger. I met this pastor who challenged me and presented me to the God that's beyond the walls of the church, and that's how I started my relationship with Christ. I experienced Him in missions trips that I attended as a teenager; we did things out of the box to present the word of God to people that didn't know Him. That really touched me and influenced me in my walk with Christ. I changed my life and got rid of some old friends. Then I went to an institution where I met a kid who belonged to the Nation of Gods and Earths and he introduced me to his mathematics and supreme alphabet and all that stuff, and it intrigued me, so I explored what he was talking about, and I was like, "Dude, you're crazy!" They believe they're gods, and it was mind boggling, so I took what he showed me and countered that with the Bible. This went on for months. One day after class, we were walking to my car and he says, "Eddie, you made a great argument today, but if God is so real, why isn't He in hip-hop?" I didn't know what to say. I went home and I wrote my first rap song.
Conway: Was this your first experience with rap in general, or had you already been involved with it?
Eddie:
I was a poet. I enjoyed listening to rap, but it wasn't something that interested me until that point. [In one service], my pastor challenged us to be proactive in reaching the community and our peers, and he presented us with Matthew 10:38, and that's where we got the name Carriers of the Cross.
Conway: How did people react to your ministry at first compared to how they're reacting now?
Eddie:
[When we first started], we were invited to the college we were from to perform. By the grace of God, we pulled off the set and we were actually greeted with a standing ovation, which was kind of hot. Now, we're more mature musically and biblically, and we can tailor our music and approach more [towards] presenting the gospel as opposed to just running on pure zeal. Our approach is more relational now, and we use the music to create that. We're blunt in our music; we're straight up gospel. That scares some folks, too, but that's our approach now.
Conway: You guys won a holy hip-hop award for your ministry. Considering how the ministry started and all the work you've put into it, how did that feel for you?
Eddie:
We were excited. It feels good to receive an encouragement here and there. That definitely was an encouragement for us. We're working hard not only to create quality music, but to present the gospel of Christ and bring ministry. We were honored and humbled to even receive that.
Conway: How else have you been rewarded in your work?
Eddie:
Just hearing the testimonies from kids. Whenever we have the privilege of receiving an e-mail or a My Space message from someone who heard our music, it's rewarding to see how God is working through our music. For instance, we were at Rap Fest, and right before we went on to do our set, a young lady approached me and told me that her uncle passed away, and right before he passed away he received Christ because he was listening to our last CD. There were two songs in particular that really spoke to him: "You Never Told Me" and "In For Life." Those two songs really touched him, and he played them over and over until he passed. We don't credit those types of messages to the music because the quality of the music didn't speak to his heart. It was God through us.
Conway: When it comes to the criticisms of gospel rap, how do you respond?
Eddie:
We try to be as Christ-like as possible. We respond directly, but also humbly with respect. This is something that God gave us, and we have to be able to defend it, too. We not only do hip-hop on stage, we also founded "2 Restore", which is a community outreach that we do every year. There were two purposes behind it: One, to give back and reach the community for Christ, and two, to unite the church so we can collectively try to communicate the gospel to the community we live in. I was invited to attend a monthly pastor's meeting where all the pastors in [my] city got together. I went and spoke about my [ideas], and they spoke to me harshly. They didn't take it seriously because I was young; hip-hop was a tactic they hadn't heard of. We decided to counter that in two ways. I went home and prepared a better presentation and we took action; we didn't let the lack of enthusiasm discourage us from going on and actually doing the community outreach. When we first started, we only had one or two churches on board. During the last few years, we've had up to twelve helping. We educated people through our presentations and showed them that it was scripturally supported and that it's a tool that you can use to reach today's generation.
Conway: What does this project mean to you guys?
Eddie:
We titled this album "Against the Grain" because we're seeing a lot of compromise, not only as artists in the hip-hop industry, but as Christians. We want to say that we're standing against the grain of the trends of society and the things that society deems okay but that the Bible says is wrong, not that we're perfect, but our approach is that everything we do, Christ is the focus.
Conway: What are your plans for this album?
Eddie:
Of course, as artists from a business standpoint, we want it to do well; we hope it breaks ground, impacts people in the industry, and furthers our career. But we know what our mission is. Our mission is to reach somebody, and if this album reaches one person, then I feel comfortable from a ministry standpoint knowing that I did what God had me do. Learn more about the Carriers of the Cross at http://www.carriersofthecross.com and www.myspace.com/carriers. You can purchase "Against the Grain" at http://www.amazon.com.
>>CLICK HERE to visit Carriers of The Cross website
Spread The Word