How Sweet the Sound is Back! REGISTRATION ENDS JUNE 30th
http://www.detroitgospel.com/dgcontent/articles/1656/1/How-Sweet-the-Sound-is-Back-REGISTRATION-ENDS-JUNE-30th/Page1.html
By Press Release
Published on 04/30/2012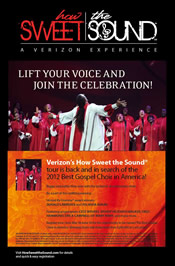 Verizon's How Sweet the Sound tour is back and in search of the 2012 Best Gospel Choir in America! Bigger and better than ever with the inclusion of community choirs. Be a part of this uplifting evening...Hosted by Grammy award winners DONALD LAWRENCE and YOLANDA ADAMS. Featuring gospel greats CECE WINANS, BISHOP HEZEKIAH WALKER, FRED HAMMOND, ERICA CAMPBELL of MARY MARY, and many more...Register you choir May 18 - June 30 for the opportunity to be named The Best Gospel Choir in America. Winning choirs will share more than $200,000 in cash prizes! Visit:
www.HowSweetTheSound.com
for details and quick and easy registration.
---