JUL 27-29: Eastside Community Praisefest @ Greater Christ Baptist...Family Fun for Everyone!
http://www.detroitgospel.com/dgcontent/articles/1697/1/JUL-27-29-Eastside-Community-Praisefest--Greater-Christ-BaptistFamily-Fun-for-Everyone/Page1.html
By Detroit Gospel.com
Published on 06/30/2012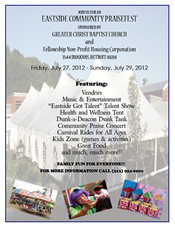 Join Dr. James C. Perkins & The Greater Christ Baptist Church family for an Eastside Community Praisefest, Fri, Jul 27 - Sun, Jul 29, 2012. Featuring: WJLB's CoCo, Vendors, Music & Entertainment, "Eastside Got Talent" Talent Show, Health and Wellness Tent, Dunk-a-Deacon Dunk Tank, Community Praise Concert, Carnival Rides for all ages, Kids Zone (games & activities), Great Food, and much more! Wear your summer white for Sunday morning worship. Family Fun for Everyone! For more information call 313.924.6900. Sponsored by: Greater Christ Baptist Church and Fellowship Non-Profit Housing Corporation, 3544 Iroquois, Detroit, MI 48214.
---