"Front Row Live" with Michael W. Smith and The Clark Sisters
"Front Row Live" with Michael W. Smith and The Clark Sisters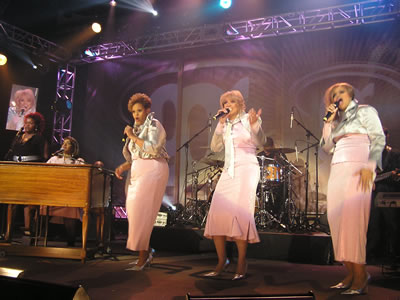 On a warm sunny day in February, I had the opportunity to watch two of gospel music's top artists record a live TV taping for the Gospel Music Channel's "Front Row Live." Held at W274 in Franklin, Tennessee, the first recording of "Front Row Live" featured top Christian artist, Michael W. Smith. The "Smitty" band featuring, Michael Olson, Crystal Black and Jim Daniger gave a rousing performance including selections from various recordings over Michael W. Smith legendary career of 19 recordings. Highlights included "Stand," "Above All," "This Is Your Time," "Open Arms," "There She Stands," and the classic "Friends." I have to admit this was my first time seeing Michael W. Smith live. His ability to create an atmosphere of worship and draw those in attendance into the presence of God made me understand why he's is one of the top Christian artists. Following a great lunch of chicken breast with portobello mushroom sauce, green beans, salads with apples, sweet tea and chocolate cake with cherries, "The Girls" from Detroit took the stage. Opening the first half of the recording in teal and burgundy combinations The Clark Sisters had the crowd singing along with the track "Living This Kind Of Life" from the new cd "One Last Time." In rare form The Clark Sisters made us forget that we had been standing for over an hour waiting for them to take the stage for their performance. Karen reminded us that we are "Blessed and Highly Favored," Twinkie encouraged us to "Pray For The USA," Jacky told us "God Understands," and Dorinda gave us hope as she told us about "I'm Looking To Get There." After a brief intermission, The Sisters did an outfit change into pink ensembles with grey accessories (Jacky had the audience clap for the makeup, and hair people who made them look beautiful). The 2nd half was filled with great music including the Donald Lawrence composition "Instrument of Praise" and the classic "You Brought The Sunshine." I have been a Clark Sisters fan for over 30 years and every time I see them I am still amazed at how well they perform and how much fun they have singing together. It is so good to have them together "One Last Time." The Clark Sisters new recording "One Last Time" will be in stores April 10, 2007 and the DVD will be released in June 2007. Check the Gospel Music Channel for the scheduling of "Front Row Live" featuring Michael W. Smith and The Clark Sisters.
Click here to view exclusive photos from the live recording
>>CLICK HERE For More...
Spread The Word