Published 10/4/2011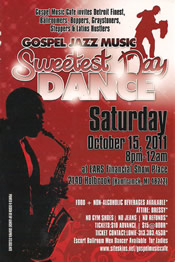 Enter for your chance to win a pair of tickets
to
Gospel Jazz Music Sweetest Day Dance
on Saturday, Oct. 15th
Published 08/22/2009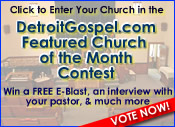 Would you like your church to be featured on DetroitGospel.com? Vote for your church in our "Featured Church of the Month" Contest. All you have to do is submit your church's name and if your church receives the most votes, your church will win one free e-blast, an interview with your pastor spotlighted on the home page of DetroitGospel.com, a permanent link to your church's website, and 10% off all future e-blasts.
CLICK HERE to vote now!
Winter Warming Center for the Homeless
Published 01/14/2009



Providing a warm and safe place for homeless men and women to sleep overnight during the winter months. December 1, 2008 through March 31, 2009. Location: First Baptist World Changers International Ministries, 22575 West 8 Mile Road (corner of Berg Road), Detroit, MI 48219 (located west of Lahser, east of Telegraph). *Hours of Operation: Nightly 9:00 p.m. to 7:00 a.m. Doors are locked at 11:00 p.m. each night. Guests will be admitted after 11:00 p.m. only if escorted by police. *The Warming Center may open earlier than 9:00 p.m. in case of extreme & severe weather conditions. For additional information, please contact the church office at 313-255-0212 between 9:00 a.m. and 3:00 p.m. Monday-Friday.
DetroitGospel.com recently received an inquiry from out-of-town visitor to the North American International Auto Show. She wanted to know what church she should visit on Sunday for good gospel music. Intrigued, I asked her from where she was visiting. She said that her husband is from Korea and loves gospel music, and she wanted to take him to a service in Detroit, where he could experience great gospel music live.
Here are the results from Detroit Gospel.com's New Year's Survey...