Published 08/24/2008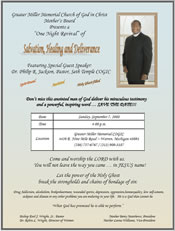 Greater Miller Memorial Church of God in Christ Mother's Board Presents a "ONE NIGHT REVIVAL" OF SALVATION, HEALING, AND DELIVERANCE Featuring Special Guest Speaker: DR. PHILIP R. JACKSON, Pastor, Seth Temple COGIC ~ Spiritual ~ Anointed ~ Holy Ghost-Filled ~ Don't miss this anointed man of God deliver his miraculous testimony and a powerful, inspiring word... SAVE THE DATE!!! Sunday, September 7, 2008, 4:00PM Greater Miller Memorial COGIC 4439 E. Nine Mile Road Warren, Michigan 48091 586-757-6767 / 313-909-3187
Published Yesterday




So, you say you don't feel like cooking for the Holiday...Let Lady Louisa's Place do the work for you !!! You have things to do, but your family deserves the very best dinner for Christmas. That's where Lady Louisa's Place comes in... They can cook that complete meal for you. Whether it's a fried turkey, smoked turkey, traditional baked turkey, or a Spiral glazed Ham, they can get the job done for you at a reasonable price leaving you time to do more important FAMILY things. Here are the deals...Package #1: TURKEY or SPIRAL HAM - $49.95 includes 12-15 lb Turkey (fried, smoked, or baked). Larger turkeys (up to 20lbs) can be smoked or baked for an additional cost. OR 8-10 lb SPIRAL HAM (They glaze the ham). Package #2: TURKEY or HAM DINNER FOR FOUR (4) - $ 79.95 includes 12-15 lb Turkey (Fried, Smoked or Baked) OR 8-10 lb Ham PLUS 12oz Cranberry Sauce (with Turkey); 32oz of Vegetables - Green Beans, Fried Corn or Mixed Vegetables; 32oz Mac & Cheese; Dressing or Collard Greens; 32oz Peach Cobbler or Banana Pudding. Items you can substitute for your Vegetables sides: Cole Slaw, Potato Salad, Mashed Potatoes, Red Beans/Rice, Fried Corn, Fried Cabbage, Mixed Vegetables. Do you want additional Yams, greens or other sides. You can add additional sides to your order. Each additional 16oz side is $4.95. Don't wait until the last minute to order. Lady Louisa's Place needs at least a week's notice to prepare your dinner. Stop in and leave a 50% deposit and leave the cooking to Lady Louisa's Place. Lady Louisa's Place, 15535 W. McNichols at Greenfield, Detroit, MI 48235, 313.273.3663,
www.ladylouisas.com
.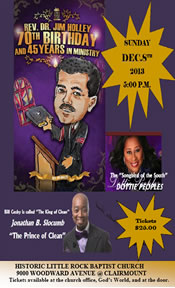 Rev. Dr. Jim Holley celebrates his 70th Birthday and 45 Years in Ministry onSunday, December 8, 2013 @ 5:00 p.m. Featuring: Dottie Peoples (The "Songbird of the South") and Jonathan B. Slocumb ("The Prince of Clean"). Advanced Tickets $25. Tickets are available at the church, God's World, and $30.00 at the door. Also...Join Little Rock all week long @ 7 p.m. with "The Preachers of Detroit." Monday, December 9th: Rev. E. L. Branch of Third New Hope Baptist Church. Tuesday, December 10th: Bishop Edgar Vann of Second Ebenezer Church. Wednesday, December 11th: Rev. Solomon W. Kinloch, Jr. of Triumph Church.Thursday, December 12th: * Sons of the Historic Little Rock Baptist Church...* Rev. Douglas Butler of Mayflower Baptist Church (Preaching); * Rev. Dr. Samuel Stephens of Pure Word Missionary Baptist Church; * Rev. Dr. Eural Alexander of New Light Family Christian Center; and * Rev. Kwami Jones of Historic Little Rock Baptist Church. Friday, December 13th: Rev. Wendell Anthony of Fellowship Chapel / NAACP Detroit Chapter. Historic Little Rock Baptist Church, 9000 Woodward Ave. @ Clairmount, Detroit, MI 48202,
www.historiclittlerockbc.org
.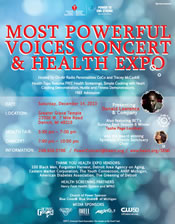 American Heart Association / American Stroke AssociationPower To END Stroke Most Powerful Voices Concert & Health Expo, Saturday, December 14, 2013. Health Fair: 5:00 pm - 7:00 pm. Concert: 7:00 pm - 10:00 pm. Health Expo features FREE Health Screenings, Simple Cooking with Heart Cooking Demonstration, and Hustle and Fitness Demonstrations. FREE ADMISSION! Hosted by On-Air Personalities CoCo and Tracy McCaskill. Presenting: Donald Lawrence & Company, Sunday Best Season 6 Winner Tasha Page Lockhart, and award winning Apostolic Church Sanctuary Choir. Location: Greater Grace Temple, 23500 W. 7 Mile Rd, Detroit, MI 48219. For More Information: Visit https://powerconcertdetroit.eventbrite.com/ or call 248-936-5786, or email PowerConcert@heart.org or visit www.heart.org/SEMI.
Published 11/22/2013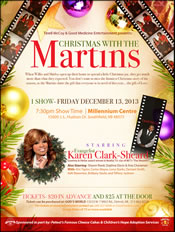 Tirrell McCoy & Good Medicine Entertainment present "CHRISTMAS WITH THE MARTINS." When Willie and Shirley open up their home to spread a little Christmas joy, they get much more than what they expected. You don't want to miss the funniest Christmas story of the season, as the Martins share the gift that everyone is in need of this year... the gift of Love. If you loved "Willie and Shirley" in "Saints on the Plane"...you can't miss this production! Starring: Grammy & Stellar Award Winner & Reality T.V. star of BET's "The Sheard's" - Evangelist Karen Clark Sheard. Also starring Shawn Reed, Daphne Davis & Aria Charaman. With Eric Taylor, Carlos Mays, Lean Starks, Destani Smith, Kelli Brownlee, Brittany Starks and Tiffany Jackson. 1 SHOW - FRIDAY, DECEMBER 13, 2013, 7:30PM Show Time. Millennium Centre, 15600 J. L. Hudson Dr., Southfield, MI 48075. Tickets - $20 in advance at $25 at the door. Tickets can be purchased at: GOD'S WORLD, 13533 W. 7 MILE Rd., Detroit, MI, 313-862-8220. For tickets or more information call 248-327-6046 or
www.GOODMEDENT.COM
. Group Rates of 15 or more available. Sponsored in part by Peteet's Famous Cheese Cakes & Children's Hope Adoption Services.
Published 11/18/2013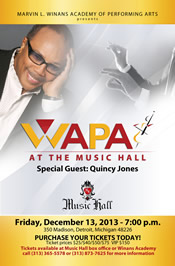 Marvin L. Winans Academy of Performing Arts presents "WAPA At The Music Hall" with special guest Quincy Jones, Friday, December 13, 2013 - 7:00 p.m. Ticket prices: $25 / $40 / $50 / $75 VIP $150. Tickets available online at
TicketMaster.com
, at Music Hall box office or Winans Academy. Call 313.365.5578 or 313.873.7625 for more information. Music Hall is located at 350 Madison, Detroit, MI 48226.
Published 11/14/2013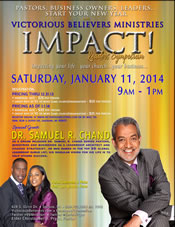 Pastors, Business Owners, Leaders...Start your New Year with Victorious Believers Ministries IMPACT! Leaders Symposium. Impacting your Life...your church...your business... Saturday, January 11, 2014, 9AM - 1PM. Special Guest: Dr. Samuel R. Chand. As a Dream Releaser Dr. Samuel R. Chand serves pastors, ministries and businesses as a Leadership Architect and Change Strategist. He was named in the top 30 Global Leadership Gurus list. His singular vision for his life is to help others succeed. Hosts: Pastor Christopher V. Pryor and First Lady Kenyata Pryor. Registration: Pricing Thru 12-31-13...Individual Rate - $25 per person; Group Rate of 10 or more (Same Church/Organization) - $20 per person. Pricing as of 1-1-14...Individual Rate - $30 per person; Group Rate of 10 or more (Same Church/Organization) - $25 per person. Register Online at:
www.victoriousbelievers.com
or by mail to: VBM, 624 S. Outer Dr., Saginaw, MI 48601. Victorious Believers Ministries, 624 S. Outer Dr., Saginaw, MI, 989.755.7692 x7010,
www.victoriousbelievers.com
,
Facebook.com/VBMnation
,
Twitter @VBMnation
,
Twitter @ChrisVPryor
, Elder Christopher V. Pryor, Pastor.
Published 11/12/2013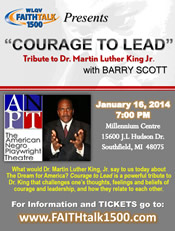 WLQV FaithTalk 1500 presents "COURAGE TO LEAD" Tribute to Dr. Martin Luther King, Jr. with Barry Scott of The American Negro Playwright Theatre, January 16, 2014 @ 7:00 PM at Millennium Centre, 15600 J.L. Hudson Dr., Southfield, MI 48075. What would Dr. Martin Luther King, Jr. say to us today about The Dream for America? Courage to Lead is a powerful tribute to Dr. King that challenges one's thoughts, feelings and beliefs of courage and leadership, and how they relate to each other. For Information and TICKETS go to:
www.FAITHtalk1500.com
.
Published 11/11/2013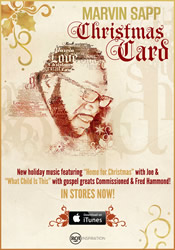 MARVIN SAPP's "Christmas Card" - New holiday music featuring "Home for Christmas" with Joe & "What Child Is This" with gospel greats Commissioned & Fred Hammond! IN STORES NOW.
Download on iTunes @ http://smarturl.it/christmascard?IQid=detroitgospel
. (RCA Inspiration)
Published 11/11/2013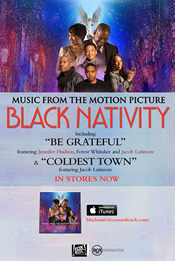 Music from the Motion Picture BLACK NATIVITY including "Be Grateful" featuring Jennifer Hudson, Forest Whitaker and Jacob Latimore; and "Coldest Town" featuring Jacob Latimore IN STORES NOW.
Download on iTunes @ http://smarturl.it/blacknativity?IQid=detroitgospel
.