Published 06/4/2013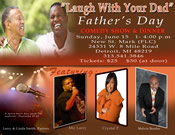 "Laugh With Your Dad" Father's Day Comedy Show & Dinner, Sunday, June 15, 2014, 1:00 - 4:00 p.m. (Delicious Catered Meal Served Promptly at 1:30 p.m.) Featuring: Mic Larry, Crystal P, and Melvin Bender. Tickets: $25 / $30 at the door. Purchase tickets on-line at
www.newstmark.org
. Under "Purpose" enter LaughWithDad. New St. Mark (FLC), 24331 W. 8 Mile Road, Detroit, MI 48219, 313.541.3846,
www.newstmark.org
, Larry & Linda Smith, Pastors. "A merry heart does good, like medicine..." Proverbs 17:22
Published 06/2/2013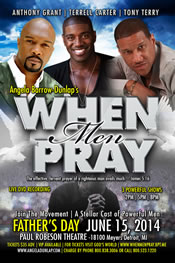 Angela Barrow-Dunlap's "When Men Pray" (The effective, fervent prayer of a righteous man avails much. ~ James 5:16), Father's Day, Sunday, June 15, 2014. 3 powerful shows @ 2PM, 5PM, 8PM. Join the movement...A stellar cast of powerful men. Starring: Anthony Grant, Terrell Carter, and Tony Terry. Live DVD Recording. Paul Robeson Theatre (Inside Northwest Activities Center), 18100 Meyers, Detroit, MI 48235. Tickets $35 Advance - VIP Available. For tickets visit God's World,
whenmenpray.bpt.me
, or
www.angeladunlap.com
; OR charge by phone at 800.838.3006, or call 800.523.1220.
Published 05/19/2013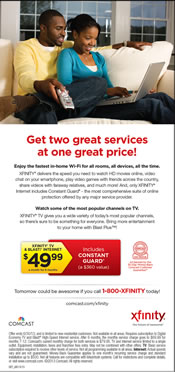 Get two great services at one great price! Enjoy the fastest in-home Wi-Fi for all rooms, all devices, all the time. XFINITY TV & BLAST! Internet $49.99 a month for 6 months. Includes CONSTANT GUARD (a $360 value). Call 1-800-XFINITY today! www.comcast.com/xfinity.
Published 05/19/2013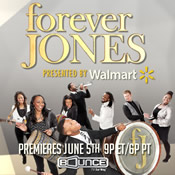 "Forever JONES" is an all new reality series following the successful gospel family group of the same name. The show catches the family at career and personal crossroads, as mainstream success has proven to be their biggest blessing and also their greatest challenge. Can faith and family lead to fame and fortune? The Jones' family life is a beautiful struggle and they can make it through anything as long as they do it together.
Watch Trailer at:
http://pressroom.bouncetv.com/forever-jones-super-trailer/
Published 05/18/2013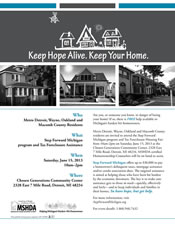 Keep Hope Alive. Keep Your Home. Investing in People. Investing in Places. MSHDA (Michigan State Housing Development Authority). Helping Michigan's Hardest-Hit Homeowners. WHO: Metro Detroit, Wayne, Oakland and Macomb County Residents. WHAT: Step Forward Michigan program and Tax Foreclosure Assistance. WHEN: Saturday, June 15, 2013, 10am - 2pm. WHERE: Chosen Generations Community Center, 2328 East 7 Mile Road, Detroit, MI 48234. Are you, or someone you know, in danger of losing your home? If so, there is FREE help available to Michigan's hardest hit homeowners. Step Forward Michigan offers up to $30,000 to pay a homeowner's delinquent taxes, mortgage assistance and/or condo association dues. The targeted assistance is aimed at helping those who have been hit hardest by the economic downturn. The key is to make sure assistance gets to those in need -- quickly, effectively andfairly -- and to keep individuals and families in their homes. So have hope, but get help. For more information, visit:
www.StepForwardMichigan.org
. For event details: 1.866.946.7432.
Published 05/17/2013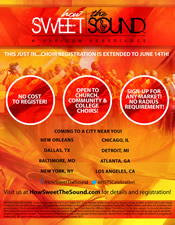 How Sweet The Sound A Verizon Experience. This just in...Choir Registration is Extended to June 14th! No Cost to Register! Open to church, community & college choirs! Sign-Up for any market! No radius requirement! Coming to a city near you! New Orleans, LA; Dallas TX; Baltimore, MD; New York, NY; Chicago, IL; Detroit, MI; Atlanta, GA; Los Angeles, CA. Facebook:
https://www.facebook.com/HowSweetTheSound
. Twitter:
https://twitter.com/HSTSCelebration
. Visit
HowSweetTheSound.com
for details and registration!
Published 05/15/2013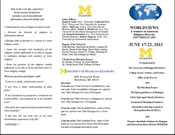 WORLDVIEWS, A Seminar on American Religious Diversity (Founded in 2002), June 17 - 22, 2013. Registration has been extended to Fri., May 31, 2013. University of Michigan-Dearborn, 4901 Evergreen Rd, Dearborn, MI 48128. Co-Sponsored by the U of M-Dearborn's College of Arts, Sciences, And Letters, Office of the Provost and the Pluralism Project, The Episcopal Diocese of Michigan Christ Church, Dearborn Ecumenical Theological Seminary, Interfaith Leadership Council of Metropolitan Detroit (IFLC) and Women's Interfaith Solutions for Dialogue and Outreach in Metro-Detroit (WISDOM).
The Worldviews Seminar was created in the aftermath of the events of Sept. 11, 2001, to acquaint people with the perspectives and cultural identities of various religions, and to explore different models of dialogue. Through time in the classroom and field trips to religious centers, this seminar places an emphasis on what people believe and do - and how that informs the meaning they make of the world. The basic cost of this six-day seminar is $500, and includes transportation to religious centers; breakfast, lunch and some dinners; and course pack of readings. Please register by Fri., May 31 - Registration is limited. Contact Information: Sharie Beard, University of Michigan-Dearborn, 313-593-4925,
Sbeard@umd.umich.edu
. Access Brochure at
http://casl.umd.umich.edu/worldviews/
.
Published 04/30/2013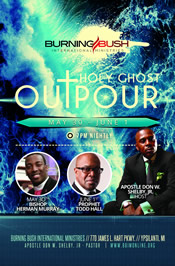 Join host Apostle Don W. Shelby, Jr. and Burning Bush International Ministries for HOLY GHOST OUTPOUR, May 30 - Jun 1, 2014, 7PM Nightly. May 30th: Bishop Herman Murray; June 1st: Prophet Todd Hall. Burning Bush International Ministries, 770 James L. Hart Pkwy., Ypsilanti, MI 48198,
www.bbimonline.org
, Apostle Don W. Shelby, Jr., Pastor.
Published 04/30/2013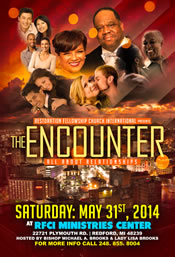 Restoration Fellowship Church International presents "The Encounter...All About Relationships," Saturday, May 31, 2014, @ 10AM, at RFCI Ministries Center, 22721 Plymouth Rd., Redford, MI 48239. Hosted by Bishop Michael A. Brooks & Lady Lisa Brooks. For more info call 248.855.8004.
Published 04/30/2013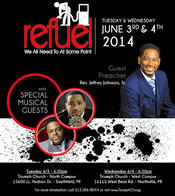 Triumph Church presents "Refuel...We All Need To At Some Point," Tuesday & Wednesday, June 3rd & 4th, 2014. Guest Preacher: Rev. Jeffrey Johnson, Sr. Special Musical Guests: Smokie Norful and William Murphy. Tuesday, 6/3 @ 6:30pm: Triumph Church - North Campus (Millennium Centre), 15600 J.L. Hudson Dr., Southfield, MI 48075. Wednesday, 6/4 @ 6:30pm: Triumph Church - West Campus, 16115 Beck Rd., Northville, MI 48168. For more information call 313.386.8044 or visit
www.TriumphCh.org
.