Published 09/7/2013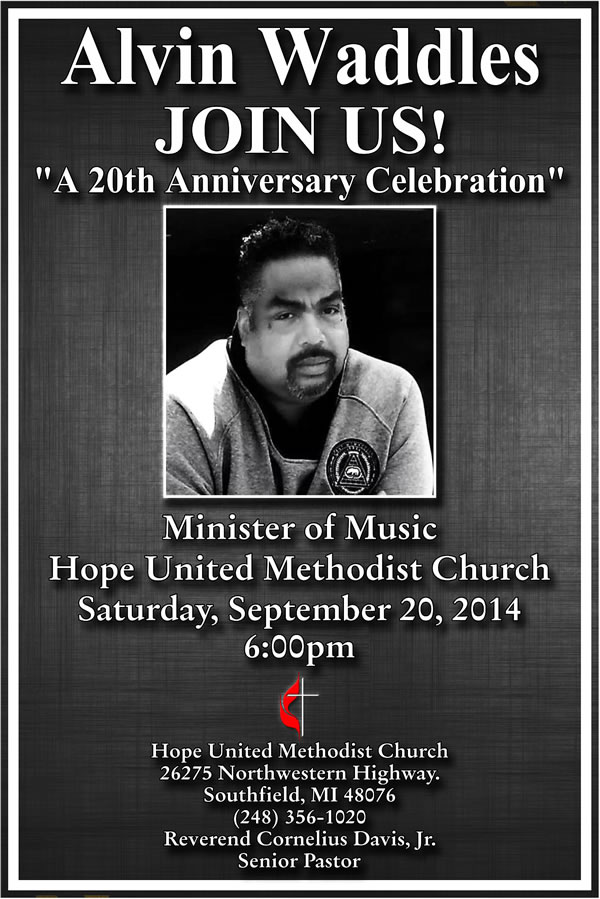 Saturday, September 20, 2014 at 6PM, join Hope United Methodist Church for "A 20th Anniversary Celebration" for Minister of Music Alvin Waddles at Hope United Methodist Church, 26275 Northwestern Highway, Southfield, MI 48076, 248.356.1020,
www.hopeumc.org
, Reverend Cornelius Davis, Jr., Senior Pastor.
Published 09/5/2013



Sept. 20 & Sun., Sept. 21, 2014, Triumph Church welcomes special musical guest J MOSS to All Services. DETROIT - SUNDAY 7:45AM & 11:45AM @ Triumph Church - East Campus, 2760 E. Grand Blvd., Detroit, MI 48211. SOUTHFIELD - SATURDAY 5PM and SUNDAY 8:45AM, 10:45AM & 12:45PM @ Triumph Church - North Campus (Millennium Centre), 15600 J.L. Hudson Dr., Southfield, MI 48075. CANTON/ANN ARBOR - SUNDAY 9:45AM @ Triumph Church - West Campus, 16115 Beck Rd., Northville, MI 48168. For more information call 313.386.8044 or visit
www.triumphch.org
.
Published 09/4/2013



Enroll today @ Ecumenical Theological Seminary...Many Traditions, One Spirit. Feeling a call on your life? Want to learn how to do ministry? Need to grow spiritually? Want to be a better servant in church? Want to understand the scriptures better? Then...ETS is the place for you. Visit ETS at:
www.etseminary.edu
or send an email to:
recruitment@etseminary.edu
. Ecumenical Theological Seminary, 2930 Woodward Ave., Detroit, Michigan 48201, 313-831-5200 ext 224. Mission Statement: Ecumenical Theological Seminary provides a multi-confessional Christian theological education within an urban context, while initiating interfaith engagement. Our approach creates spiritual leadership through personal transformation, social responsibility, critical reflection and academic rigor. ETS graduates are prepared to lead communities of faith while sharing God's compassion in relationship to various ecumenical, interfaith, political, social, economic, and cultural contexts. Ecumenical Theological Seminary is Accredited by the Commission on Accrediting of the Association of Theological Schools in the United States and Canada, and the following degree programs are approved: MDiv, MA in Pastoral Ministry, DMin.
Published 09/3/2013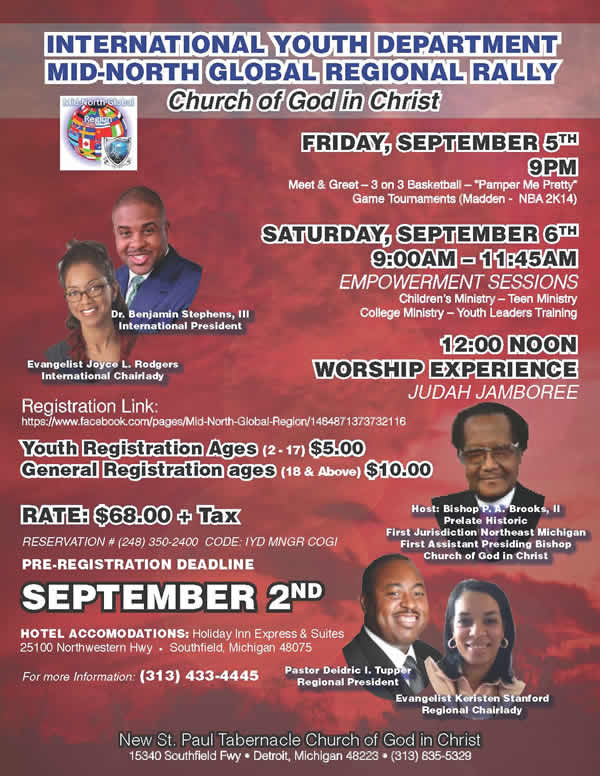 International Youth Department Mid-North Global Regional Rally Church of God in Christ. Dr. Benjamin Stephens, III, International President and Evangelist Joyce L. Rodgers, International Chairlady. Friday, Sept. 5th, 9PM: Meet & Greet, 3 on 3 Basketball, "Pamper Me Pretty," Game Tournaments (Madden - NBA 2K14). Saturday, Sept. 6, 9A-11:45AM: Empowerment Sessions - Children's Ministry, Teen Ministry, College Ministry, Youth Leaders Training. 12:00 NOON: Worship Experience Judah Jamboree. Registration Link:
https://www.facebook.com/pages/Mid-North-Global-Region/1464871373732116
. Youth Registration Ages (2 - 17) $5.00. General Registration ages (18 & Above) $10.00. Hotel Rate: $73.00 + Tax. RESERVATION # (248) 350-2400 CODE: IYD MNGR COGI. New St. Paul Tabernacle Church of God in Christ, 15340 Southfield Fwy, Detroit, Michigan 48223, (313) 835-5329. Host: Bishop P. A. Brooks, II, Prelate Historic First Jurisdiction Northeast Michigan and First Assistant Presiding Bishop Church of God in Christ. Pastor Deidric I. Tupper, Regional President. Evangelist Keristen Stanford, Regional Chairlady.
Published 09/3/2013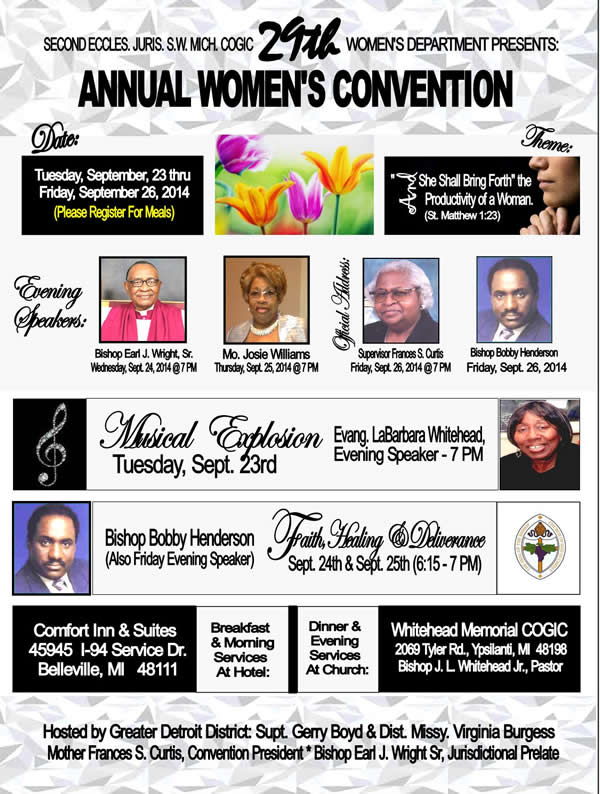 2nd Eccles. Juris. S.W. Mich. COGIC 29th Women's Department presents: Annual Women's Convention, Tues, Sep 23 thru Fri, Sep 26, 2014 (Please Register for Meals). Breakfast & Morning Services At Hotel: Comfort Inn & Suites, 45945 I-94 Service Dr, Belleville, MI 48111. Dinner & Evening Services at Church: Whitehead Memorial COGIC, 2069 Tyler Rd, Ypsilanti, MI 48198, 734.484.0331, Bishop J. L. Whitehead, Jr., Pastor.
Published 09/2/2013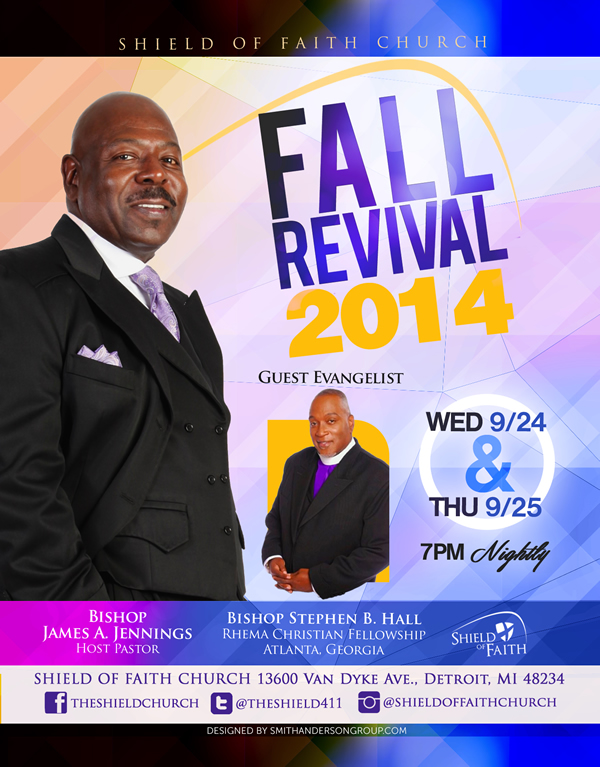 Shield of Faith Church Fall Revival 2014, Bishop James A. Jennings, Host Pastor, Wednesday, Sept. 24 & Thursday, Sept. 25, 2014, 7PM Nightly. Guest Evangelist: Bishop Stephen B. Hall, Rhema Christian Fellowship, Atlanta, Georgia. Shield of Faith Church, 13600 Van Dyke Avenue, Detroit, MI 48234,
www.theshieldchurch.org
.
Published 09/2/2013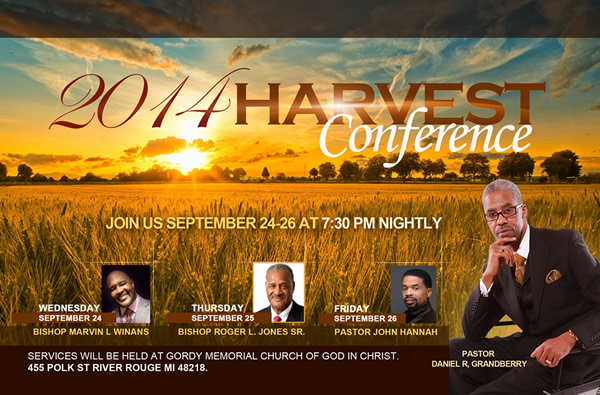 2014 Harvest Conference. Join us September 24-26 at 7:30 PM Nightly. Wednesday, September 24: Bishop Marvin L. Winans. Thursday, September 25: Bishop Roger L. Jones, Sr. Friday, September 26: Pastor John Hannah. Public seating is limited so please register (for free) at
http://www.harvestconference2014.eventbrite.com
. Services held at: Gordy Memorial Church of God In Christ, 455 Polk Street, River Rouge, MI 48218, Pastor Daniel R. Grandberry. SERVICES LIVE STREAMED @
www.GordyMemorial.org
. For more info log on to
www.gordymemorial.org
.
Published 09/2/2013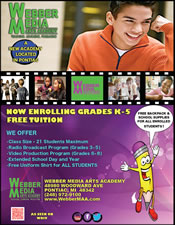 Webber Media Arts Academy (As Seen on WDIV) Teaching, Learning, Producing. Now Enrolling Grades K-5. FREE Tuition. This new Academy located in Pontiac offers small class size - 21 students maximum, radio broadcast program (Grades 3-5), video production program (Grades 6-8), extended school day and year, free uniform shirt for all students, and free backpack & school supplies for all enrolled students. Webber Media Arts Academy, 48980 Woodward Ave., Pontiac, MI 48342, 248.972.9100,
www.WebberMAA.com
.
Published 09/1/2013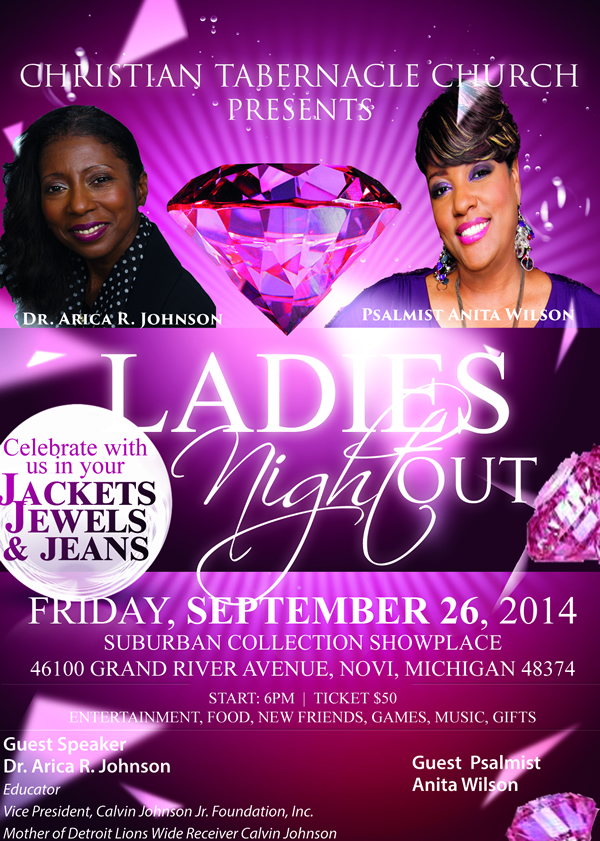 Christian Tabernacle Church presents "Ladies Night Out," Friday, September 26, 2014, 6PM, at Suburban Collection Showplace, 46100 Grand River Ave, Novi, Michigan 48374. Tickets: $50. Entertainment, food, new friends, games, music, gifts, and more. Guest Speaker: Dr. Arica R. Johnson, Educator; Vice President, Calvin Johnson Jr. Foundation, Inc.; and Mother of Detroit Lions Wide Receiver Calvin Johnson. Guest Psalmist: Anita Wilson. Celebrate with us in your Jackets, Jewels, & Jeans. More Info: 248.213.4770,
www.ctabchurch.org
.
Published 09/1/2013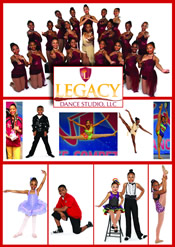 Join Legacy Dance Studio, LLC at their NEW LOCATION in Franklin Plaza (29173 Northwestern Hwy, Southfield, MI 48034, 248-291-7879,
www.LegacyDanceFranklin.com
, Crystall White Winkler, Founder/Director). Fall Classes begin Mon, Sep 9.