Published 04/12/2014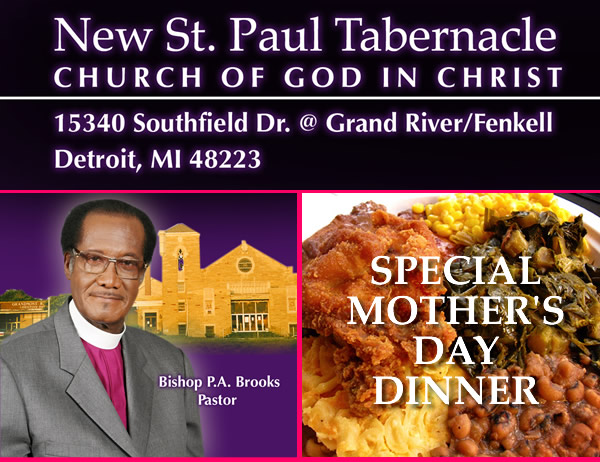 Bishop and Mrs. P. A. Brooks invite you to join them for a special Mother's Day dinner, Sunday, May 10 @ 1:30PM, that will benefit The March of Faith Telecast Ministry. Enjoy a fabulous home cooked meal with all the fixins in the beautiful and spacious Middlebrooks Hall on the campus of New St. Paul Tabernacle Church Of God In Christ, 15340 Southfield Drive at Fenkell and Grand River, Detroit, MI 48223. A full dinner with dessert and beverages for only: $15.00 per person; $25.00 per couple; $50.00 for a family of four (families must arrive and pay together). Children under the age of 5 eat FREE! All Proceeds Benefit The March Of Faith Telecast. For further information, call (313) 835-5329.
Published 04/10/2014



Solomon's Temple presents A Spiritual Family Reunion, Sunday, April 19, 2015, 11:00am AND 6:00pm, "Come Home For A Day." Speaker: Bishop Henry Davenport. With Old Fashion Singing; Do You Know Who That Is?; Devotion The Old Time Way; Refreshments After 6:00pm Service. Solomon's Temple, 2341 E. 7-Mile Rd., Detroit, MI 48234. For more information call 313.893.1230 or visit
www.solomonstempledetroit.com
.
Published 04/8/2014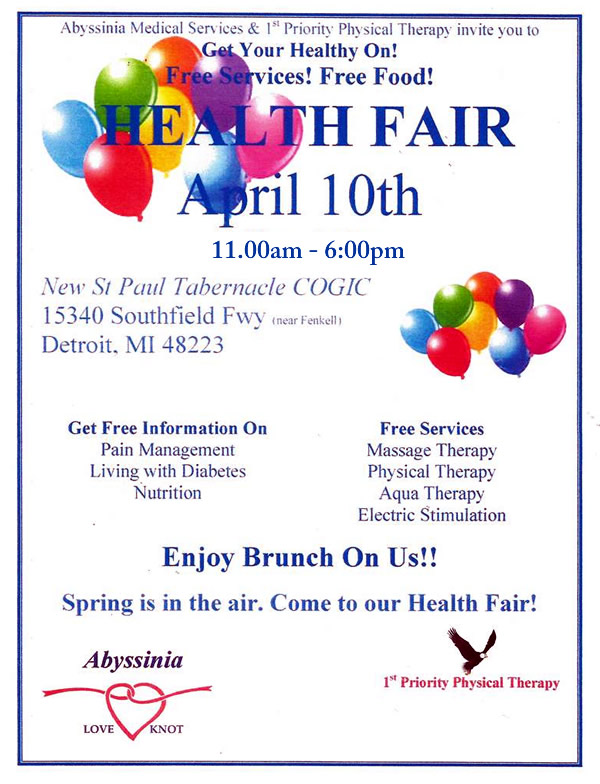 Abyssinia Medical Services & 1st Priority Physical Therapy invite you to...Get Your Healthy On! Free Services! Free Food! HEALTH FAIR, Friday, April 10th, 11:00am - 6:00pm, @ New St. Paul Tabernacle Church of God In Christ, 15340 Southfield Fwy (near Fenkell), Detroit, MI 48223. Get Free Information On: Pain Management, Living with Diabetes, Nutrition. Free Services: Massage Therapy, Physical Therapy, Aqua Therapy, Electric Stimulation. ENJOY BRUNCH ON US!! Spring is in the air. Come to our Health Fair! More info at
www.nspt.org
. Bishop P.A. Brooks, Host Pastor.
Published 04/6/2014



"Hope Jazz Cafe" featuring Thornetta Davis (Detroit-Born Diva Rhythm & Blues Singer), Friday, May 22, 2015, 7:00 PM - 10:00 PM (Includes Entertainment & Light Refreshments) at Hope United Methodist Church, 26275 Northwestern Highway, Southfield, MI 48076 (Fellowship Hall Banquet Room). Reverend Cornelius Davis, Jr., Senior Pastor. Donation: $20. For tickets, please call the church at 248.356.1020 OR purchase online at
www.hopeumc.org
. Seating is limited, so purchase your tickets now!
Published 04/4/2014



Join David Alexander Bullock and Friends 4 FREE Food, Music & an Inspirational Word at the Community Wide Unity & Peace Bar-B-Q. Saturday, May 23, 2015, @ 3PM at the corner of Lafayette and Chene in Detroit. With Brotha Dre, Koffey Brown, and Randi Rossario.
www.ActionCAC.com
, Twitter:
@DAlexanderB
|
@ActionCAC
.
Published 04/2/2014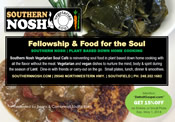 Fellowship & Food for the Soul...Southern Nosh Vegetarian Soul Cafe' is reinventing soul food in plant-based down home cooking with all the flavor and without the meat. Vegetarian and vegan dishes to nurture the mind, body & spirit during the season of Lent. Dine-in with friends or carry-out on the go. Small plates, lunch, dinner & smoothies. Southern Nosh is located at 29540 Northwestern Hwy., Southfield, MI, a few doors down from sister restaurant, Beans & Cornbread Soulful Bistro. For more info visit
www.southernnosh.com
or call 248.352.1682.
Published 04/1/2014



Union Second Baptist Church presents: "Walking in the Footsteps of Jesus," a trip to Israel,November 10-19, 2014. $2,531 per person (covers flight, lodging & food), departing from Detroit Metro. Join Union Second Baptist on a tour of the Holy Land; where Heaven meets Earth! Hosted by Pastor & First Lady Brown. For additional info, please contact: Sis. Shirley Butler @ 313-383-1558.
Published 03/31/2014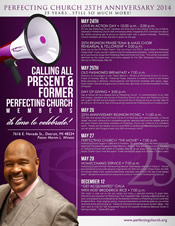 Perfecting Church 25th Anniversary 2014. 25 Years...Still So Much More! Calling ALL present & former Perfecting Church members. It's time to celebrate! December 12th: "Get Acquainted" Gala with host Broderick Rice...7PM. Perfecting Church, 7616 E. Nevada St., Detroit, MI 48234, Pastor Marvin L. Winans,
www.perfectingchurch.org
.
Published 03/31/2014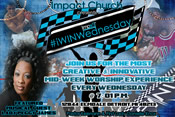 Impact Church presents Impact #iWin Wednesday Mid-Week Worship Experience each Wednesday @ 7PM. Impact Church, 12844 Elmdale (Corner of Dickerson, 8 blocks N of I-94), Detroit, MI 48213, 313-372-3055,
www.Live2Impact.com
, Pastor Keenann & First Lady Danielle Knox.
Published 03/30/2014



Detroit District Ministerial Alliance of the African Methodist Episcopal Zion Church presents Holy Week Revival...The Blood Still Works! All services 7PM nightly. March 31st: Apostle Joseph Prude, New Hope Fellowship Church International, Cleveland, OH. April 1st: Dr. Genetta Hatcher, Third New Hope Baptist - West, Detroit, MI. April 2nd: Bishop Edgar Vann, Second Ebenezer Church, Detroit, MI. Lomax Temple A.M.E. Zion Church, 17441 Dequindre Street, Detroit, MI 48212. Rev. Brian Relford, Host Pastor; Rev. Anthony G. Morris, Alliance President; Rev. Ronald Bailey, Presiding Elder; Bishop Daryl Starnes, Presiding Bishop.