Published 10/5/2015



Triumph Church presents "Family Fun Fest" with food, candy, games, carnival and more, Monday, October 31, 2016, from 6PM - 9PM. East Campus, 2760 E. Grand Blvd., Detroit, MI 48211; and West Campus, 16115 Beck Rd., Northville, MI 48168. To volunteer, register at
www.TriumphCh.org/HarvestNight
. For more information call 313.386.8044 or visit
www.TriumphCh.org
.
Save
Published 10/3/2015



Join Christian Tabernacle Church on Sunday, October 16, 2016 at 10:00 a.m. for guest speaker Pastor John Gray, Associate Pastor at Lakewood Church, Houston, TX and co-host of "The Preachers." At Christian Tabernacle Church, 26555 Franklin Rd., Southfield, MI 48033; 248-213-4770; Dr. James L. Morman, Pastor. For more info visit
www.ctabchurch.com
.
Save
Published 10/2/2015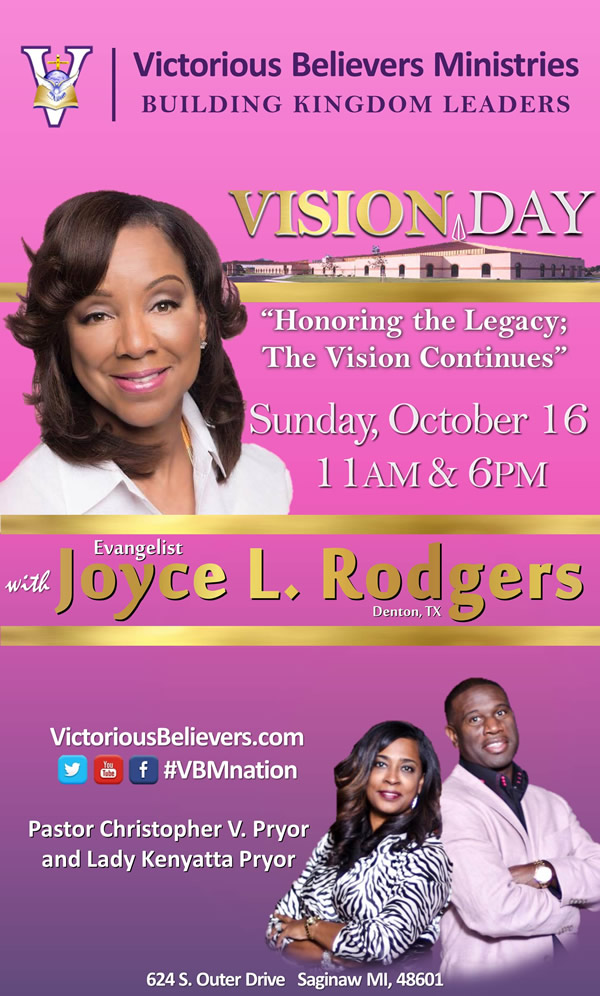 Victorious Believers Ministries welcomes you to join them for VISION DAY (Mortgage Liquidation Campaign) Sunday, October 16, 2016, at 11AM & 6PM, with special guest: Evangelist Joyce L. Rodgers of Denton, TX. Honoring the Legacy...the Vision Continues. VICTORIOUS BELIEVERS MINISTRIES, 624 S. Outer Dr., Saginaw, MI 48601;
www.VictoriousBelievers.com
; Pastor Christopher V. Pryor and Lady Kenyatta Pryor.
Save
Published 09/27/2015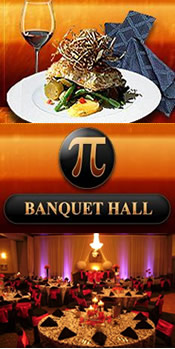 Church Groups Specials @ Pi Banquet Hall, 28847 Franklin, Southfield, MI 48034, 248-358-3355,
www.pibanquethall.com
. Open Mon-Fri 10A-6P & Sat 2-6P. Prayer Breakfasts, Luncheons, Celebration Dinners, Repasses. Brunch: $18pp (Scrambled eggs, sausage, bacon, pancakes, waffles, salad, chicken, potato, veg, bread, beverages) Dinner: $21pp Mon-Thu, $25pp Fri-Sun (2 entrees, pasta, veg, rice/potato, salad, bread, dessert, bev).
Published 09/20/2015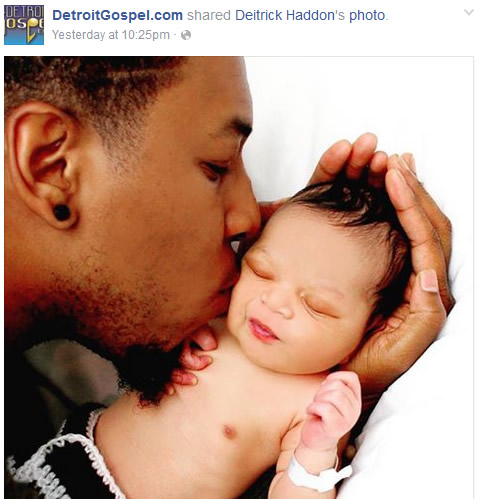 Homegrown gospel artist and "Preachers of L.A." reality star, Deitrick Haddon, recently introduced fans to his new son, Deitrick Haddon, Jr. via Facebook. This is Haddon's first son and on a recent post Deitrick wrote, "It's my job to raise him to be a much better version of me!" Deitrick is also busy in the studio working on a new album.
Published 09/19/2015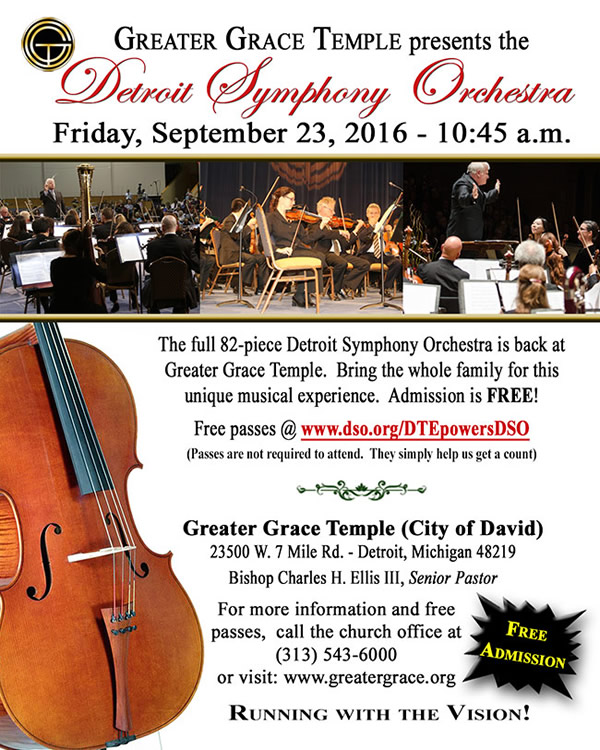 Greater Grace Temple presents "LIVE" the Detroit Symphony Orchestra, Friday, September 23, 2016 - 10:45 a.m. The full 82-piece Detroit Symphony Orchestra is back at Greater Grace Temple. Bring the whole family for this unique musical experience. Admission is FREE! Free tickets @
www.dso.org/DTEpowersDSO
(Tickets are not required to attend. They simply help us get a count). At Greater Grace Temple (City of David), 23500 W. 7 Mile Rd., Detroit, Michigan 48219; Bishop Charles H. Ellis III, Senior Pastor. For more information visit
www.greatergrace.org
or call (313) 543-6000. It's FREE! YOU DON'T NEED A TICKET! No one will be turned away at the door. See you there! Running with the Vision!
Save
Published 09/11/2015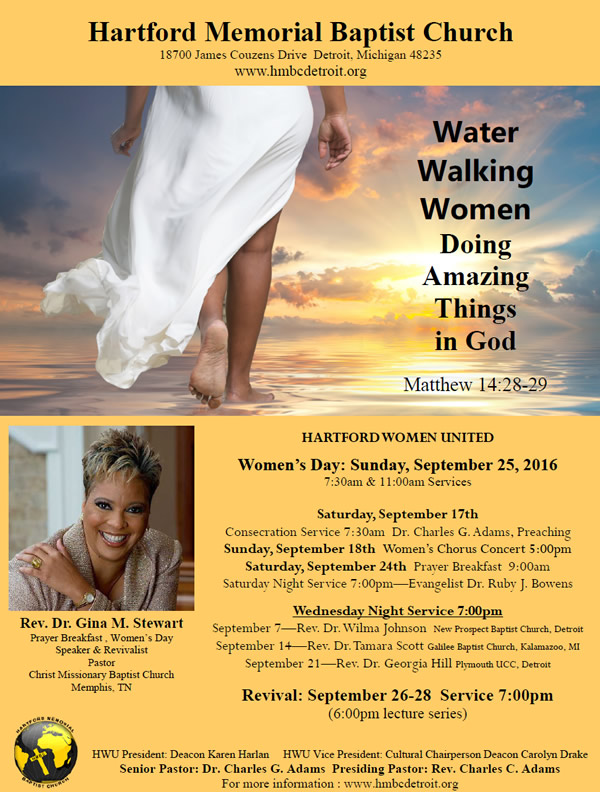 Water Walking Women Doing Amazing Things in God... HARTFORD WOMEN UNITED Women's Day: Sunday, September 25, 2016, 7:30am & 11:00am Services. Rev. Dr. Gina M. Stewart (Prayer Breakfast, Women's Day Speaker & Revivalist), Pastor of Christ Missionary Baptist Church, Memphis, TN. 9/17: Consecration Service @ 7:30am with Dr. Charles G. Adams, Preaching. 9/18: Women's Chorus Concert @ 5:00pm. 9/24: Prayer Breakfast @ 9:00am; Saturday Night Service @ 7:00pm with Evangelist Dr. Ruby J. Bowens. Wednesday Night Service 7:00pm: 9/7 - Rev. Dr. Wilma Johnson of New Prospect Baptist Church, Detroit; 9/14 - Rev. Dr. Tamara Scott of Galilee Baptist Church, Kalamazoo, MI; 9/21 - Rev. Dr. Georgia Hill of Plymouth UCC, Detroit. Revival: Sept. 26-28 with Service @ 7:00pm (6:00pm lecture series). HWU President: Deacon Karen Harlan; HWU Vice President: Cultural Chairperson Deacon Carolyn Drake; Senior Pastor: Dr. Charles G. Adams; Presiding Pastor: Rev. Charles C. Adams. For more information visit
www.hmbcdetroit.org
. Hartford Memorial Baptist Church, 18700 James Couzens Drive, Detroit, Michigan 48235.
Save
Save
Published 09/10/2015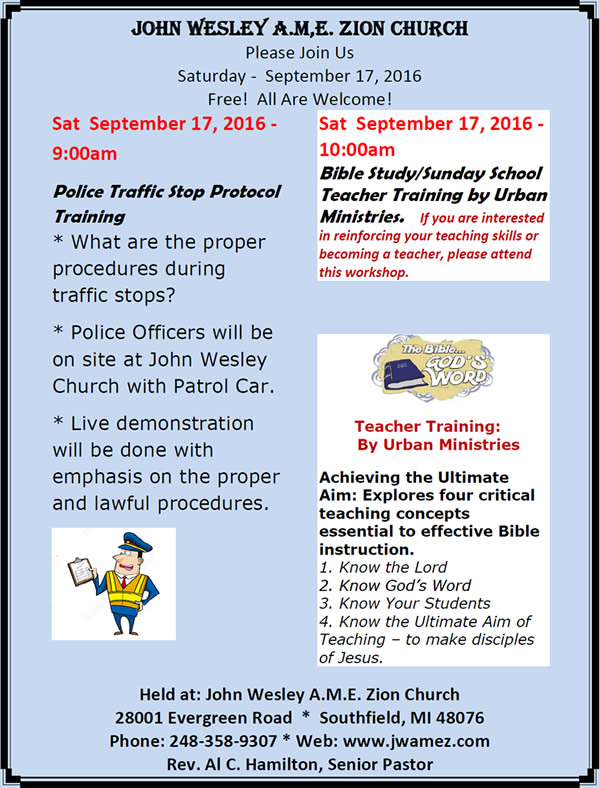 Join John Wesley A.M,E. Zion Church on Saturday, September 17, 2016, at 9AM for Police Traffic Stop Protocol Training; and at 10AM for Bible Study/Sunday School Teacher Training by Urban Ministries. Free! All Are Welcome! Find out the proper procedures during traffic stops. Police Officers will be on site at John Wesley Church with Patrol Car. Live demonstration will be done with emphasis on the proper and lawful procedures. And...If you are interested in reinforcing your teaching skills or becoming a teacher, please attend the 10AM workshop. Teacher Training by Urban Ministries "Achieving the Ultimate Aim" Explores four critical teaching concepts essential to effective Bible instruction. 1. Know the Lord 2. Know God's Word 3. Know Your Students 4. Know the Ultimate Aim of Teaching – to make disciples of Jesus. Held at: John Wesley A.M.E. Zion Church, 28001 Evergreen Road, Southfield, MI 48076; Phone: 248-358-9307; Web:
www.jwamez.com
. Rev. Al C. Hamilton, Senior Pastor.
Save
Published 09/9/2015



Tree of Life Bible Fellowship is NEW to the Royal Oak Community and they invite all to come and CELEBRATE their Official Grand Opening on Sunday, Sept. 18, at 11 a.m. Tree of Life Bible Fellowship is located at 3118 Greenfield, Royal Oak, MI (Between 12 and 13 Mile Roads). For more information call 248.280.0018 or visit
www.tolbf.org
.
Save
Published 09/5/2015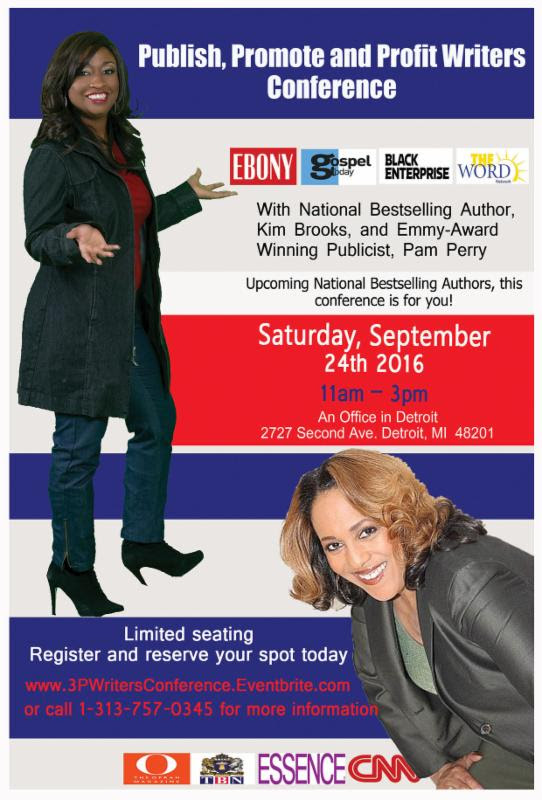 Publish, Promote and Profit Writers Conference with National Bestselling Author, Kim Brooks, and Emmy-Award Winning Publicist, Pam Perry. Upcoming National Bestselling Authors, this conference is for you! Saturday, September 24th, 2016, 11am - 3pm. At An Office in Detroit, 2727 Second Ave., Detroit, MI 48201. Limited Seating. Register and reserve your spot today at
www.3PWritersConference.Eventbrite.com
, or call 1-313-757-0345 for more information.
Save