Published 01/1/2013




You are cordially invited to join the Rosa Parks Scholarship Foundation for a program, strolling dinner reception and entertainment in celebration of the 100th Anniversary of Rosa Parks' Birth on Sat., Feb. 2, 2013, 6 PM - 10 PM, at Charles H. Wright Museum of African American History, 315 East Warren Ave., Detroit, MI 48201. Donation: $75 per person. FOX 2 Detroit anchor Huel Perkins will be the master of ceremonies for the gala program. For more information please visit:
www.RosaParks100.org
. Semi-Formal attire. Valet parking available. Presenting Sponsor: Comerica Bank.
The Rosa L. Parks Scholarship Foundation is dedicated to awarding scholarships to Michigan high school seniors who hold close to Mrs. Parks' ideals while demonstrating academic skills, community involvement and economic need. Since it was founded by the Detroit News and Detroit Public Schools in 1980, the Rosa Parks Scholarship Foundation has awarded over $2 million in scholarships to more than 1,000 high school seniors.
Published 01/1/2013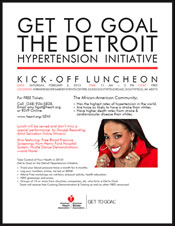 Get to Goal: The Detroit Hypertension Initiative Kick-Off Luncheon. Date: Saturday, February 2, 2013; Time: 11 AM - 2 PM; Cost: FREE; Location: Shriners Silver Garden Event Center, 24350 Southfield Rd., Southfield, MI 48075. Lunch will be served and don't miss a special performance by Gospel Recording Artist Sensation Vickie Winans! For Free Tickets: Call: (248) 936-5828; Email:
amy.figot@heart.org
; Or RSVP Online:
www.heart.org/SEMI
. Also featuring: Free Blood Pressure Screenings from Henry Ford Hospital System, Hustle Dance Demonstrations -- and More! Take Control of Your Health in 2013! Get to Goal w/ the Detroit Hypertension Initiative. >> Track you blood pressure twice a month for 4 months. >> Log you numbers online, via text or 800#. >> Attend Free workshops on nutrition, physical activity, and health education. >> FREE giveaways and prizes. >> Groups of 15 or more from churches, companies, etc. who form a Get to Goal Team will receive free Cooking Demonstration & Tasting as well as other FREE resources! Visit
www.heart.org
for More Info.
Published 12/17/2012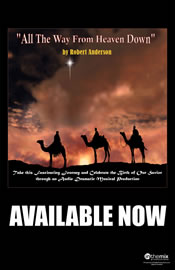 "All The Way From Heaven Down" by Robert Anderson. Take this fascinating Journey and Celebrate the Birth of Our Savior through an Audio Dramatic Musical Production. CDs available at CDBaby.com, iTunes, God's World, 13533 W. 7 Mile Rd., Detroit, MI 48235, 313.862.8220; or Contact Robert Anderson at
rbandrs7@aol.com
or 313.671.9526.
Published 12/17/2012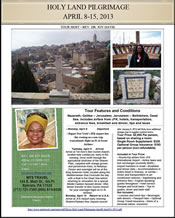 Holy Land Pilgrimage April 8-15, 2013 with Tour Host - Rev. Dr. Joy Davis. Tour Features and Conditions: Nazareth, Galilee - Jerusalem, Jerusalem - Bethlehem, Dead Sea. Includes airfare from JFK, hotels, transportation, entrance fees, breakfast and dinner, tips and taxes. Departing, Mon., April 8, 2013 - Returning, Mon., April 15, 2013. Tour Price: 2,955 per person, based on sharing a room (Single Room Supplement: $335; Optional Group Insurance: $193 per person, non-refundable). Accepting Deposits NOW!
Deposits received after Jan. 8, 2013, will likely incur add'l charges due to supplier contract terms. For More Info Visit: www.mistravel.com.
Rev. Dr. Joy Davis (Tabernacle Missionary Baptist Church)
Office: 313-898-3325
Email: joysayyes@hotmail.com
MTS Travel, 124 E. Main St. 4th Fl., Ephrata, PA 17522, 717-721-7300 - 800-874-9330.
Published 12/16/2012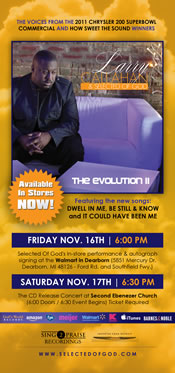 The voices from the 2011 Chrysler 200 Superbowl Commercial and How Sweet The Sound winners, Larry Callahan & Selected of God's new album, The Evolution II, featuring the new songs: "Dwell In Me," "Be Still & Know," and "It Could Have Been Me," available now, online and at the following retailers: God's World Records,
Walmart
, Amazon.com, fye, Meijer, Kmart, iTunes, and Barnes & Noble. Go to:
www.SelectedofGod.com
and enter the code "EVOLUTIONII" to hear an exclusive CD sneak preview.
Published 12/16/2012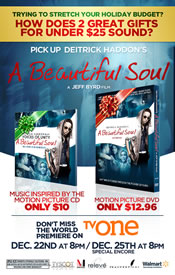 Trying to Stretch Your Holiday Budget? How Does 2 Great Gifts for Under $25 Sound? Pick up Deitrick Haddon's "A Beautiful Soul" (A Jeff Byrd film). Music Inspired by The Motion Picture
CD ONLY $10 @ Walmart
. Motion Picture
DVD ONLY $12.96 at WALMART
. And, don't miss the WORLD PREMIERE of "A Beautiful Soul" on TVOne Dec. 22nd @ 8 PM / Dec. 25th @ 8 PM (Special Encore).
www.abeautifulsoulmovie.com
.
Published 12/5/2012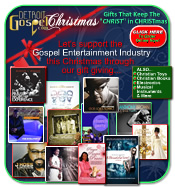 DetroitGospelChristmas.com...Gifts that keep The "CHRIST" in Christmas. Let's support the Gospel Entertainment Industry this Christmas through our gift giving. The Gospel Entertainment Industry, like most industries, has been hit hard by the current economic climate. If Christians don't support Gospel music, CD's, videos, plays, and other forms of Christian entertainment, who will? Let's support the Gospel Entertainment Industry this year by sharing Christmas gifts that share our faith. ALSO...Christian Toys, Christian Books, Electronics, Musical Instruments, & More. Order online securely through
www.DetroitGospelChristmas.com
(orders processed through Amazon.com).
Published 12/3/2012




The Detroit Bible Institute faculty and staff invite you to study with them for the Winter 2012 / 2013 school year. DBI exists to help you develop into a world-impacting Christian leader by providing a biblical, theological and ministerial education that is high-quality, affordable and accessible. DBI is the largest biblical institute in the city of Detroit, and has a quality staff of experienced pastors and seminary-trained teachers that desire to equip you better for your ministry. DBI now has two (2) sites. DBI Detroit located at 13660 Stansbury, Detroit, MI 48227, and DBI Sterling Heights located inside Rockpointe Community Church, 38100 Utica Road, Sterling Heights, MI 48312. DBI Central and DBI Sterling Heights will be enrolling for the Winter 2012-2013 session now through Dec. 16th. For more info visit
www.detroitbible.org
.
Published 12/1/2012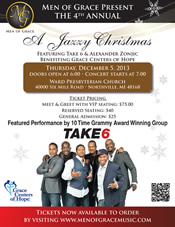 Men of Grace proudly present their 4th annual "A Jazzy Christmas" Concert, featuring 10-time Grammy Award artists Take 6. Together with world renowned flutist Alexander Zonjic and Men of Grace, this one of a kind concert benefits hundreds of men, women and children by providing financial support for the programs at Grace Centers of Hope. Join us in celebrating the birth of Christ, Thurs., Dec. 5, 2013, at 7PM (doors open at 6PM), at Ward Church, 40000 6-Mile Road, Northville, MI 48168. Come welcome Take 6 and their God-given vocal gifts back to the Detroit area. By purchasing a ticket, an ad or becoming a sponsor, you will help give comfort to the homeless, hopeless, addicted, and abused. For more information, please visit
www.menofgracemusic.com
. Master of Ceremonies: Chris Stevenson, WMUZ – The Morning Light 103.5FM. TICKETS: Meet & Greet: $75.00 (Exclusive meet and greet with the performers includes photo and special gift); General Admission: $25.00; Reserved: $40.00.
CLICK HERE TO PURCHASE TICKETS
or visit our website
www.menofgracemusic.com
. For information on how to become a SPONSOR, Email:
jazzy@menofgracemusic.com
or call Mary at 248-767-5783. All proceeds benefit the programs of Grace Centers of Hope.
Published 11/30/2012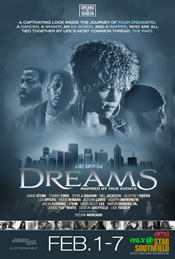 Dreams On Screen presents A Joel Kapity Film, DREAMS, inspired by true events. A captivating look inside the journey of four dreamers; a dancer, a singer, an ex-boxer, and a rapper, who are all tied together by life's most common thread: the past. With Angie Stone, Tommy Ford, Terri J. Vaughn, Mel Jackson, Geoffrey Owens, Lou Myers, Vickie Winans, Jazmin Lewis, Joseph Awinongya, Jaylin Fleming, J'Son, Marchello Lee, Marvin Winans Jr., Dennis "LA" White, Deleon Sheffield, Lisa Tucker, and introducing Syesha Mercado. NOW SHOWING ONLY @ AMC Star Theater Southfield, 25333 12 Mile Rd., Southfield, MI. Kingdom Entertainment Group / M2 Entertainment. For more info visit:
www.Facebook.com/dreamsthemovie
,
www.twitter.com/dreamsthemovie
,
www.DREAMSTHEMOVIE.com
.