Published 07/13/2013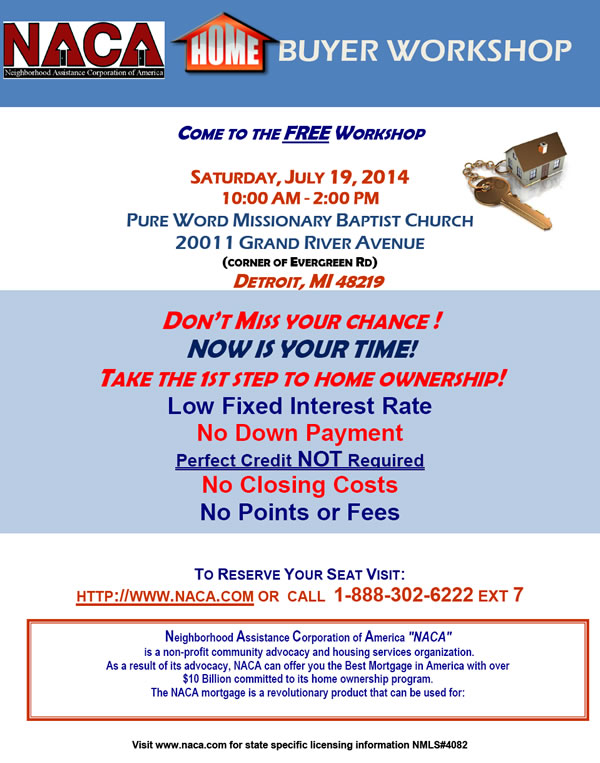 Free NACA (Neighborhood Assistance Corporation Of America) Home Buyer Workshop, Saturday, July 19, 2014, 10:00AM - 2:00PM, at Pure Word Missionary Baptist Church, 20011 Grand River Avenue (Corner of Evergreen Rd.), Detroit, MI 48219. Don't Miss Your Chance! Now is Your Time! Take the 1st Step to Home Ownership! Low Fixed Interest Rate. No Down Payment. Perfect Credit NOT Required. NO Closing Costs. NO Points or Fees. To Reserve Your Seat Visit:
www.NACA.com
or Call 1-888-302-6222 ext. 7.
Published 07/12/2013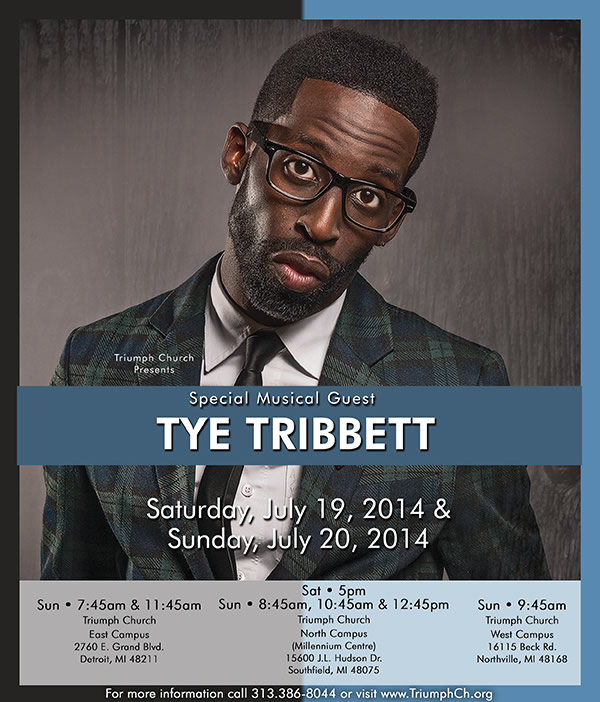 Sat., July 19 & Sun., July 20, Triumph Church welcomes special musical guest Tye Tribbett to All Services. DETROIT - SUNDAY 7:45AM & 11:45AM @ Triumph Church - East Campus, 2760 E. Grand Blvd., Detroit, MI 48211. SOUTHFIELD - SATURDAY 5PM and SUNDAY 8:45AM, 10:45AM & 12:45PM @ Triumph Church - North Campus (Millennium Centre), 15600 J.L. Hudson Dr., Southfield, MI 48075. CANTON/ANN ARBOR - SUNDAY 9:45AM @ Triumph Church - West Campus, 16115 Beck Rd., Northville, MI 48168. For more information call 313.386.8044 or visit
www.triumphch.org
.
Published 07/11/2013



Hope United Methodist Church presents "We Are Family" Southfield Festival of Hope, featuring Carnival from WADE SHOWS, Inc. Great Rides! Great Food! Games! Desserts! Karaoke! Live Music! FUN FOR THE WHOLE FAMILY! July 10-13, 2014...Thursday and Friday - 4:00 p.m. - 11:00 p.m.; Saturday - 12:00 Noon - 11:00 p.m.; Sunday - 2:00 p.m. - 8:00 p.m. All-Day Wristbands Available at Hope UMC. Advance Sales $16 / Onsite $22. Save Money...Buy Tickets Now at
http://bit.ly/1jJGAtB
. Like Southfield Festival of Hope on Facebook at
https://www.facebook.com/southfieldfestivalofhope
. Follow Southfield Festival of Hope on Twitter at
https://twitter.com/sfestivalofhope
. Committee Chairpersons: Doug Doggett and Bob Toliver. Hope United Methodist Church, 26275 Northwestern Highway, Southfield, MI, 248.356.1020,
www.hopeumc.org
.
Published 07/9/2013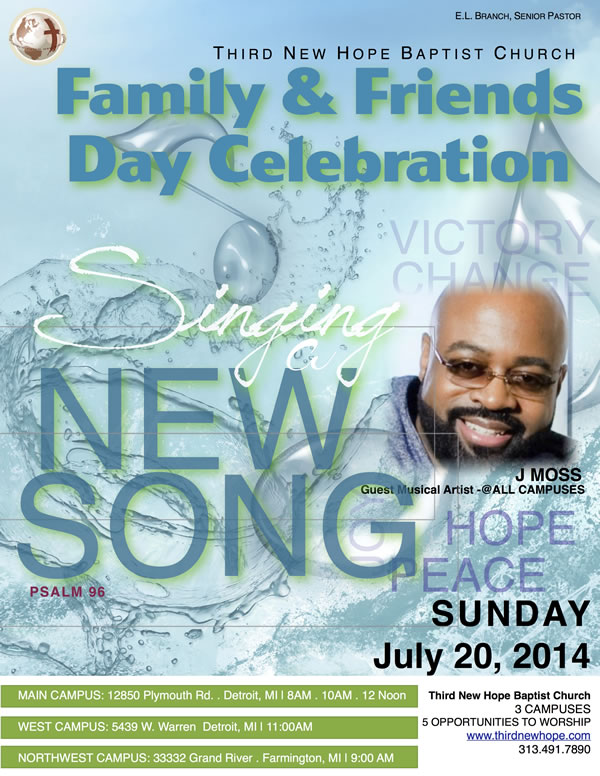 Third New Hope Baptist Church Family & Friends Day Celebration, Sunday, July 20, 2014, Singing a New Song - Psalm 96. Guest Musical Artist @ All Campuses: J Moss. Third New Hope Baptist Church (3 Campuses, 5 Opportunities to Worship). 8AM . 10AM . 12Noon - Main Campus: 12850 Plymouth Rd., Detroit, MI. 11AM - West Campus: 5439 W. Warren, Detroit, MI. 9AM - Northwest Campus: 33332 Grand River, Farmington, MI.
www.thirdnewhope.com
, 313.491.7891, E.L. Branch, Senior Pastor.
Published 07/8/2013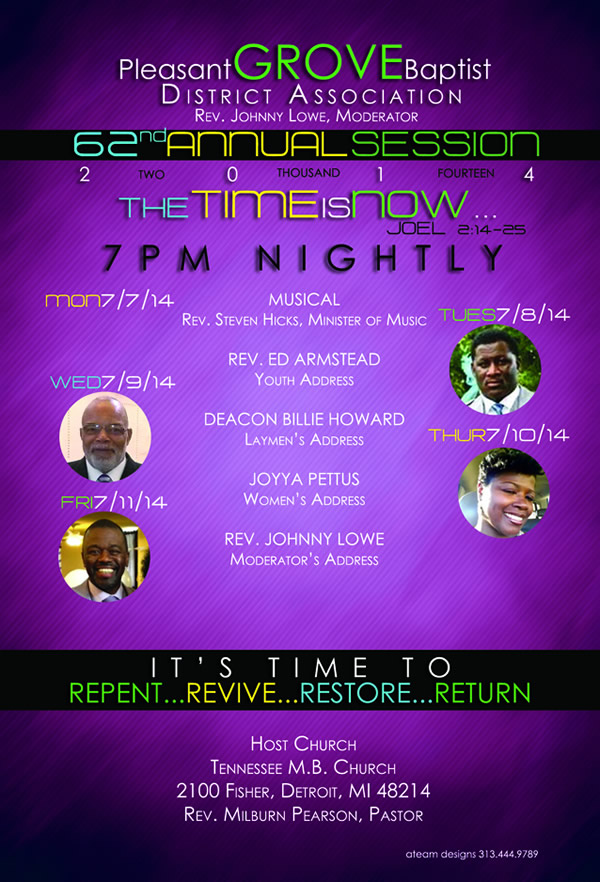 Pleasant Grove Baptist District Association (Rev. Johnny Lowe, Moderator) 62nd Annual Session, 2014...The TIME is NOW (Joel 2: 14-25). 7PM NIGHTLY...Tuesday, July 8th: Rev. Ed Armstead, Youth Address; Wednesday, July 9th: Deacon Billie Howard, Laymen's Address; Thursday, July 10th: Joyya Pettus, Women's Address; Friday, July 11th: Rev. Johnny Lowe, Moderator's Address. It's Time to Repent... Revive... Restore...Return. Host Church: Tennessee M.B. Church, 2100 Fisher, Detroit, MI 48214, Rev. Milburn Pearson, Pastor.
Published 07/8/2013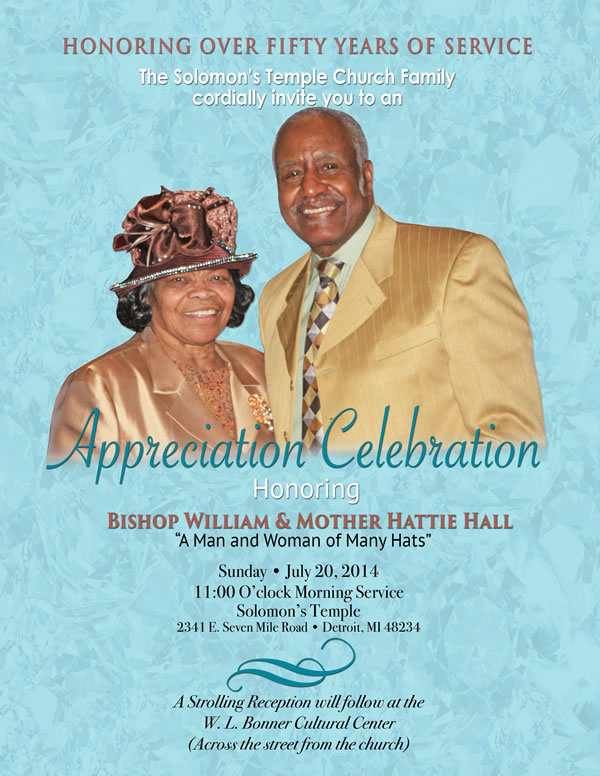 Honoring Over Fifty Years of Service...The Solomon's Temple Church Family cordially invites you to an Appreciation Celebration honoring Bishop William & Mother Hattie Hall ("A Man and Woman of Many Hats"), Sunday, July 20, 2014, 11AM Morning Service. At Solomon's Temple, 2341 E. 7-Mile Rd., Detroit, MI 48234, 313.893.1230, Apostle William L. Bonner, Pastor. A Strolling Reception will follow at the W.L. Bonner Cultural Center (across the street from the church).
Published 07/6/2013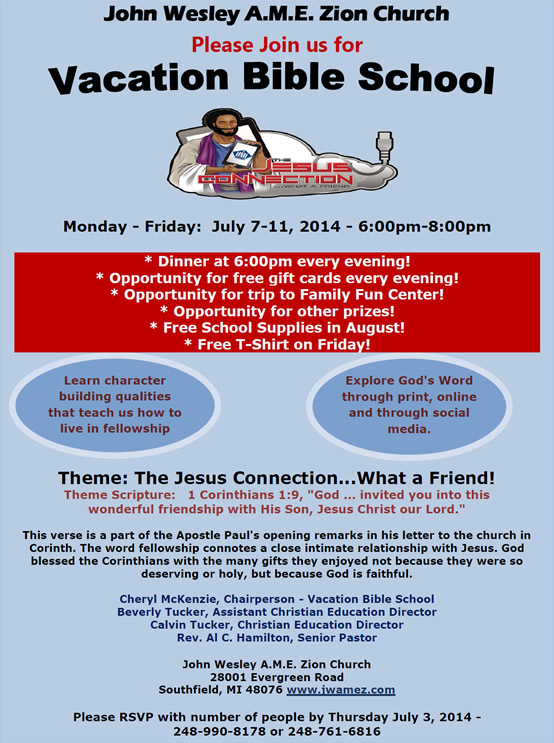 John Wesley A.M.E. Zion Church invites you to join them for Vacation Bible School, Monday - Friday: July 7-11, 2014 - 6:00pm-8:00pm. * Dinner at 6:00pm every evening! * Opportunity for free gift cards every evening! * Opportunity for trip to Family Fun Center! * Opportunity for other prizes! * Free School Supplies in August! * Free T-Shirt on Friday! Learn character building qualities that teach us how to live in fellowship. Explore God's Word through print, online and through social media. Theme: The Jesus Connection...What a Friend! Theme Scripture: 1 Corinthians 1:9, "God ... invited you into this wonderful friendship with His Son, Jesus Christ our Lord." This verse is a part of the Apostle Paul's opening remarks in his letter to the church in Corinth. The word fellowship connotes a close intimate relationship with Jesus. God blessed the Corinthians with the many gifts they enjoyed not because they were so deserving or holy, but because God is faithful. Cheryl McKenzie, Chairperson - Vacation Bible School; Beverly Tucker, Assistant Christian Education Director; Calvin Tucker, Christian Education Director; Rev. Al C. Hamilton, Senior Pastor. John Wesley A.M.E. Zion Church, 28001 Evergreen Road, Southfield, MI 48076,
www.jwamez.com
.
Please RSVP with number of people by Thursday July 3, 2014 - 248-990-8178 or 248-761-6816.
Published 07/5/2013



The Year of Authenticity...Authentic Christ, Authentic Church, Authentic Faith. Go Tell It Ministry Network of Churches "School of Wisdom 2014"...For Every Member of the Church. Bishop Corletta J. Vaughn, Presiding Prelate. July 9 - 11, 2014, sessions begin daily At 9:30 AM. Noon Day Lecture, Afternoon Worship - 2:30 PM, Evening Worship - 7:30 PM (Evening services open & free to the public). All sessions are held at The Courtyard Marriott - Downtown Detroit, 333 E. Jefferson Ave., Detroit, MI 48226, 313-222-7700. Special Guest Speakers: Wednesday Night - Bishop Rodney Sampson; Thursday Night - Dr. Wilma Johnson; Friday Night - Dr. Corletta J. Vaughn. Special Musical Guests: Larry Callahan, Peggy James, Mary Coston, Ruth Sinclair. Register fee: $299. Register NOW at
www.gotellit.org/registration.html
. Registration Includes: All Sessions - Day & Night, Workshops, Seminars, Materials, Daily Lunch, Transportation from Holy Ghost Cathedral every morning & evening to hotel and back for local registrants. Workshops: Altar Worker, Protocol, Investment, Lectionary Training, Music & Arts, Church Growth, Mental Healing, Team Ministry, Health Ministry, Cultural Revolution, Legal Issues, Self Care, Marriage & Divorce, LGBT Revolution, Financial Matters, Personal Ministry, Branding, Evangelism 101, Challenges For The Church, How to Entreat Strangers, How to Build Your New Church, How to Write By-laws, and much, much more. ~ Protocol ~ Vestments and Attire ~ Sermon / Messaging ~ Self-Care ~ Expansion Strategies ~ and More! ALSO SPECIAL Women in Leadership: Wednesday, July 9th @ 10AM and Thursday, July 10th @ 10AM (2 Days w/ Bishop Vaughn). Registration for Women in Leadership: $199. Register NOW at
www.gotellit.org/registration.html
For more info, call the Cathedral NOW at 313.579.2800 or visit us online at:
www.gotellit.org/SchoolOfWisdom
.
Published 07/5/2013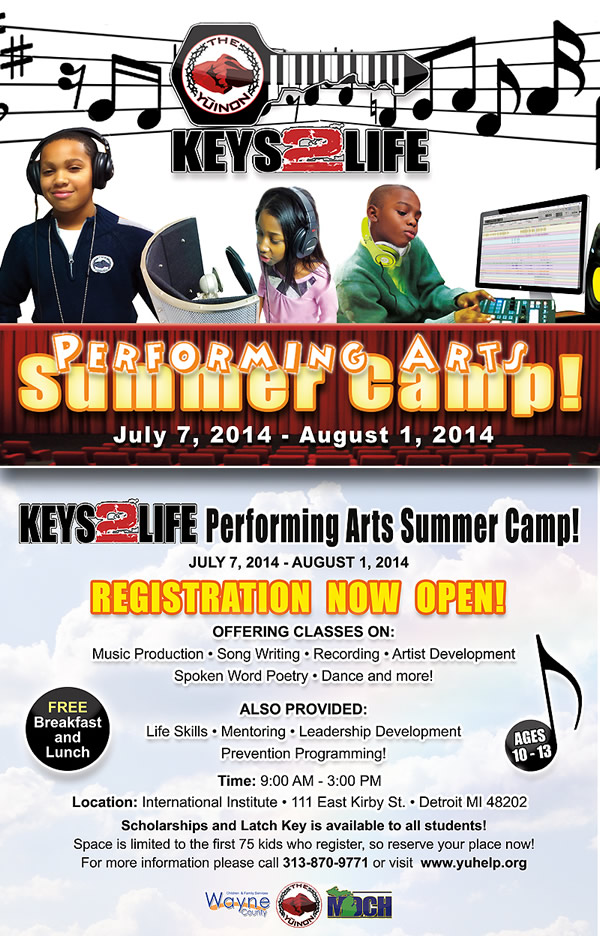 KEYS2LIFE Performing Arts Summer Camp, July 7, 2014 - August 1, 2014. REGISTRATION NOW OPEN! For ages 10-13. Free Breakfast and Lunch! Offering Classes On: Music Production, Song Writing, Recording, Artist Development, Spoken Word Poetry, Dance and more! Also Provided: Life Skills, Mentoring, Leadership Development, Prevention Planning! Time: 9:00 AM - 3:00 PM. Location: International Institute, 111 East Kirby St., Detroit, MI 48202. Scholarships and Latch Key is available to all students! Space is limited to the first 75 kids who register, so reserve your place now! For more information, please call 313-870-9771 or visit
www.yuhelp.org
. (Wayne County Children & Family Services, The Yuinon Inc., and Michigan Department of Community Health)
Published 07/3/2013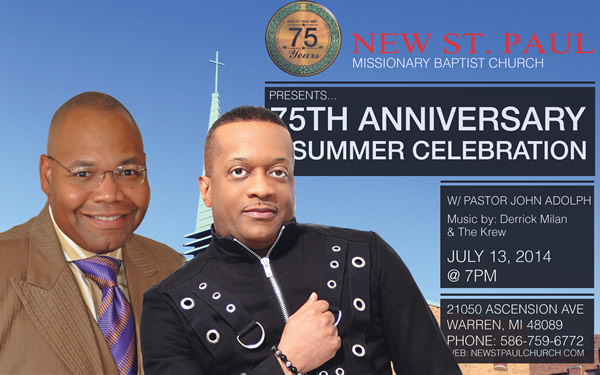 New St. Paul Missionary Baptist Church presents 75th Anniversary Summer Celebration with Pastor John Adolph and music by Derrick Milan & The Krew, Sunday, July 13, 2014 @ 7PM. New St. Paul MBC, 21050 Ascension Ave., Warren, MI 48089, 585-759-6772,
www.newstpaulchurch.com
.