Published 09/8/2012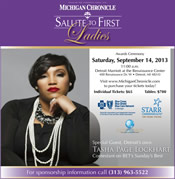 Congratulations to the Michigan Chronicle's 2013 Salute To First Ladies Honorees. Join them Saturday, September 14th at 11 a.m., at the Detroit Marriott inside of the Renaissance Center, to celebrate these phenomenal women of God! With special guest, Detroit's own Tasha Page Lockhart, "Sunday's Best" Season 6 Winner! Individual tickets: $65; Table of ten: $700.
Click here to purchase tickets
.
Published 09/7/2012



Israel and New Breed Worship Concert in conjunction with the October movie release "I'm In Love With A Church Girl," Thursday, September 12, 2013 at 7:00 p.m. Free Admission with Complimentary Ticket ONLY! At Christian Tabernacle Church, 26555 Franklin Rd., Southfield, MI 48033, 248-213-4770,
www.ctabchurch.org
, Dr. James L. Morman, Pastor.
Published 09/6/2012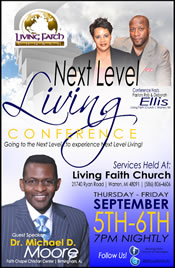 Living Faith Church Next Level Living Conference (Going to the Next Level...to experience Next Level Living!), Thursday, September 5th & Friday, September 6th @ 7PM Nightly. Services held at: Living Faith Church, 21740 Ryan Road, Warren, MI 48091, 586.806.4606. Conference Hosts: Pastors Rob & Deborah Ellis. Guest Speaker: Dr. Michael D. Moore of Faith Chapel Christian Center, Birmingham, AL. Watch video promo at
http://www.youtube.com/watch?v=jXfGv5ng1X0
.
Published 09/5/2012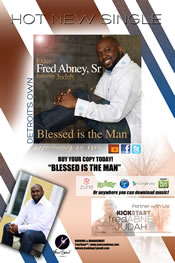 Hot new single from Detroit's Own Elder Fred Abney, Sr. Featuring Judah "Blessed Is The Man." Buy Your Copy Today! Download now at
iTunes
,
Amazon.com
,
Zune
,
Google Play
,
Spotify
, or anywhere you can download music. Partner with us...Join our
KICKSTARTER
Campaign, and be a part of a Live Recording Experience you'll never forget. Booking & Management: YourSoul(sm),
www.yoursoulmep.com
.
fabney.booking@gmail.com
. For more info visit:
Reverbnation
,
Facebook
,
Twitter.
Published 09/4/2012



Friday, September 6, 2013 @ 7:00 PM, don't miss "I Love My Man" written & directed by Gwen Hemmingway. This event is an inspirational musical stage play. A woman loves her man unconditionally under any circumstance. Through the laughter, disappointments and abuse, love can stand! Tickets $20, and available online at
www.cantonvillagetheater.org
. The Village Theater At Cherry Hill, 50400 Cherry Hill Road, Canton, MI 48187, Box Office - 734.394.5460 x0
Published 09/4/2012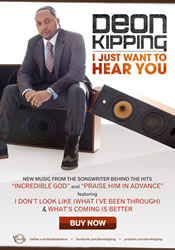 Deon Kipping's Brand New Album "I Just Want To Hear You" In Stores Now! New music from the songwriter behind the hits "Incredible God" and "Praise Him in Advance." Featuring "I Don't Look Like (What I've Been Through)" & "What's Coming Is Better." Pre-Order NOW on
iTunes
and
Amazon.com
. On Verity Records. For more info visit
www.twitter.com/thatdudedeon
,
www.facebook.com/deonkipping
, or
www.youtube.com/deonkipping
.
Published 09/2/2012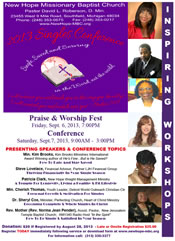 New Hope Missionary Baptist Church 2013 Singles Conference "Single, Saved and Serving in the Word Not the World," September 6th & 7th, 2013. Friday, Sept 6, 2013 @ 7:00PM: Praise & Worship Fest. Saturday, September 7, 2013 @ 3:00PM: Conference. Presenting Speakers & Conference Topics: Min. Kim Brooks - How to Date and Stay Saved; Steve Lovelace - Thriving Financially in you Single Season; Patricia Clark - A Temple For Longevity, Living a Healthy & Fit Lifestyle; Min. Cherish Thomas - Personal Growth & Motivation for Singles; Rev. Mother (Rev. Norma Jean Pender) - How To Be Single & Satisfied In Your Season. Donation: $20 if Registered by August 28, 2013. Late or Onsite Registration $25.00. To register TODAY, download form at:
www.newhope-mbc.org
. For information call: 313-330-3377. New Hope Missionary Baptist Church, 23455 W. Nine Mile, Southfield, MI 48033, Rev. David L. Roberson, D. Min., 248-353-0675 - P, 248-353-0217- F,
www.NewHope-MBC.org
.
Published 08/28/2012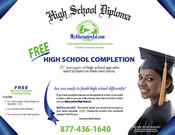 Learn a skill today to get a job tomorrow at MyAternativeEd.com (Clintondale Continuing Education Center Creative Learning Centers). FREE High School Completion & Vocational Training for teenagers of high school age who want to learn on their own terms, To qualify: You must be at least 16 years of age as of September 1, 2012; You must have a Birth Certificate; You must be a non-high school graduate. No cost if you qualify! All academic programs are aligned with Michigan curriculum standards. Choose From 8 In-Demand Careers and get Your High School Diploma!!! (Building Trades, Medical Office Assistant, Culinary Arts, Computer Repair, Music/Video Production, Cosmetology, Hair Culture, Manicuring/Nail Technician). Call and enroll now @ 877-436-1640. School begins October 1, 2012. Last day for registration is October 3, 2012. Locations in Clinton Township, Warren, Madison Heights, Highland Park, and Dearborn. English as a Second Language offered at Madison Heights, Dearborn, and Oak Park Locations.
Published 08/26/2012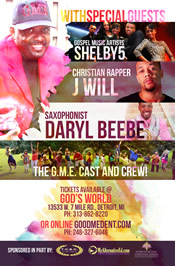 Saturday, Aug. 31, 2013 @ 7PM, Good Medicine Entertainment in conjunction with Word in Action Christian Center presents Laugh Now Cry Later III "Keeping it Clean." One night only, so get your tickets early !!! The G.M.E. Crew is bringing "Saturday Night Live" to Detroit! Join us for a night full of fun entertainment for the whole family to enjoy. Stand up & hilarious sketch comedy on video and on stage, and "LIVE" music with MD "J Brooks and the G.M.E. BAND" and special guests The Shelby 5, J Will, Daryl Beebe & Graceful Praise Dance Ministry. At Renaissance High School Auditorium, 6565 W. Outer Dr., Detroit, MI 48235. Tickets $15. Follow us on Twitter, IG and Facebook @Goodmedent, @jbrooklyn, @Shelby5fam, @jwilmusi & @dbeebe70. Tickets available at: God's World, 13533 W. 7 Mile Rd., Detroit, MI, PH:313-862-8220; For Your Eyes Beauty Boutique-Fairlane Mall (Lower Level, Across from DSW), PH: 313-271-3330; For Your Eyes The Studio-Oakland Mall (Upper Level, Near JCPenney), PH: 248-597-0367, Or ONLINE at
www.goodmedent.com
. Vendor opportunities available...contact us at goodmedent@yahoo.com, PH: 248-327-6046. Laugh now, Cry later
Published 08/22/2012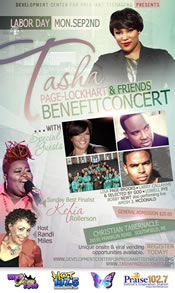 Development Center for Pregnant Teenagers presents Tasha Page Lockhart & Friends Benefit Concert Labor Day, September 2, 2013 @ 6PM. RED CARPET Arrivals @ 5PM with Praise 102.7 Host: Randi Miles. With special guests Lowell Pye, Lisa Page Brooks, Amish J. McDonald, Bobby Newt, Larry Callahan & SOG, and Sunday Best Finalist, Kefia Rollerson. General Admission - $20 (
CLICK TO BUY GEN'L ADMISSION TICKETS ONLINE
); VIP (upgrade) - $20 (
CLICK TO BUY VIP EVENT PASS ONLINE
); and All Inclusive VIP (upgrade) - $45 (
CLICK TO BUY ALL INCLUSIVE VIP PASS ONLINE
). Unique onsite & viral vending opportunities available. Venders Register Today @
https://www.eventbrite.com/event/7777660191
. More info at
www.DevelopmentCenterforPregnantTeenagers.org.
Held at Christian Tabernacle, 26555 Franklin Rd., Southfield, MI 48033.