Published 07/25/2015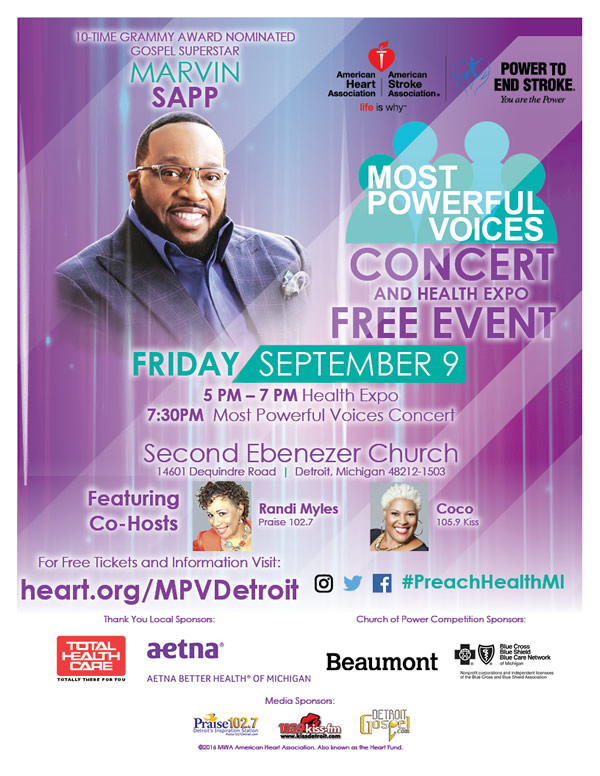 American Heart Association / American Stroke Association / Power to End Stroke "Most Powerful Voices CONCERT and Health Expo" - FREE EVENT! Friday, September 9, 2016; 5PM - 7PM: Health Expo; 7:30 PM: Most Powerful Voices Concert. Featuring: 10-Time Grammy Award Nominated Gospel Superstar, Marvin Sapp. Featuring Co-Hosts: Randi Myles (Praise 102.7) and Coco (105.9 Kiss). For FREE tickets and information visit
http://www.heart.org/MPVDetroit
. Held at: Second Ebenezer Church, 14601 Dequindre Rd., Detroit, Michigan 48212. #PreachHealthMI
Save
Save
Published 07/15/2015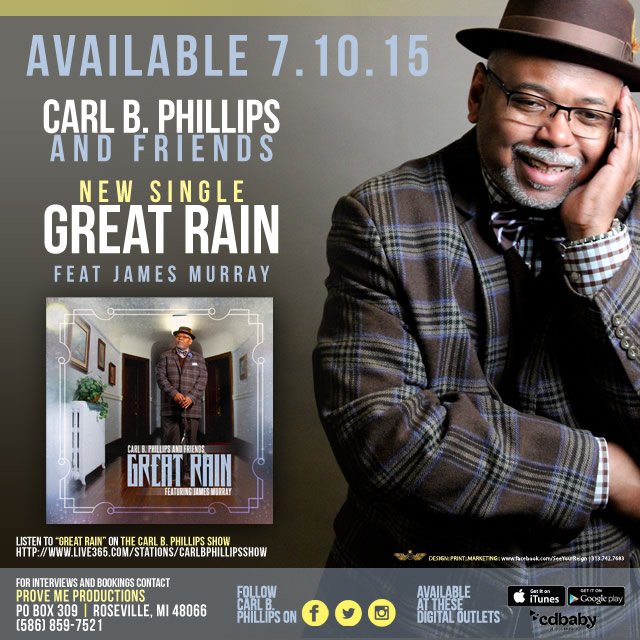 Available 7.10.15...Carl B. Phillips And Friends' new single, "Great Rain featuring James Murray." Listen to "Great Rain" on The Carl B. Phillips Show @ http://www.live365.com/stations/carlbphllipsshow. For interviews and bookings contact: Prove Me Productions, P.O. Box 309, Roseville, MI 48066, 586.859.7521. Follow Carl B. Phillips on
Facebook
,
Twitter
,
Instagram
. "Great Rain" available July 10th at these digital outlets: iTunes, Google Play, CDBaby.com. Pre-Order now at
Amazon.com
.
Published 07/13/2015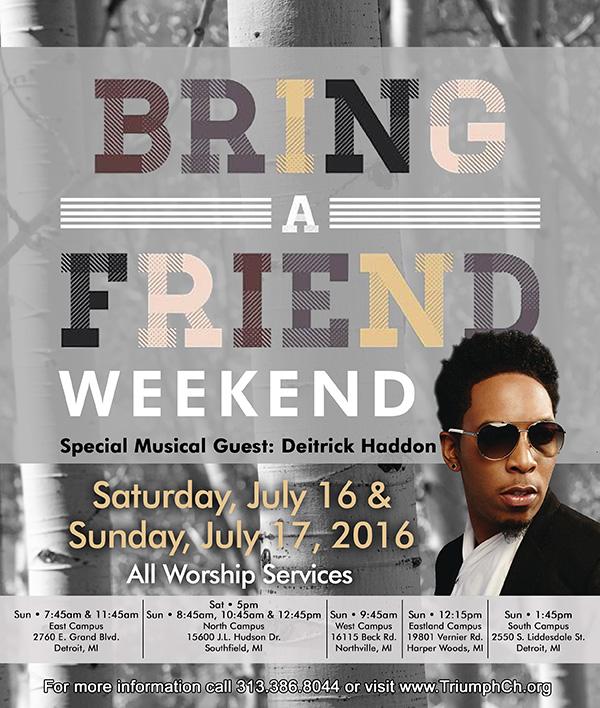 Triumph Church presents special musical guest Deitrick Haddon for "Bring A Friend Weekend," Saturday, July 16 & Sunday, July 17, 2016, ALL SERVICES. East Campus (SUN: 7:45AM & 11:45AM), 2760 E. Grand Blvd., Detroit, MI 48211. North Campus (Millennium Centre - SAT: 5PM and SUN: 8:45AM, 10:45AM, & 12:45PM), 15600 J.L. Hudson Dr., Southfield, MI 48075. West Campus (SUN: 9:45AM), 16115 Beck Rd., Northville, MI 48168. Eastland Campus (SUN: 12:15PM), 19801 Vernier Rd., Harper Woods, MI 48225. South Campus (SUN: 1:45PM), 2550 S. Liddesdale St., Detroit, MI 48217. For more information call 313.386.8044 or visit
www.TriumphCh.org
.
Save
Save
Published 07/9/2015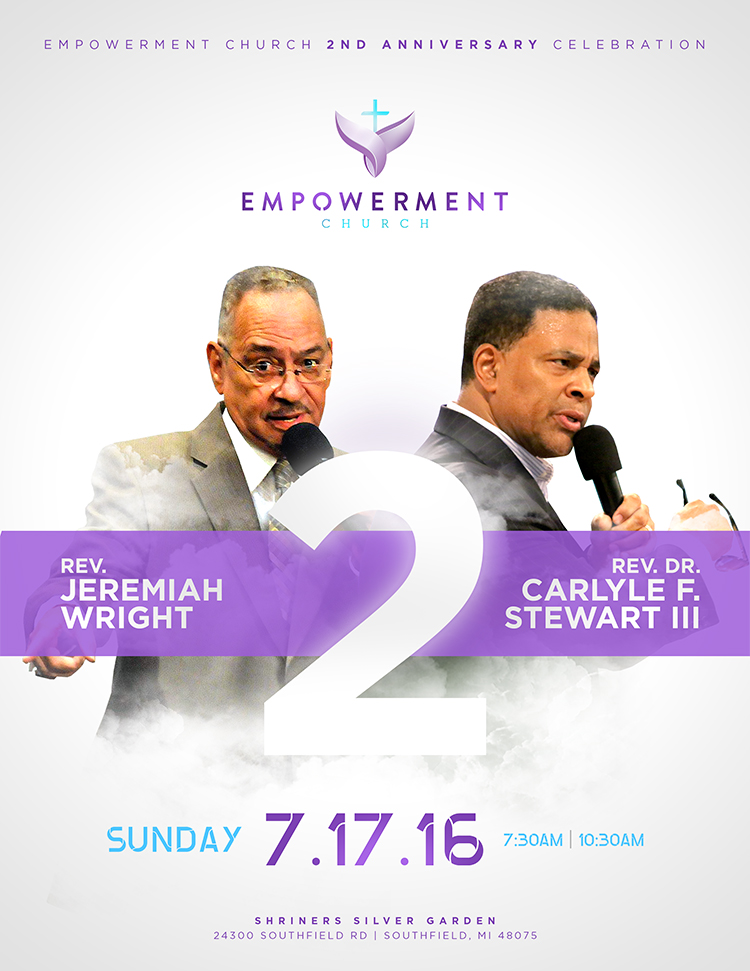 Empowerment Church 2nd Anniversary Celebration, Sunday, 7-17-16, at 7:30am and 10:30am, with Rev. Dr. Jeremiah Wright and Rev. Dr. Carlyle F. Stewart III. At Shriners Silver Garden, 24300 Southfield Rd., Southfield, MI 48075. For more info call Empowerment Church at 248-234-8357; email
contact@empowermentmi.org
or visit
http://empowermentmi.org
.
Save
Published 07/7/2015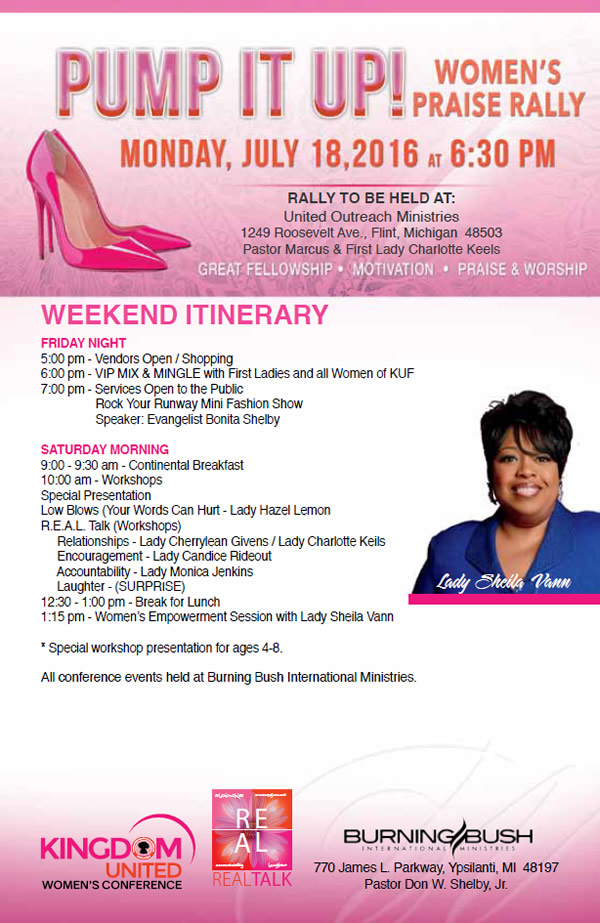 Kingdom United Women's Conference - R.E.A.L (Relationships | Encouragement | Accountability | Laughter)...REAL TALK Women's Conference, July 29-30, 2016. Hosts: Lady Bonita A. Shelby & the Fabulous Ladies of Kingdom United Fellowship. With PUMP IT UP! Women's Praise Rally on Monday, July 18, 2016 at 6:30 PM, at United Outreach Ministries, 1249 Roosevelt Ave., Flint, MI 48503; Pastor Marcus & First Lady Charlotte Keels (Great Fellowship ~ Motivation ~ Praise & Worship).
Save
Published 07/6/2015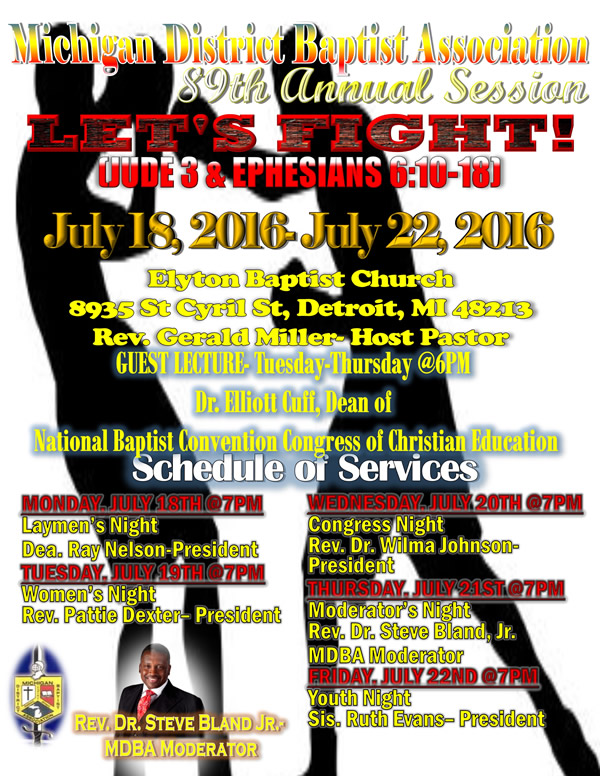 Michigan District Baptist Association's 89th Annual Session, July 18th - 22th, 2016..."LET'S FIGHT!" [Jude 3 & Ephesians 6:10-18]; Rev. Dr. Steve Bland, Jr. - MDBA Moderator. At Elyton Baptist Church, 8935 St. Cyril St., Detroit, MI 48213; Rev. Gerald Miller - Host Pastor. Guest Lecturer - Tuesday thru Thursday @ 6PM: Dr. Elliott Cuff, Dean of National Baptist Convention Congress of Christian Education. Schedule of Services...Monday, July 18th @ 7PM: Laymen's Night with Deacon Ray Nelson - President. Tuesday, July 19th @ 7PM: Women's Night with Rev. Pattie Dexter, President. Wednesday, July 20th @ 7PM: Congress Night with Rev. Dr. Wilma Johnson - President. Thursday, July 21st @ 7PM: Moderator's Night with Rev. Dr. Steve Bland, Jr. - MDBA Moderator; Friday, July 22nd @ 7PM: Youth Night with Sister Ruth Evans - President.
Save
Published 07/5/2015



First Baptist World Changers International Ministries presents "2 DAYS OF FAITH: Living Over the Top," Wednesday & Thursday, July 20th - 21st, 2016, at 7:00 PM. With Apostle Lennell D. Caldwell and Bishop Andrew Merritt. Located at 22575 W. Eight Mile Rd., Detroit, Michigan 48219. For more info visit
www.firstbaptistworldchangers.org
.
Save
Published 07/5/2015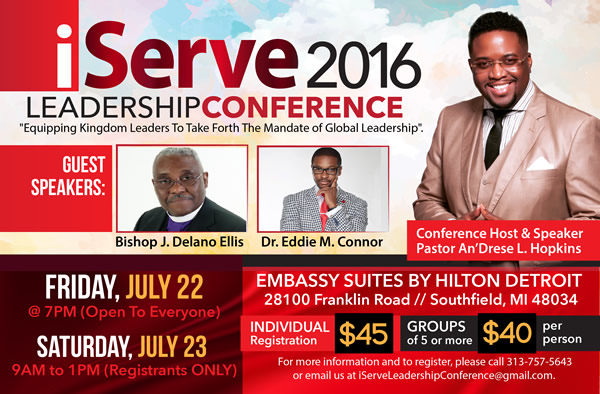 iServe 2016 Leadership Conference, "Equipping Kingdom Leaders to Take Forth The Mandate of Global Leadership." Conference Host & Speaker: Pastor An'Drese L. Hopkins. Guest Speakers: Bishop J. Delano Ellis and Dr. Eddie M. Connor. Friday, July 22 @ 7PM (Open to Everyone) and Saturday, July 23, from 9AM to 1PM (Registrants ONLY). Embassy Suites By Hilton Detroit, 28100 Franklin Road, Southfield, MI 48034. Individual Registration - $45. Groups of 5 or more - $40 per person. For more information, or to register you or your leaders, please contact us at 313.757.5643 or email us at iServeLeadershipConference@gmail.com.
Save
Save
Published 07/1/2015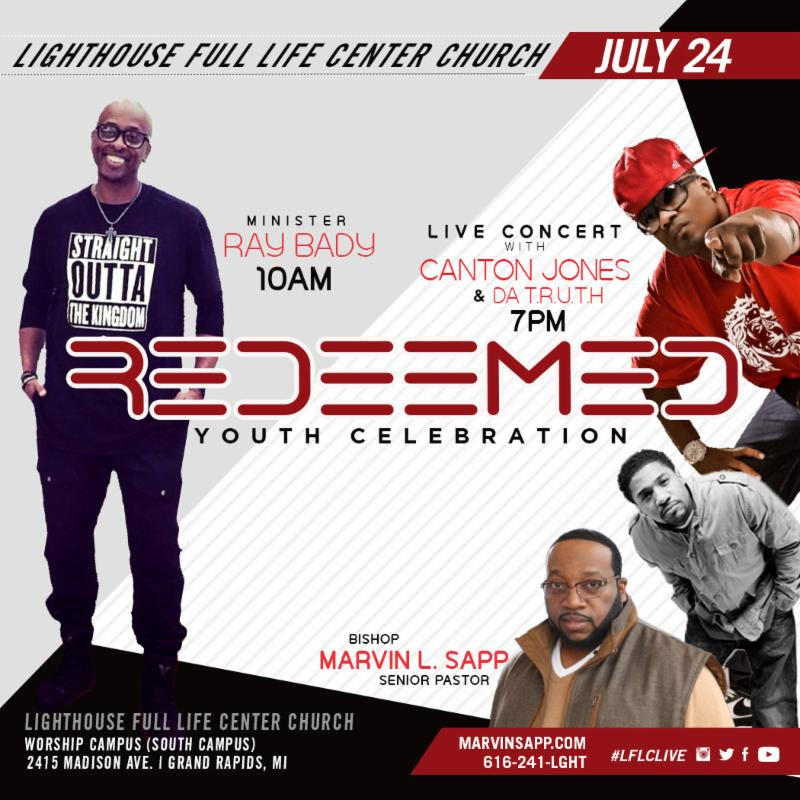 Bishop Marvin L. Sapp & Lighthouse Full Life Center Church present 2016 REDEEMED Youth Celebration. Sun., July 24th @ 10am, guest speaker Minister Ray Bady and at 7pm LIVE Concert with musical guests Canton Jones an DA' T.R.U.T.H. Lighthouse Full Life Center Church, Worship Campus (South Campus), 2415 Madison Ave SE, Grand Rapids, MI 49507; Phone: 616-241-LGHT (5448); Fax: 616-241-5352. Watch video at
https://www.youtube.com/watch?v=br9uioMSsPE
.
Save
Save
Save
Save
Save
Published 06/30/2015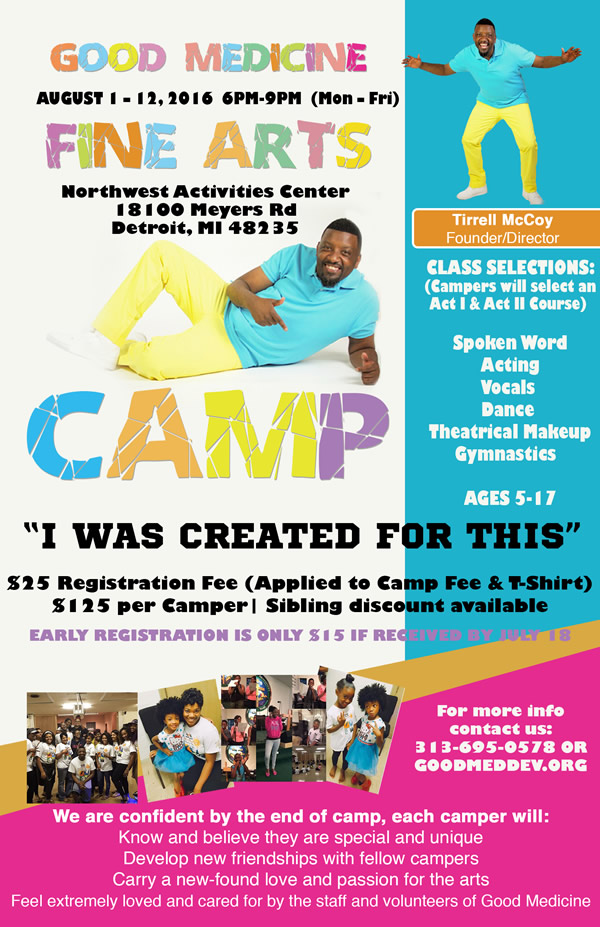 Good Medicine Development presents "I WAS CREATED FOR THIS" Fine Arts Camp. Camp dates: Aug 1-12, 2016, 6:00pm- 9:00pm (Mon-Fri); for ages 5-17. At Northwest Activities Center, 18100 Meyers Rd, Detroit, MI 48235. $125 per Camper includes: Registration Fee, 2-Week Camp, T-Shirt, Nightly Snacks. Sibling discount available. Class Selections: Spoken Word, Acting, Vocals, Dance, Theatrical Makeup, Gymnastics (campers will select an Act I & Act II Course). GMD is confident that by the end of camp, each camper will: Know and believe they are special and unique; Develop new friendships with fellow campers; Carry a new-found love and passion for the arts; and Feel extremely loved and cared for by the staff and volunteers of Good Medicine. Tirrell McCoy, Founder/Director. For more info contact: 313-695-0578 or visit
www.Goodmeddev.org
.
Save