Published 06/20/2015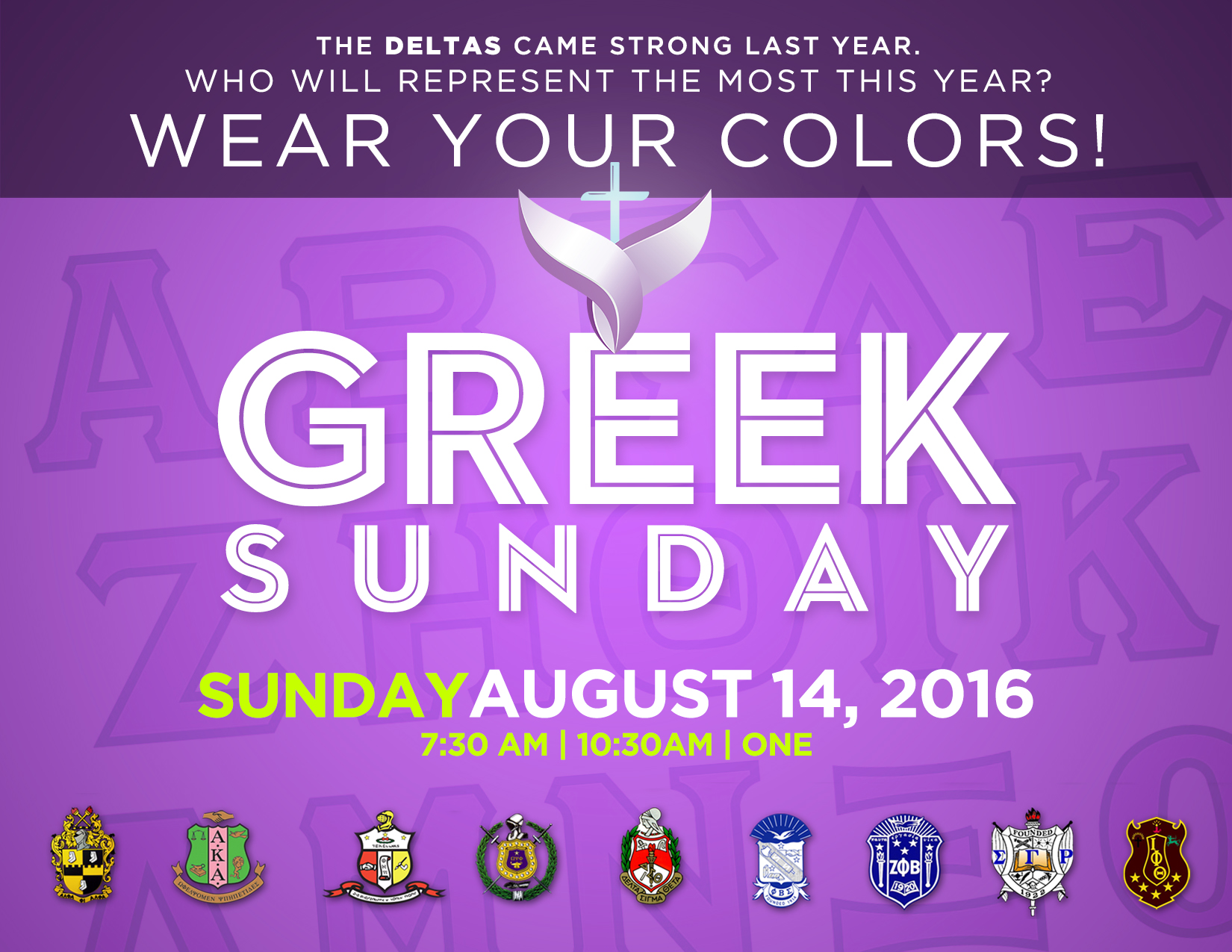 GREEK SUNDAY @ Empowerment Church on August 14, 2016, at 7:30am / 10:30am / ONE. The Deltas Came Strong Last Year...Who will represent the most this year? WEAR YOUR COLORS! At Shriners Silver Garden, 24300 Southfield Rd., Southfield, MI 48075. For more info call Empowerment Church at 248-234-8357; email
contact@empowermentmi.org
or visit
http://empowermentmi.org
.
Save
Published 06/20/2015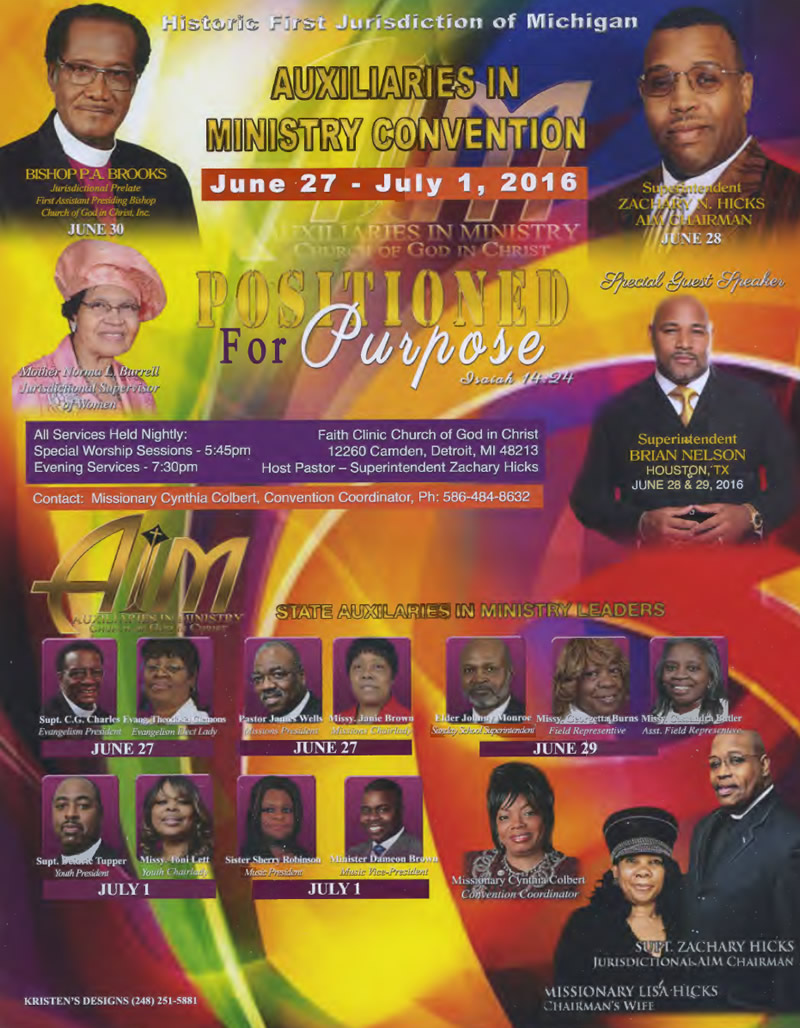 Historic First Jurisdiction of Michigan Auxiliaries In Ministry Convention, June 27 - July 1, 2016...Positioned For Purpose (Isaiah 14:24). Mother Norma L. Burrell, Jurisdictional Supervisor of Women. June 28th: Superintendent Zachary N. Hicks, AIM Chairman. June 28th & 29th: Special Guest Speaker Superintendent Brian Nelson of Houston, TX. June 30th: Bishop P.A. Brooks, Jurisdictional Prelate, First Assistant Presiding Bishop Church of God In Christ, Inc. All Services Held Nightly: Special Worship Sessions - 5:45pm; Evening Services - 7:30pm at Faith Clinic Church of God in Christ, 12260 Camden, Detroit, MI 48213. Host Pastor - Superintendent Zachary Hicks. Contact: Missionary Cynthia Colbert, Convention Coordinator, Ph: 586-484-8632.
Save
Published 06/20/2015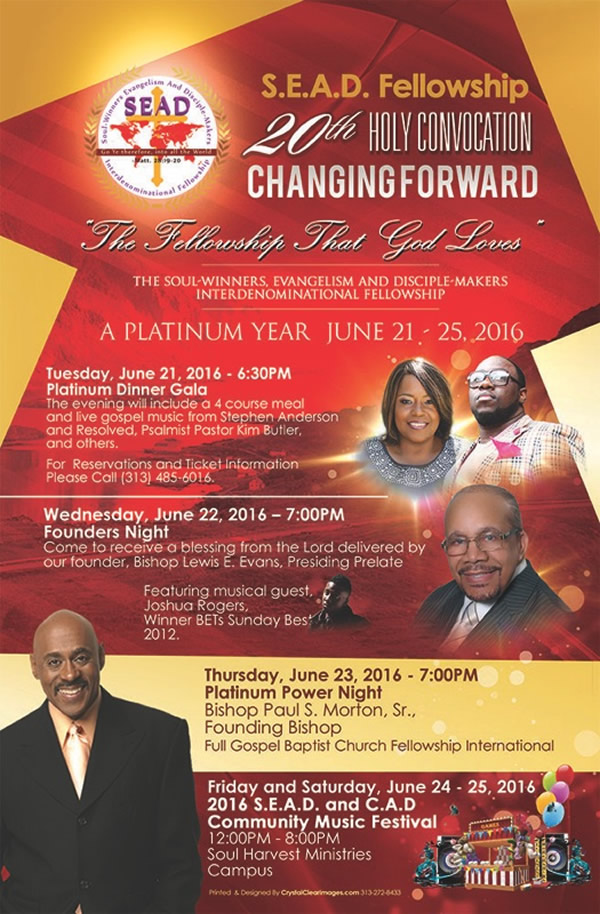 S.E.A.D. Fellowship 20th Holy Convocation, Changing Forward, "The Fellowship That God Loves" (The Soul Winners, Evangelism And Disciple-Makers Interdenominational Fellowship), A Platinum Year: June 21 - 26, 2016. Tuesday, June 21, 2016: Platinum Dinner Gala. The evening will include a 4 course meal and live gospel music from Stephen Anderson and Resolved, Psalmist Pastor Kim Butler, and others. For reservations and ticket information please call (313) 485-6016. Wednesday, June 22, 7:00 PM: Founder's Night. Come to receive a blessing from the Lord delivered by founder, Bishop Lewis E. Evans, Presiding Prelate. Featuring musical guest Joshua Rogers (winner of BET's Sunday's Best 2012). Thursday, June 23, 7:00 PM: Platinum Power Night with Bishop Paul S. Morton, Sr., Founding Bishop, Full Gospel Baptist Church Fellowship International. Friday, June 24 and Sat., June 25: 2016 S.E.A.D. and C.A.D. Community Music Festival, 12:00 PM - 8:00PM. All Events Held At: Soul Harvest Ministries Campus, 16300 Woodward Ave., Highland Park, MI. For information call 313.869.7685.
Published 06/20/2015




KC3 or Kingdom Congregation Corporate Concordance promotes the use of gifts and talents in the Christian community, improving the health and vitality within the Body of Christ. KC3 allows church members to support each other financially, circulating financial growth within the Christian community.That usher you see every Sunday, could be the handyman to fix your gutters. That greeter, that musician, or that minister could be the business owner you seek. We sit next to doctors, lawyers, craftsmen, accountants, and more all the time having no idea who the Lord has placed us next to. Advertise your Christian business or find a Christian professional TODAY at
www.kc3online.com
.
Save
Save
Published 06/19/2015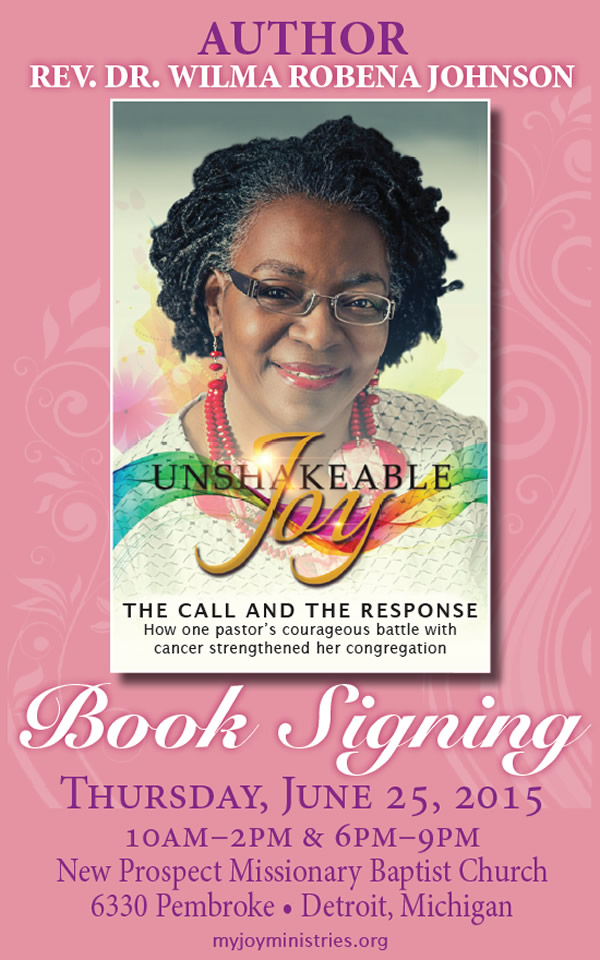 Author and pastor Rev. Dr. Wilma Robena Johnson's new book is entitled "UNSHAKEABLE JOY: The Call and The Response." Discover how one pastor's courageous battle with cancer strengthened her congregation. For more info visit
www.myjoyministries.org
.
Published 06/15/2015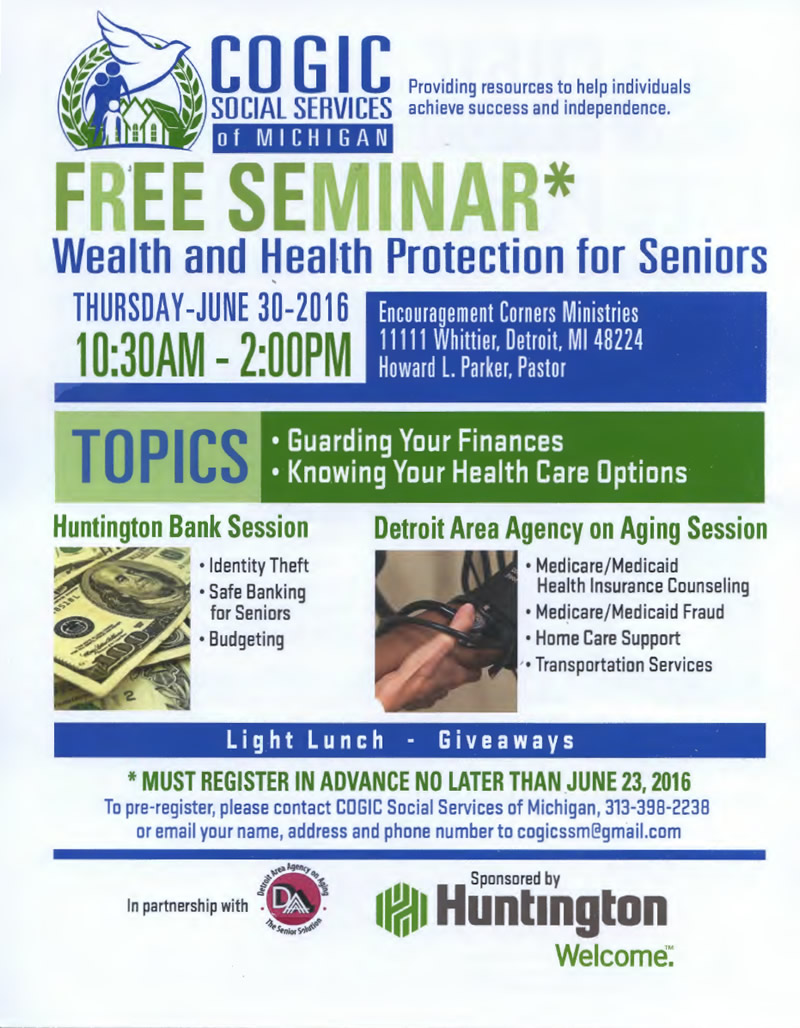 COGIC Social Services of Michigan (providing resources to help individuals achieve success and independence) FREE SEMINAR: Wealth and Health Protection for Seniors, Thursday, June 30, 2016, 10:30AM - 2:00PM. At Encouragement Corners Ministries, 11111 Whittier, Detroit, MI 48224, Howard L. Parker, Pastor. TOPICS: Guarding Your Finances; Knowing Your Health Care Options. Huntington Banking Session: Identity Theft; Safe Banking for Seniors; Budgeting. Detroit Area Agency on Aging Session: Medicare/Medicaid Health Insurance Counseling; Medicare/Medicaid Fraud; Home Care Support; Transportation Services. Light Lunch ~ Giveaways. To pre-register, please contact COGIC Social Services of Michigan, 313-398-2238, or email your name, address and phone number to
cogicssm@gmail.com
. In partnership with Detroit Area Agency on Aging. Sponsored by Huntington Bank.
Save
Published 06/15/2015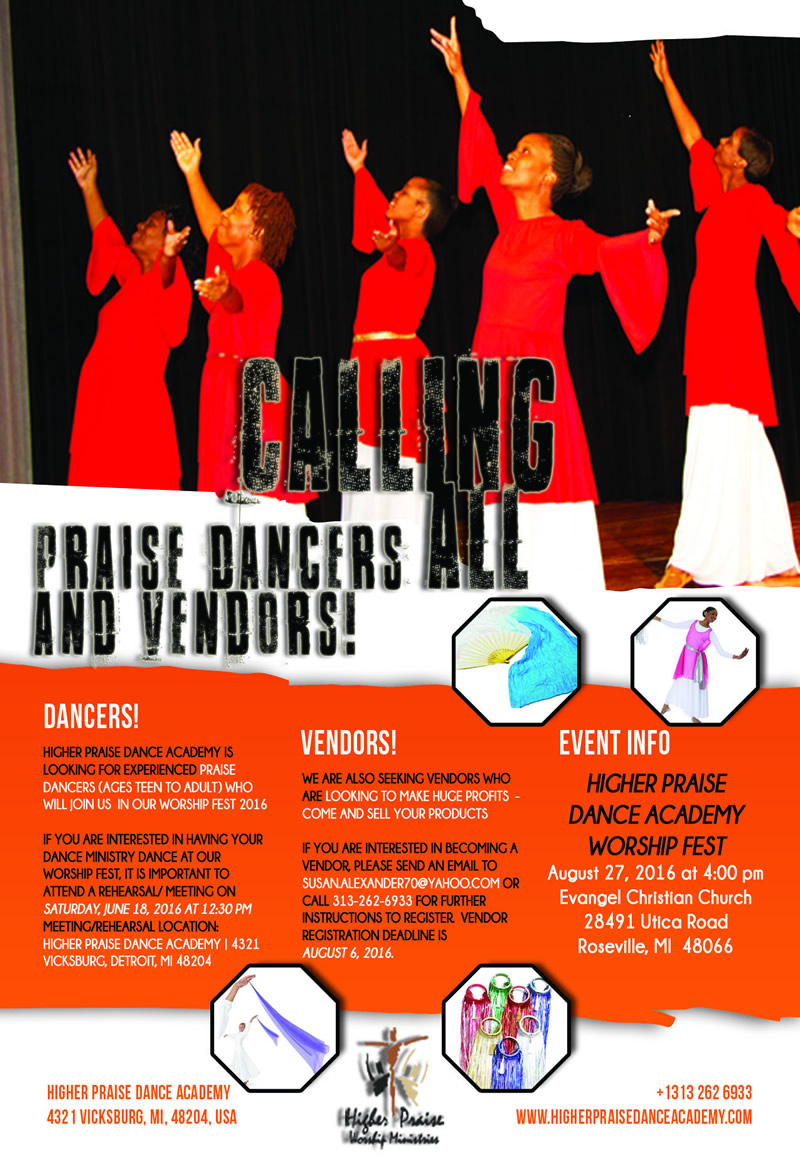 Dancers! Higher Praise Dance Academy is looking for experienced praise dancers (ages teen to adult) who will join us in our Worship Fest 2016. If you are interested in having your dance ministry dance at our Worship Fest, it is important to attend a rehearsal/meeting on Saturday, June 18 or Saturday, June 25 at 12:30 PM, or call the number listed below for the dance rehearsal schedule. Meeting/rehearsal location: Higher Praise Dance Academy, 4321 Vicksburg, Detroit, MI 48204. Vendors! We are also seeking vendors who are looking to make huge profits - come and sell your products. If you are interested in becoming a vendor, please send an email to susan.alexander70@yahoo.com or call 313-262-6933 for further instructions to register. Vendor registration deadline is August 6, 2016. Event Info: Higher Praise Dance Academy Worship Fest, August 27, 2016 at 4:00 PM, at Evangel Christian Church, 28491 Utica Road, Roseville, MI 48066;
www.higherpraisedanceacademy.com
.
Save
Save
Save
Save
Save
Published 06/10/2015



You're invited to Burning Bush International Ministries' "LET'S TALK" All Night Slumber Party hosted by Lady Bonita Shelby and sponsored by FLARE Ladies Ministry, June 30 - July 2, 2016 (check-in 3pm / Friday start time 6pm). At Detroit Marriott Renaissance, Renaissance Center, 400 Renaissance Center, Detroit, Michigan 48243; 313-568-8000. Registration Cost: $50. Ages 11 and under: $20 (Hotel stay is not included in registration). Registration deadline: June 18, 2016. Hotel Room Rate $139 - Double Occupancy, (plus applicable taxes). For hotel booking contact: Detroit Marriott Renaissance and ask for Flare Ladies Room Block. For more info visit
www.bbimonline.com
.
Save
Save
Published 06/7/2015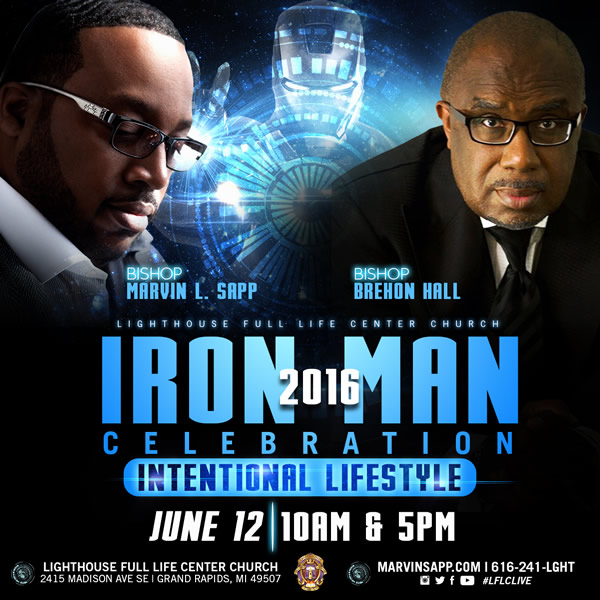 Lighthouse Full Life Center Church presents IRON MAN Celebration 2016 with Bishop Marvin L. Sapp and Bishop Brehon Hall...INTENTIONAL LIFESTYLE, Sunday, June 12, 2016 at 10AM & 5PM. At Lighthouse Full Life Center Church, 2415 Madison Ave SE, Grand Rapids, MI 49507; Phone: 616-241-LGHT (5448); Fax: 616-241-5352;
www.marvinsapp.com
.
Save
Published 06/5/2015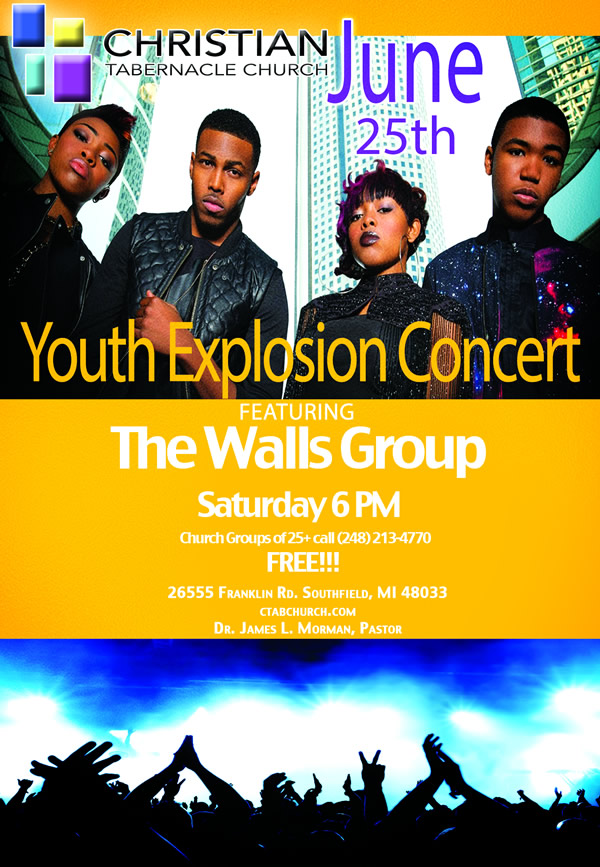 Christian Tabernacle Church Youth Explosion Concert featuring The Walls Group, Saturday, June 25th @ 6pm. Church Groups of 25+ call 248-213-4770. FREE! At Christian Tabernacle Church, 26555 Franklin Rd., Southfield, MI 48033. Dr. James L. Morman, Pastor;
www.CTabChurch.com
.
Save
Save
Save