Published 11/20/2013



Dr. Michael E. Fletcher & The Michael Fletcher Chorale's 32nd Anniversary, Sunday, December 7, 2014 @ 5pm. Mistress of Ceremony Co-Pastor Lora Butts of Power of Faith Ministries. Featuring: Larry Callahan & Selected of God; Sheldon Neil of Toronto, Canada; Pastor Tim Slaughter & Greater Grace Temple Praise Team. Also featuring "Perfected Praise Choir" of Perfecting Church. No Admission Charge - FREE will offering! For more information contact: 313-455-0690. At True Love Missionary Baptist Church, 8200 Tireman, Detroit, MI 48204, Rev. Dr. Herbert B. Robinson Jr., Pastor.
Published 11/20/2013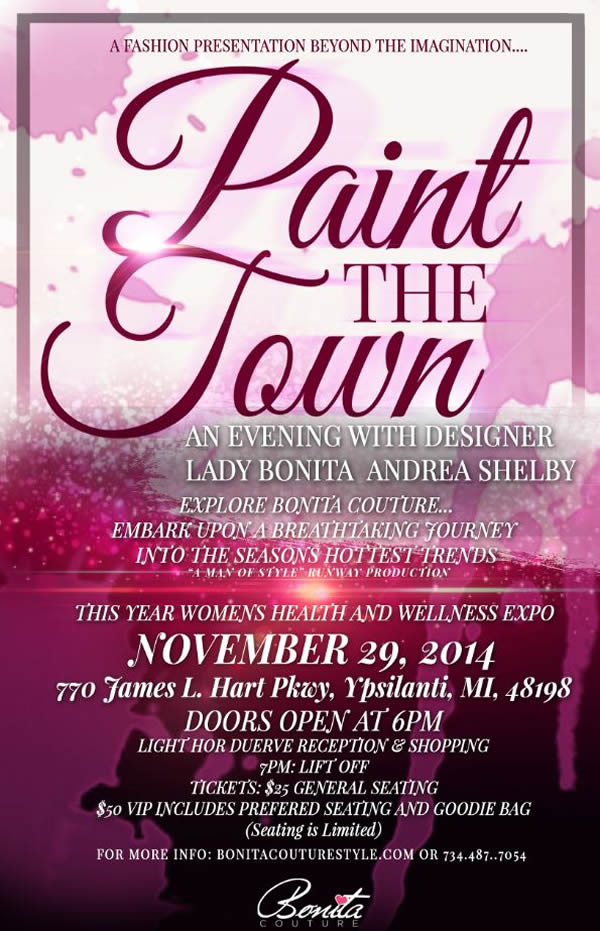 A Fashion Presentation Beyond the Imagination..."Paint The Town," An Evening with Designer Lady Bonita Andrea Shelby. Explore Bonita Couture...Embark Upon A Breathtaking Journey Into the Season's Hottest Trends ("A Man of Style" Runway Production). This Year's Women's Health and Wellness EXPO, November 29, 2014, Expo & Shopping Begin at 4PM, 770 James L. Hart Pkwy, Ypsilanti, MI 48198. Doors Open @ 6PM for Fashion Show (Light Hors D'Oeuvre Reception), 7PM Lift Off. Tickets: $25 General Seating; $50 VIP - Includes Preferred Seating and Goodie Bag (Seating is Limited). You can purchase tickets online at
www.mybonitacouture.com
; OR Burning Bush International Ministries, 770 James L. Hart Parkway, Ypsilanti, MI 48198, 734.487.7054; OR Green and Glamorous Upscale Resale Boutique, 42847 Ford Road, Canton, MI 48187, 734.404.6117 (Tues - Thurs, 11am - 6pm and Fri - Sat 11am - 7pm); OR God's World, 13533 W. 7 Mile Rd, Detroit MI 48235, 313.862.8220. For More Info:
www.myBonitaCouture.com
or 734.487.7054.
Published 11/19/2013



Pastor Lisa Brooks and RWS are going to The SECRET PLACE...Services Thursday, Dec. 11th and Friday, Dec. 12th @ 7:30PM Nightly (Services are Free and Open to the Public). Location: Doubletree Hotel, 42100 Crescent Blvd., Novi, MI, 248.344.8800,
RWSCONFERENCE@GMAIL.com
, 248.885.8004. Restoration Fellowship Church Int'l, Bishop Michael A. Brooks.
Published 11/19/2013



Mighty Men of Valor Men's Choir with Special Guest ISAAC CARREE, Saturday, November 29, and Sunday, November 30, 2014, All Services. East Campus: SUN - 7:45AM & 11:45AM, 2760 E. Grand Blvd., Detroit, MI 48211. North Campus (Millennium Centre): SAT: 5PM and SUN: 8:45AM, 15600 J.L. Hudson Dr., Southfield, MI 48075. West Campus: SUN: 9:45AM, 16115 Beck Rd., Northville, MI 48168. Southfield-Lathrup High School Campus: SUN: 10:45AM & 12:45PM, 19301 W. 12 Mile Rd., Southfield, MI 48076. Rehearsals: Saturday, November 29, 11AM, East Campus, 2760 E. Grand Blvd., Detroit, MI. For more information call 313.386.8044 or visit
www.TriumphCh.org
.
Published 11/17/2013



The Season of Thanks Living...Empowerment Church Special Worship Service and Community Diaper Drive, Sunday, December 14, 2014 @ 10:00 AM, at Ford Community & Performing Arts Center, 15801 Michigan Avenue, Dearborn, MI 48126. Featuring: J Moss. Message by:
Rev. Dr. Carlyle Fielding Stewart, III. The average baby uses 2500 diapers in the first year. For some Families the cost is overwhelming. Bring Diapers Donations in Support of Lighthouse of Oakland County. For more information, please call Empowerment Church at (248) 234-8356 or visit
www.empowermentmi.org
.
Published 11/16/2013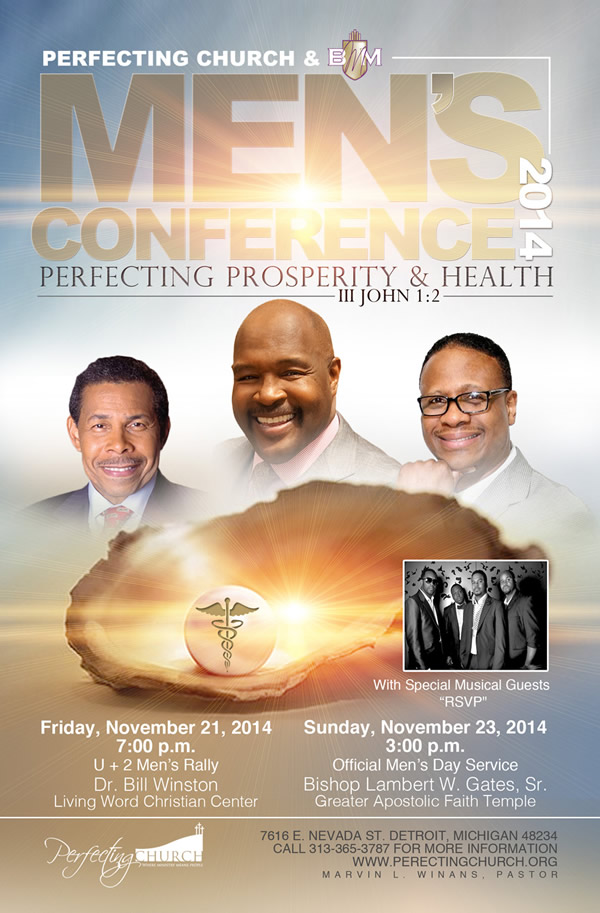 Perfecting Church & BMM Men's Conference 2014: Perfecting Prosperity & Health (III John 1:2), with Special Musical Guests "RSVP." Friday, November 21, 2014 @ 7:00 p.m.: U + 2 Men's Rally with Dr. Bill Winston, Living Word Christian Center. Sunday, November 23, 2014 @ 3:00 p.m.: Official Men's Day Service with Bishop Lambert W. Gates, Sr. (Greater Apostolic Faith Temple). At Perfecting Church, 7616 Nevada, Detroit, MI, Marvin L. Winans, Pastor. For more information call 313.365.3787 or visit
www.perfectingchurch.org
.
Published 11/15/2013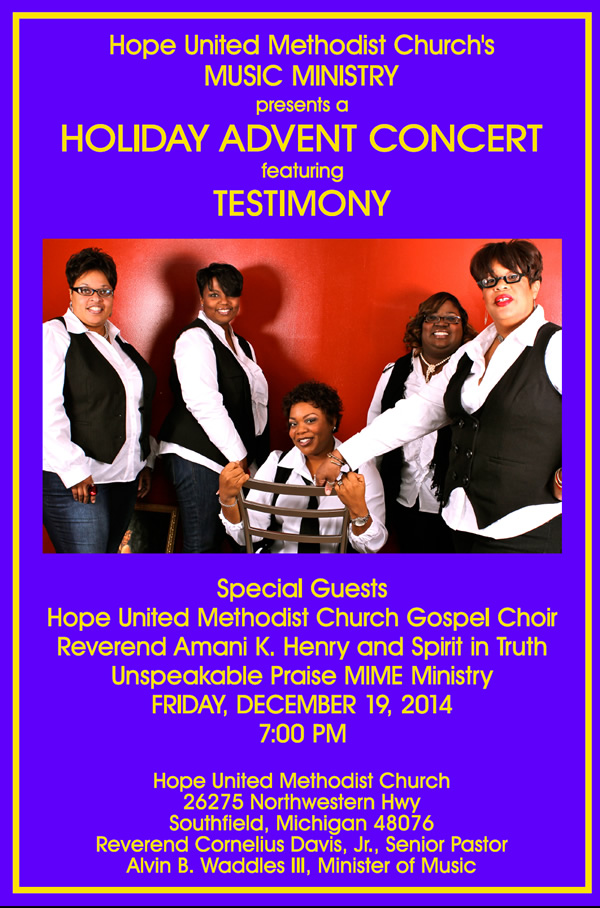 Hope United Methodist Church's MUSIC MINISTRY presents a Holiday Advent Concert, Friday, December 19, 2014, at 7:00 PM, featuring TESTIMONY. With special guests Hope United Methodist Church Gospel Choir, Reverend Amani K. Henry and Spirit in Truth, and Unspeakable Praise MIME Ministry. Concert is FREE! For more information call 248.356.1020 or visit
www.hopeumc.org
. Hope United Methodist Church, 26275 Northwestern Highway, Southfield, MI 48076, Reverend Cornelius Davis, Jr., Senior Pastor and Alvin B. Waddles III, Minister of Music.
Published 11/15/2013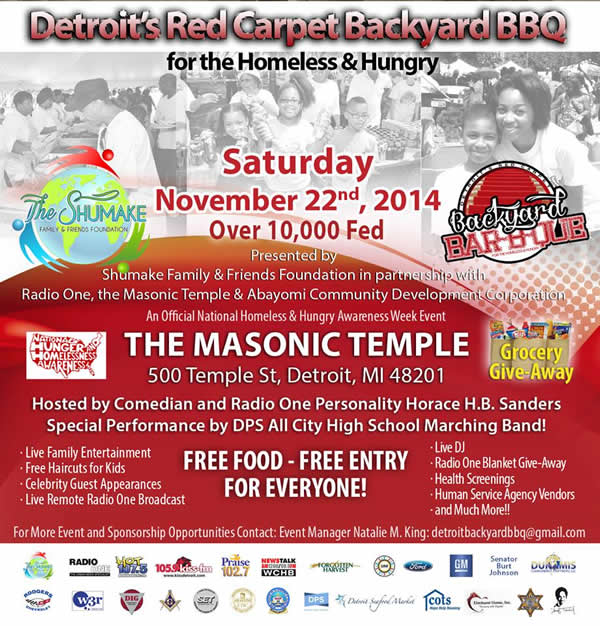 Shumake Global Foundation's Detroit's Red Carpet Backyard BBQ to Feed 10K Homeless & Hungry November 22th at The Masonic Temple. Hosted by: Comedian and Radio One Personality Horace H.B. Sanders. Special Performance by: DPS All City High School Marching Band!
Published 11/13/2013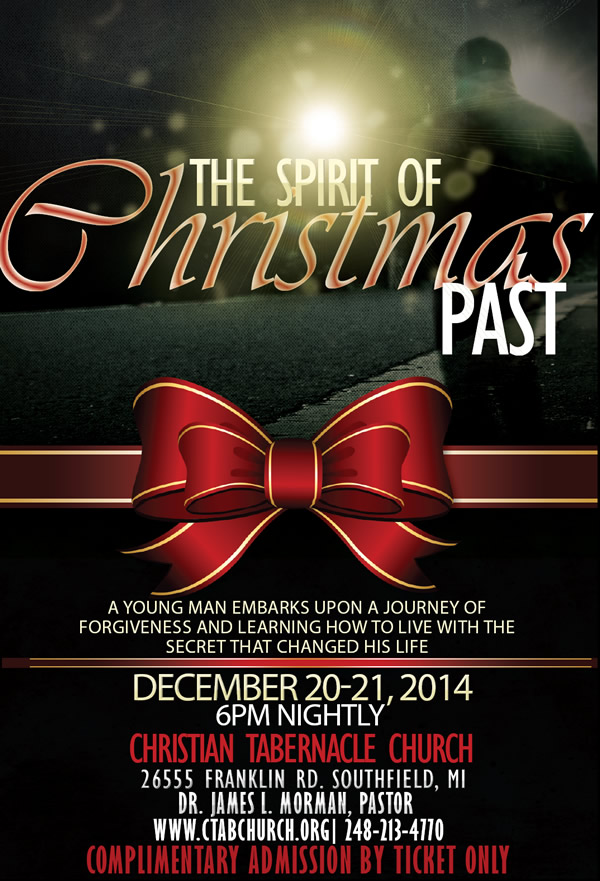 The Spirit of Christmas Past...A young man embarks upon a journey of forgiveness and learning how to live with the secret that changed his life. December 20-21, 2014, 6PM Nightly. Featuring: Lisa Page Brooks, Kenny Lawson, Tim Bowman Jr., Peggy James, Delorean Cotton. Complimentary Admission by TICKET ONLY. Christian Tabernacle Church, 26555 Franklin Rd., Southfield, MI 48033, Dr. James L. Morman, Pastor, Phone: 248.213.4770, Web:
www.ctabchurch.org
.
Published 11/13/2013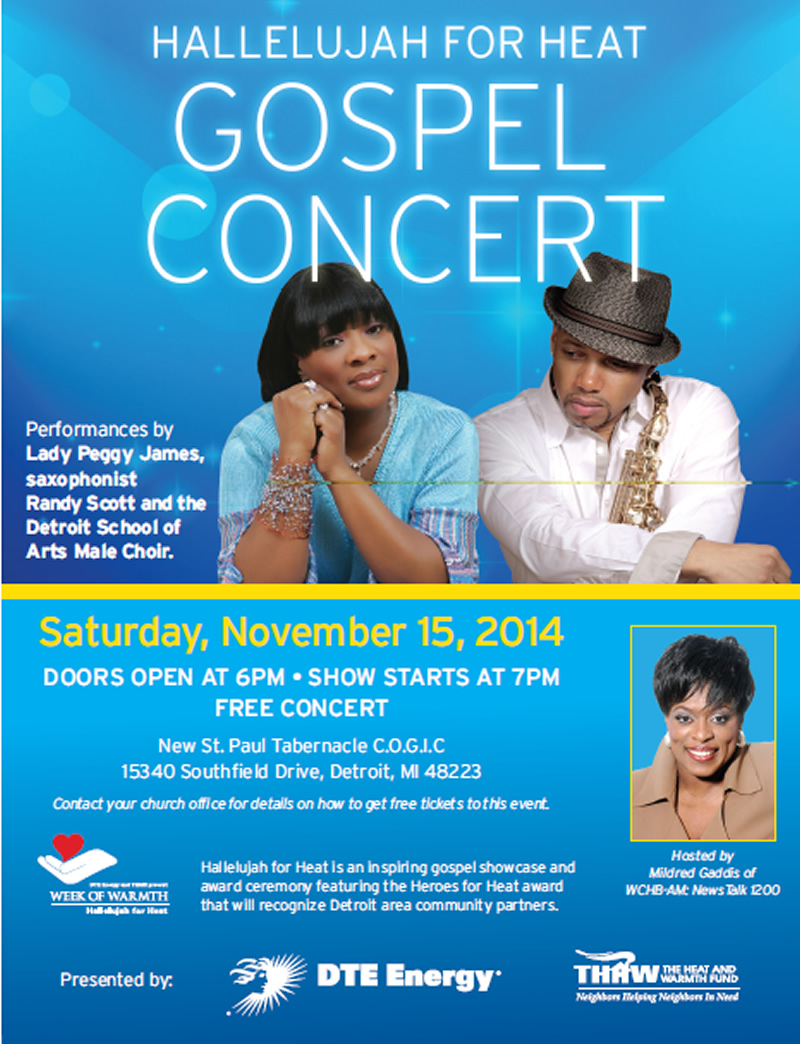 HALLELUJAH FOR HEAT Gospel Concert, Saturday, November 15, 2014, Doors Open @ 6PM ~ Show Starts @ 7PM. FREE CONCERT At New St. Paul Tabernacle C.O.G.I.C., 15340 Southfield Drive at Fenkell, Detroit, MI 48223. Hosted by: Mildred Gaddis of WCHB AM News Talk 1200. Performances by: Lady Peggy James, Saxophonist Randy Scott & Detroit School of Arts Male Choir. Hallelujah for Heat is an inspiring gospel showcase and award ceremony featuring the Heroes for Heat award that will recognize Detroit area community partners. BISHOP P. A. BROOKS, PASTOR OF THE HOST CHURCH, NEW ST. PAUL TABERNACLE CHURCH OF GOD IN CHRIST WILL BE HONORED DURING THE CONCERT AS A "HERO FOR HEAT." Presented by: DTE Energy and THAW (The Heat and Warmth Fund).