Published 10/28/2012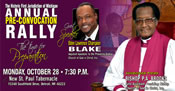 The Historic First Jurisdiction of Michigan Church of God in Christ invites you to "The Time for Preparation," the Pre-Convocation Rally for the 106th Holy Convocation of the Church of God in Christ, Inc. (which will be held in St. Louis, MO, November 4-11, 2013), MONDAY, OCTOBER 28, 2013 at 7:30 p.m., at New St. Paul Tabernacle COGIC, 15340 Southfield Dr., Detroit, MI 48223, (313) 835-5329. With…The First Assistant Presiding Bishop of the Church of God in Christ, Bishop P.A. Brooks; Guest Speaker, Elder Larry Champion Blake of Los Angeles, California (The Adjutant Apostolic and son of Presiding Bishop Charles E. Blake); and The Northeast Michigan State Choir. For more info visit
www.nemichigan.org
.
Published 10/28/2012



Non Profit K.I.T.E. & KENEDI TREASURE Proudly present A VIP MINDLESS HOLIDAY. Hosted By: Mindless Behavior. Saturday, November 30th, 2013, 6P - 11P @ Skate World of Troy, 2825 E. Maple Rd., Troy, MI 48083. Tickets go on sale Saturday, September 21, 2013 @ 12Noon @
www.welovemindless.com
. With Special Guests: Jacob Latimore & YMCMB's own Torion Sellers. Introducing Celebrity DJ "DJ Key" to Detroit. Fundraiser to Benefit Non Profit K.I.T.E. K.I.T.E.'s mission is to provide mentoring and support to children, younger than 18 years of age who live in urban, under represented areas and have at least one incarcerated parent. Sponsorship, More Info, and Group Sales: 404.671.6986.
Published 10/26/2012



"A Celebration of Life." Celebrate with Bishop Corletta J. Vaughn November 30, 2013 @ 6:30 PM: NIGHT OF WORSHIP (Bishop's Birthday Party). ADVANCE TICKETS ONLY $60 for 60th Birthday Gift (Children 12 and under are Free). Featuring: Gospel Recording Artist William Murphy of Atlanta, GA and Local Artists Stephanie Pride, Charles Laster, Peggy James, Essie Moss, Michael Jones. FOUNTAIN OF TRUTH CHURCH, 9801 Chalmers, Detroit, MI 48213. Sunday, December 1, 2013 @ 10:45 AM: Morning Service with Special Guests Apostle Andrea & Michael T. Dudley. At Holy Ghost Cathedral - Detroit, 1745 E. Grand Boulevard (near Mt. Elliott), Detroit, Michigan 48211, 313.579.2800. Sunday, December 1, 2013 @ 5:30 PM. TRIBUTE AND GRAND GALA BANQUET. ADVANCE AND AT THE DOOR TICKETS $100 (Adults Only). At Pi Banquet Hall, 28847 Franklin Rd., Southfield, MI 48034. To Purchase Tickets ONLINE:
www.gotellit.org
or PICKUP at Holy Ghost Cathedral, Call 313.579.2800. For more info email:
gotellitministry@gotellit.org
or visit
www.gotellit.org
. Proceeds for the Celebration will go to inaugurate the National Television Ministry of Bishop Vaughn. Hotel Accommodations: Doubletree Hotel Downtown, 525 West Lafayette Blvd., Detroit, MI 48226, 1.800.992.2694, Ask for "Go Tell It Group" $129.00.
Published 10/26/2012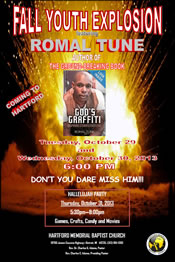 Hartford Memorial Baptist Church Fall Youth Explosion, Tuesday, October 29 and Wednesday, October 30, 2013, 6:00 PM. Featuring Romal Tune, author of the ground breaking book, "God's Graffiti." ALSO... Hallelujah Party, Thursday, October 31, 2013, 5:30 PM - 8:00 PM (games, crafts, candy, movies). At Hartford Memorial Baptist Church, 18700 James Couzens Highway, Detroit, MI 48235, 313.861.1300,
www.hmbcdetroit.org
. Rev. Dr. Charles G. Adams, Pastor; Rev. Charles C. Adams, Presiding Pastor.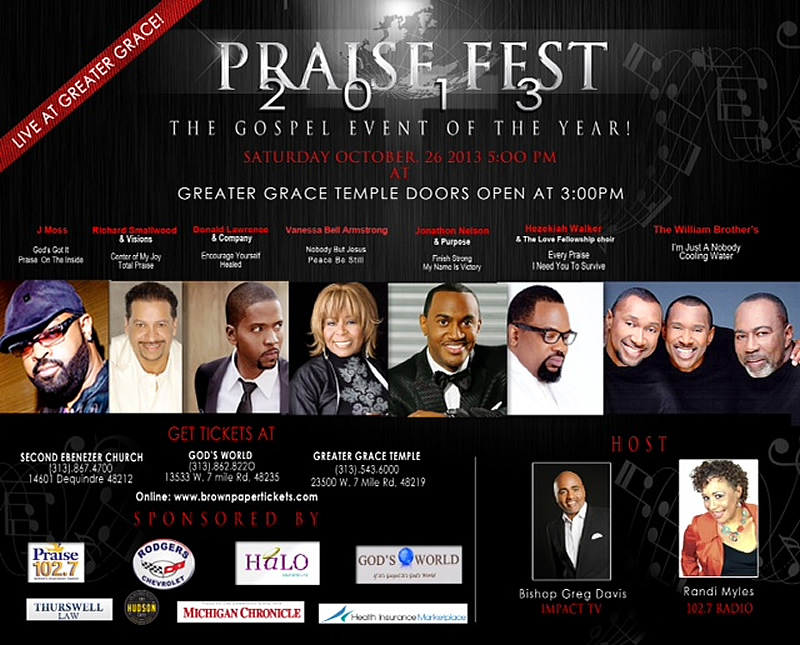 God's World & Praise 102.7 present Praise Fest 2013, The Gospel Event of the Year! Saturday, October 26, 2013 @ 5:00 PM at Greater Grace Temple (Venue Change). Featuring: J. Moss, Richard Smallwood & Vision, Donald Lawrence & Company, Vanessa Bell Armstrong, Jonathan Nelson & Purpose, Hezekiah Walker & The Love Fellowship Choir, and The Williams Brothers. Tickets on Sale August 3, 2013. Tickets may be purchased at: God's World (13533 West Seven Mile Road, Detroit, MI 48235, 313-862-8220), Greater Grace Temple (23500 W. 7 Mile Rd., Detroit, MI 48219, 313-543-6000), Second Ebenezer Church (1460 Dequindre, Detroit, MI 48212, 313-867-4700), and Online:
http://www.brownpapertickets.com/event/433657
. Vendor Space Available! Group Sales Available! Sponsorship Available!
Published 10/25/2012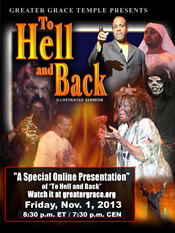 Greater Grace Temple presents a special online presentation of "To Hell and Back" Illustrated Sermon. Watch it at
www.greatergrace.org
, Friday, Nov. 1, 2013, 8:30 p.m. ET / 7:30 p.m. CEN. Mobile Devices visit:
http://m.greatergrace.org/hell
. (No LIVE on stage presentation in 2013. Presented "online" only.)
Published 10/24/2012



Fountain of Life & Praise Church presents "One Night Prophetic Encounter," Friday, November 1, 2013, at 7:00 P.M., with Prophetess Christina Glenn-Weeks. Deliverance, powerful prayer, prophetic word...come and be blessed. At Fountain of Life & Praise Church, 8051 Ohio Street, Detroit, Michigan 48204. Supt. Gary D. Hooks, Sr., Pastor.
Published 10/21/2012



It's Your Time To Prosper Conference 2013, Weds., Nov. 6, & Thurs., Nov. 7, @ 7PM Nightly. Doors open @ 6:30PM. Hosts: Apostle Henry & Pastor Rebecca Davis. Speaker: Bishop Randall Holts from Miami, FL. Recording Artists: Stacie Lynn, The Movement, and Henry & Rebecca. Proverbs 13:22 - "The wealth of the sinner is laid up for the just." Come Receive Your Breakthrough in Finances, and learn how to get what is laid up for YOU! Healing for the People Ministries, 16239 W 7 Mile Rd, Detroit, MI 48235,
www.healingforthepeople.com
.
Published 10/20/2012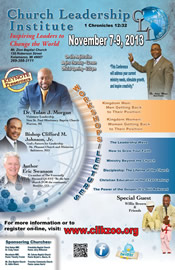 Mt. Zion Baptist Church presents Church Leadership Institute: Inspiring Leaders to Change the World, November 7-9, 2013. On-site Registration Begins Thursday @ 12 Noon. Official Opening @ 6:30pm. For more information or to register online, visit
www.clikzoo.org
. Keynote Presenters: Dr. Tolan J. Morgan (Visionary Leadership), New St. Paul Missionary Baptist Church, Warren, MI; Bishop Clifford M. Johnson, Jr. (God's Pattern for Leadership), Mt. Pleasant Church and Ministries, Baltimore, MD; Author, Eric Swanson, Co-author of The Externally Focused QUEST ("Be the best church FOR the Community"), Boulder, CO. Special Guest: Willie Brown & Friends. Workshops: Kingdom Men: Men Getting Back to their Position; Kingdom Women: Women Getting Back to their Position. Lectures: The Leadership Wave; How to Grow Your Faith; Ministry Beyond the Church; Discipleship: The Life Line of the Church; Christian Education in the 21st Century; The Power of the Gospel: It's Still Relevant. Held at: Mt. Zion Baptist Church, 120 Roberson Street, Kalamazoo, MI 49007, 269-388-3111. Sponsoring Churches: First Salem MBC, Dr. Craig Tatum; Macedonia MBC, Pastor Timothy Troxler; Mt. Zion Baptist Church, Dr. Addis Moore; Friendship Baptist Church, Pastor Jerry Wilkerson; Mt. Calvary Baptist Church, Pastor Bryant L. Bacon, Sr.; Trenches Community Church, Pastor James Harris.
Published 10/19/2012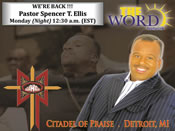 We're Back!! Watch Pastor Spencer T. Ellis and Citadel of Praise on The Word Network, Monday (Night) 12:30 a.m. (EST). Watch services via internet at
www.citadelofpraise.org
. Citadel of Praise, 20280 Lyndon, Detroit, MI 48223, Dr. Spencer T. Ellis, Pastor.