Published 04/17/2013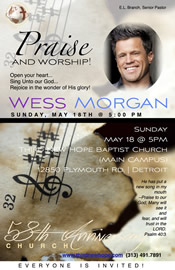 Third New Hope Baptist Church invites you to their 58th Church Anniversary. Praise and Worship! Open your heart...Sing Unto our God...Rejoice in the wonder of His glory! With WESS MORGAN on Sunday, May 18th @ 5:00 PM at Third New Hope Baptist Church (Main Campus), 12850 Plymouth Rd., Detroit,
www.thirdnewhope.com
, 313.491.7891. He has put a new song in my mouth--Praise to our God; Many will see it and fear, and will trust in the LORD. ~ Psalm 40:3. EVERYONE IS INVITED!
Published 04/17/2013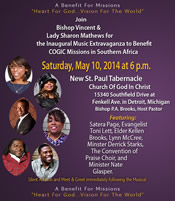 Join Bishop Vincent & Lady Sharon Mathews for the Inaugural Music Extravaganza To Benefit COGIC Missions in Southern Africa. Saturday, May 10, 2014 at 6 p.m., featuring Minster Derrick Starks, Satera Page, Evangelist Toni Lett, Elder Kellen Brooks, Lynn McCree, The Convention of Praise Choir and Minister Nate Glasper. Silent Auction and Meet & Greet immediately following the Musical. Held at New St. Paul Tabernacle Church Of God In Christ, 15340 Southfield Drive at Fenkell Ave., Detroit, Michigan, Bishop P.A. Brooks, Host Pastor.
Published 04/17/2013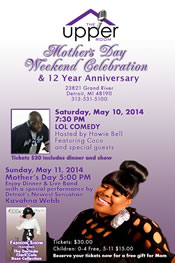 The Upper Room Mother's Day Weekend Celebration & 12 Year Anniversary. Saturday, May 10, 2014 @ 7:30 PM: LOL Comedy hosted by Howie Bell and featuring Coco and special guests. Tickets: $20 (includes dinner and show).Sunday, May 11, 2014 @ 5:00 PM: Mother's Day...Enjoy dinner & live band with a special performance by Detroit's newest sensation Kavahna Webb and Fashion Show featuring The Dorinda Clarke Cole Rose Collection. Tickets: $30 (Children: Ages 0-4 are Free; Ages 5-11 are $15). Reserve your tickets now for a free gift for mom. The Upper Room, 23821 Grand River, Detroit, MI 48190, 313-531-5100.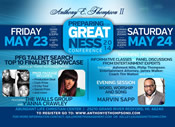 Anthony E. Thompson II presents Preparing For Greatness Conference 2014. Friday, May 23, 2014(Doors Open @ 6:30PM, Starts @ 7:00PM): PFG Talent Search Top 10 Finalist Showcase (prize package includes production deal, cash prize, 5-city tour, secret prize, and more!) hosted by Praise 102.7's Randi Myles and featuring The Walls Group and Y'Anna Crawley LIVE in Concert. Tickets $10. Saturday, May 24, 2014, Morning Sessions 9:00AM: Informative classes and panel discussions from entertainment experts including Ashmont Hills, Phillip Thompson; Entertainment Attorney, James Walker; Coach Tim Walton, and more! Tickets $20. Evening Session 6:30PM: Word, Worship and Song featuring Marvin Sapp. VIP ALL ACCESS $50. Visit
www.anthonyethompsonii.com
to register, purchase tickets, and for details. For more information contact
aja@monetmanagement.com
or
kelley@suggsinctcomm.com
. Held at: Abundant Life Christian Center, 25210 Grand River, Redford, MI 48240.
Published 04/15/2013



"Heart for God...Vision for the World" A Benefit for Missions. The Churches of God in Christ in Michigan Cordially Invite You to Share in the Inaugural Benefit Gala Celebrating the Elevation of BISHOP VINCENT E. MATHEWS, Jr. "A Native Son" to the Office of Jurisdictional Prelate, South Africa First Jurisdiction & Regional Coordinator of Southern African Development Community Countries (SADCC) for the Church Of God In Christ, Inc. "Building the Kingdom for God in (15) Southern African Countries." Monday, the Twelfth Day of May, Year of our Lord, Two-Thousand Fourteen Anno Domini At Six O'clock in the evening. Cathedral Conference Center, 10325 East Jefferson Ave., Detroit, Michigan 48214. Keynote Speaker: the Most Reverend Charles Edward Blake, Sr. Presiding Bishop & Chief Apostle Church Of God In Christ, Inc. Guest Psalmist: Pastor Marvin Sapp.
CLICK FOR MORE INFO...
Published 04/15/2013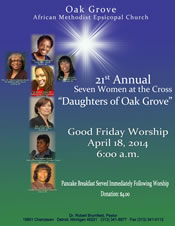 Oak Grove African Methodist Episcopal Church Good Friday Worship, April 18, 2014 @ 6:00 a.m., 21st Annual Seven Women at the Cross "Daughters of Oak Grove." Rev. Dr. Patricia Coleman-Burns, St. Matthew AME Church, Lansing, MI; Rev. Dr. Alice Patterson, Trinity AME Church, Detroit, MI; Rev. Twylla Lucas, St. Luke AME Church, Roseville, MI; Dr. Martina Wade-Hill, God's House of Deliverance Church, Southfield, MI; Rev. Lynn Jackson, Bethel AME Church, Adrian, MI; Rev. Heather Boone, Oaks of Righteousness Christian Church, Monroe, MI; Rev. Janice Carson, Greater Works Christian Ministries, Detroit, MI. Pancake Breakfast served immediately following worship (Donation $4.00). Oak Grove A.M.E. Church, 19801 Cherrylawn, Detroit, Michigan 48221, 313-341-8877,
www.oakgroveame.org
, Dr. Robert Brumfield, Pastor.
Published 04/14/2013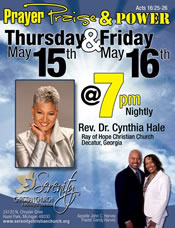 Thursday, May 15th & Friday, May 16th, 2014, join Serenity Christian Church @ 7PM Nightly for "Prayer, Praise & Power" with Rev. Dr. Cynthia Hale of Ray of Hope Christian Church, Decatur, Georgia. Serenity Christian Church (A Ministry of Liberation), 24120 N. Chrysler Drive, Hazel Park, Michigan 48030, 248.547.2121,
www.serenitychristianchurch.org
, Apostle John C. Harvey and Pastor Sandy Harvey.
Published 04/14/2013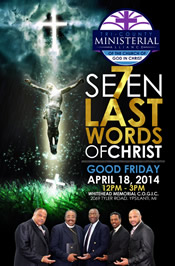 Tri-County Ministerial Alliance of The Church of God In Christ "Seven Last Words of Christ," Good Friday, April 18, 2014, 12PM - 3PM, at Whitehead Memorial C.O.G.I.C., 2069 Tyler Road, Ypsilanti, MI. With Pastor David Foster, Pastor Otha Harris, Superintendent Chucky Alexander, Superintendent Richard Chaney, Pastor Jerry Jackson, and featuring special guest Bishop Roger Jones of Greater Holy Temple COGIC, Flint, Michigan. Bishop James L. Whitehead, President; Administrative Assistant Dwight Walls, Vice President; Administrative Assistant Melvin Lewis, Vice President; Administrative Assistant Don W. Shelby, Jr., Vice President; Executive Staff: Pastor Willie Powell, Pastor Charles Hawthorne, Pastor H.H. Johnson, Pastor Melvin T. Walls; Executive Secretary, Elder Deion Walls; Assistant Secretary, Elder Kevin Reese. For more information, please call: 734-699-2566.
Published 04/13/2013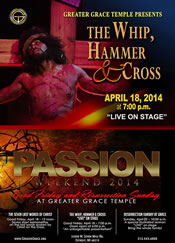 Passion Weekend 2014...Good Friday and Resurrection Sunday at Greater Grace Temple. Good Friday, April 18th, 12 Noon - The Seven Last Words of Christ. Seven short sermonettes on the last words spoken by Christ on the cross. 7:00 p.m. - (Doors open @ 6:00 p.m.) The Whip, Hammer & Cross "LIVE" On Stage. An unforgettable presentation! Sunday, April 20th - 10:00 a.m. Resurrection Sunday At Grace. A special illustrated sermon "LIVE" on stage. Bring the whole family! Greater Grace Temple, 23500 W. Seven Mile Rd., Detroit, MI 48219, Bishop Charles H. Ellis III, Senior Pastor. For more information call 313.543.6000 or visit
www.greatergrace.org
.
Published 04/13/2013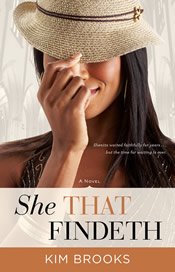 All are invited to the Novel Release Party of the Year! Celebrating the release of "She That Findeth," new Simon & Schuster novel by National Bestselling Author, Kim Brooks (author of, "He's Fine...But is He Saved?") Ballroom dancing lessons, comedy, entertainment, light refreshments, Jill Grandison, D. Jones, and hosted by Mic Larry. Friday, May 30, 2014, 7 pm - 11 pm at International Institute, 111 E Kirby (across from the Detroit Institute of Arts), Detroit, MI 48202. Entry Fee: FREE with copy of, "She That Findeth," available wherever books are sold nationwide including Barnes & Noble or online on iBooks, Nook, or
Amazon.com
; or $20 without copy of, "She That Findeth" (Free entry with book purchase preferred). Bring your book to have Kim Brooks autograph it at the release party. Come Out, Have Fun and Be Blessed!
www.KimOnTheWeb.com
. Vendor opportunities available. Call 313-757-0345.