Published 04/29/2015



Supernatural Sistas Pre-Conference Mother's Day Celebration: "Women Worth Fighting For," Sunday, May 8, 2016 at 10:00am. Special guest: Dr. Ane Mercer. Lighthouse Full Life Center Church, 2415 Madison Ave SE, Grand Rapids, MI 49507, Phone: 616-241-LGHT (5448), Fax: 616-241-5352,
www.marvinsapp.com
; Bishop Marvin L. Sapp, Senior Pastor
Published 04/28/2015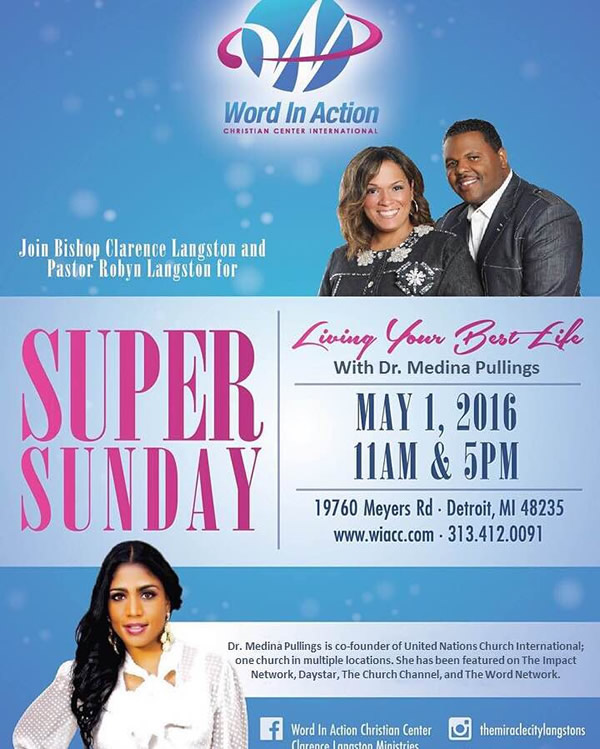 Join Bishop Clarence Langston and Pastor Robyn Langston for SUPER SUNDAY at Word In Action Christian Center International. Featuring "Living Your Best Life," with Dr. Medina Pullings. May 1, 2016, at 11AM & 5PM, at 19760 Meyers Rd., Detroit, MI 48235. For more info visit
www.wiacc.com
or call 313.412.0091. Dr. Medina Pullings is co-founder of United Nations Church International; one church in multiple locations. She has been featured on The Impact Network, Daystar, The Church Channel, and The Word Network.
Published 04/27/2015



June 7th & 14th, join Seth Temple for Grand Opening Celebration of Greater Seth Temple Sanctuary of Praise COGIC. New location at 28125 Grand River Ave., Farmington Hills, MI 48336, Dr. Philip R. Jackson, Pastor. With Bishop John H. Sheard, Mother Regina Rose Edwards, Evg. George Hickey, and more. For more info call 248-476-1830 or visit
www.sethtemple.org
.
Published 04/27/2015



Triumph Church PRAYER! Seeking GOD with all your heart. Pastor's Weekly Prayer Call Every Tuesday @ 6:00am: 712-432-7373. For more information call 313.386.8044 or visit
www.TriumphCh.org
.
Published 04/25/2015



Michigan Progressive Baptist Convention, Inc. presents "THEN & NOW: A Musical Journey," MPBC 50th Session Kick-Off Concert ("Jesus Christ is the same yesterday, and today, and forever." - Hebrews 13:8), Friday, April 29, 2016 @ 7pm. Featuring: Hartford Memorial, RBC Men of Valor, RBC Anointed Praise, Calvary Baptist, Liberty Temple, Greater New Mt. Moriah, Church of the New Covenant and more! Held at Liberty Temple Baptist Church, 17188 Greenfield, Detroit, Michigan, Rev. Dr. Steve Bland, Pastor. For More Information: Sis. Juanita Jeffries, Event Chair, 313-320-2131; MPBC Contact, Sis. Cheryl L. Haskett, Executive Secretary,
mpbc@att.net
; Rev. Dr. Edwin H. Holmes, President.
Published 04/17/2015



Debra's Healing Kitchen presents HEART 2 HEART Conversations Tour: Healthy Cooking Demonstration & Sample Tasting on Sunday, April 17, 2016, Time: 9:30am - 10:45am, Hartford Fellowship Hall Lower Level, with Debra Peek-Haynes, First Lady of Friendship West Baptist Church, Dallas, Texas. For more information call: 214-202-8644 ALSO... 2016 SPRING REVIVAL, Nightly Revival @ 7:00 PM Monday, April 18 through Wednesday, April 20, 2016. Featuring: Dr. Frederick D. Haynes, Pastor of Friendship West Baptist Church, Dallas, TX. Revival Week Lectures 6:00 PM (Prior To Revival Service). Monday - 4/18/16: Rev. Charles Williams, Pastor of King Solomon Baptist Church and President of National Actor Network, Detroit Chapter. Tuesday - 4/19/16: Charles Gibson Educator & Entrepreneur. Wednesday- 4/20/16: Kim Trent, Wayne State University Board of Governors. Held at Hartford Memorial Baptist Church, 18700 James Couzens, Detroit, MI 48235, 313-861-1300, Website:
www.hmbcdetroit.org
.
Published 04/4/2015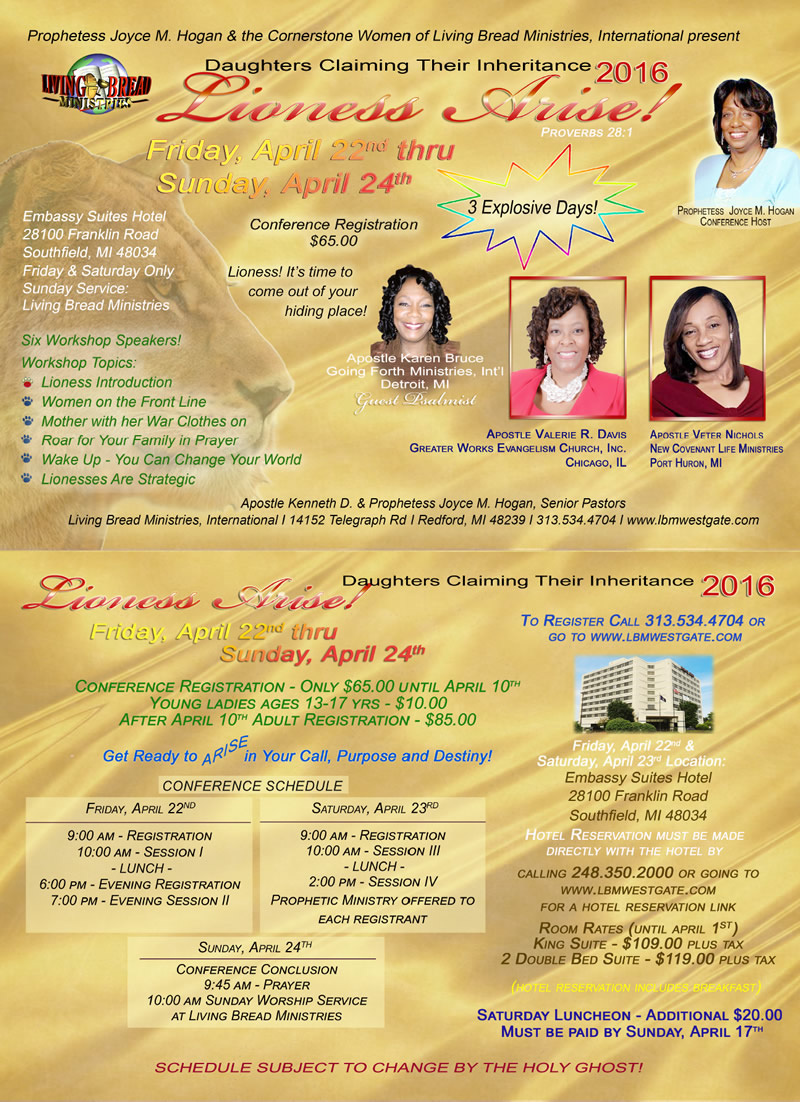 Prophetess Joyce M. Hogan and the Cornerstone Women of Living Bread Ministries, International present "Daughters Claiming Their Inheritance 2016...Lioness Arise!" Friday, April 22th thru Sunday, April 24th, with Apostle Valerie R. Davis of Greater Works Evangelism Church, Inc., Chicago, IL; Apostle Veter Nichols of New Covenant Life Ministries, Port Huron, MI; and guest psalmist: Apostle Karen Bruce of Going Forth Ministries, Int'l, Detroit, MI; Plus 6 Workshop Speakers! Workshop Topics: Lioness Introduction, Women on the Front Line, Mother with her War Clothes On, Roar for Your Family in Prayer, Wake Up - You Can Change Your World, and Lionesses are Strategic. Conference Registration: ONLY $65.00 Until April 10th. Young Ladies ages 13 - 17 yrs ~ $10.00. After April 10th Adult Registration is $85.00 . Saturday Luncheon - Additional $20 must be paid by Sunday, April 17th. To Register Call 313.534.4704 or visit
www.lbmwestgate.com
. Friday and Saturday location: Embassy Suites Hotel, 28100 Franklin Road, Southfield, MI 48034. Sunday Service at: Living Bread Ministries, Int'l, 14152 Telegraph Road, Redford, MI 48239, 313-534-4704, Apostle Kenneth D. and Prophetess Joyce M. Hogan, Senior Pastors.
Published 04/3/2015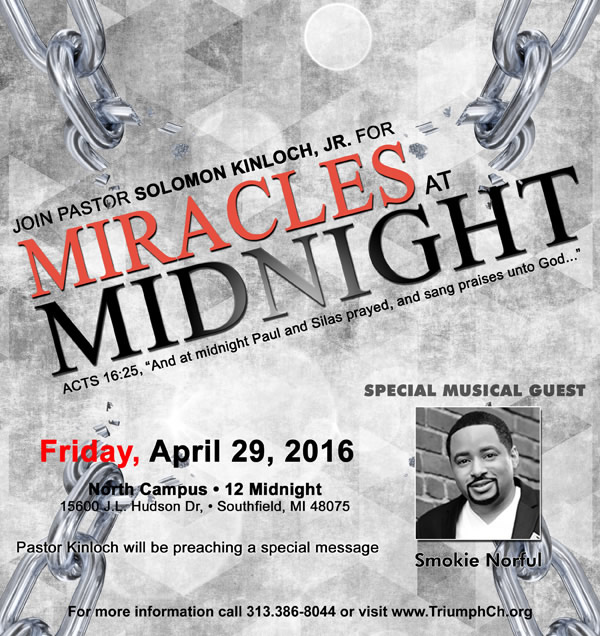 Join Pastor Solomon Kinloch, Jr. for MIRACLES AT MIDNIGHT (Acts 16:25, "And at midnight Paul and Silas prayed, and sang praises unto God..."), with special musical guest, Smokie Norful, Friday, April 29, 2016, at 12 Midnight. Triumph Church - North Campus, 15600 J.L. Hudson Dr., Southfield, MI 48075. Pastor Kinloch will be preaching a special message. For more information call 313.386.8044 or visit
www.TriumphCh.org
.
Published 04/1/2015



"Choices: Making Moves To Win," written by Dr. Velva Burley Flowers & introducing 15 young authors who have written a chapter in the book. "Choices: Making Moves to Win" details real life compelling stories shared by contemporary men to convey knowledge, experience and lessons as a roadmap for strategic direction. For more information visit
www.choicesmakingmovestowin.com
.
CLICK HERE FOR A LIST OF THE 15 LOCAL YOUNG AUTHORS >>
Published 03/28/2015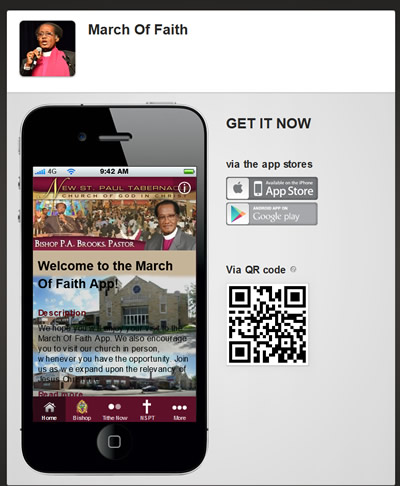 Be sure to download the new
March of Faith Mobile App
.