Published 03/15/2017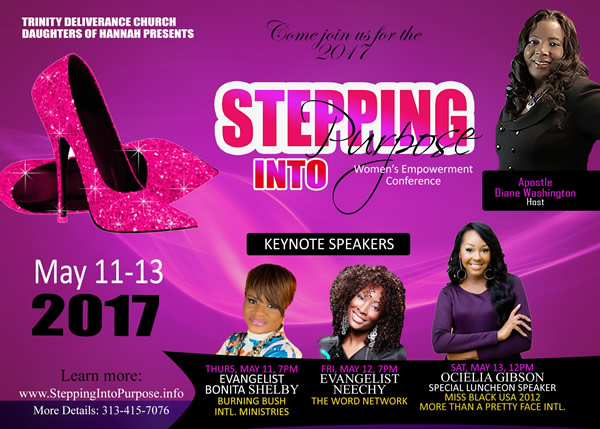 Trinity Deliverance Church Daughters of Hannah presents 2017 STEPPING INTO PURPOSE, May 11-13, 2017; Apostle Diane Washington, Host. Keynote Speakers: Thurs., May 11, 7PM - Evangelist Bonita Shelby of Burning Bush Int'l Ministries; Fri., May 12, 7PM - Evangelist Neechy of The Word Network; Sat., May 13, 12PM - Ocielia Gibson, Special Luncheon Speaker, Miss Black USA 2012, More Than A Pretty Face Int'l. Workshop Presenters: Dr. Nicole Farmer (How to Start Your Own Business), Dr. Shirley Clark (How to Create a Millionaire Mindset), Dorothy Cook (How to Create Wealth), Linda Hunt (How to Brand Your Business), Deborah Taylor & Dianne Swanson (Health & Wellness). LUNCHEON TICKET: $40 Adults / $30 ages 7-12. Venue: Tabernacle Missionary Baptist Church, 2080 W. Grand Blvd., Detroit, MI 48208. Learn more at:
www.SteppingIntoPurpose.info
. For more details call 313-415-7076.
Published 03/13/2017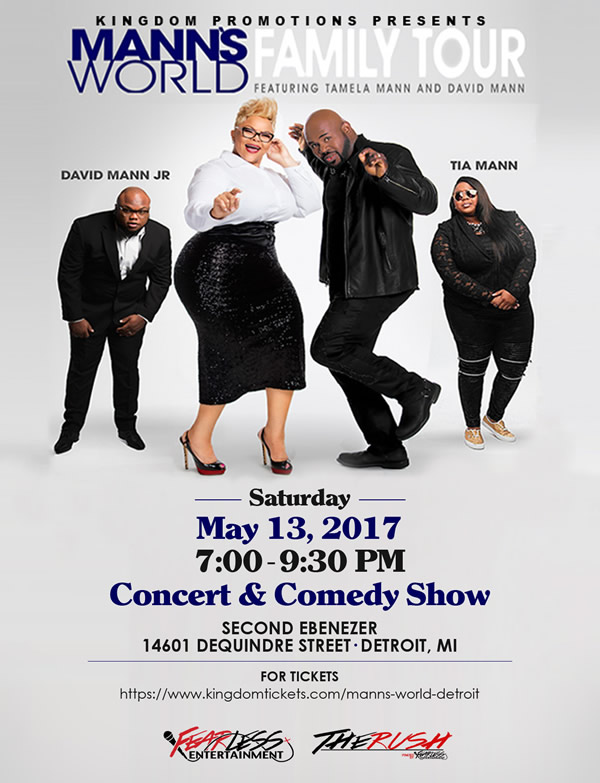 Kingdom Promotions presents MANN'S WORLD FAMILY TOUR, featuring Tamela Mann and David Mann, and with David Mann, Jr. & Tia Mann. Saturday, May 13, 2017, 7:00 - 9:30 PM. Concert & Comedy Show at Second Ebenezer Church, 14601 Dequindre Street, Detroit, MI. Buy Tickets Online at
https://www.kingdomtickets.com/manns-world-detroit
. Tickets are also available at the following locations: God's World Superstore, 13533 W. Seven Mile Road, Detroit, MI; Globe Bible Bookstore, 3161 E Jefferson Ave, Detroit, MI; Baker's Bible & Bookstore, 10200 Grand River Avenue, Detroit, MI; and Second Ebenezer Church, 14601 Dequindre, Detroit, MI.
Published 03/8/2017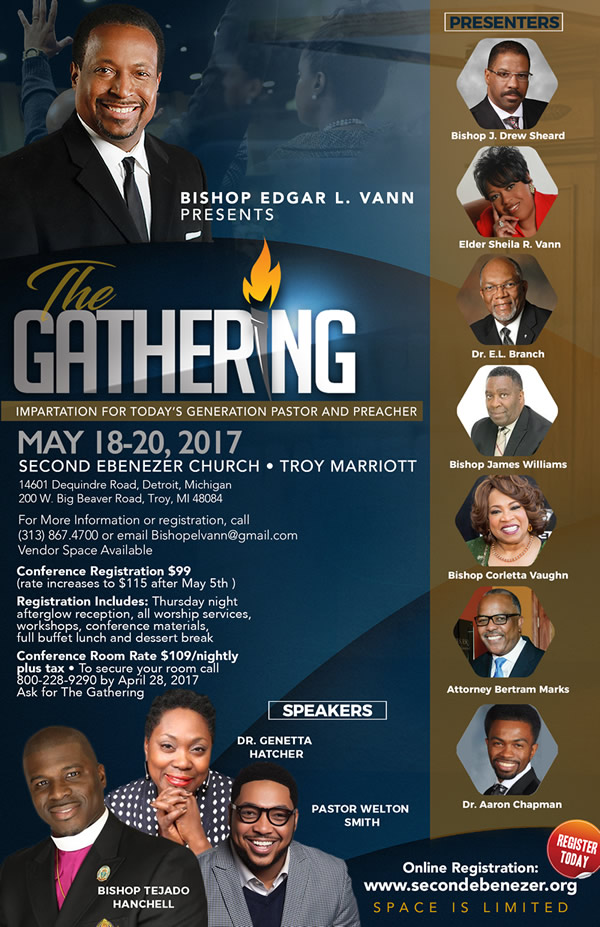 Bishop Edgar L. Vann presents THE GATHERING...Impartation for Today's Generation Pastor and Preacher, May 18-20, 2017, at Second Ebenezer Church, 14601 Dequindre Road, Detroit, Michigan ~ and ~ Troy Marriott, 200 W. Big Beaver Road, Troy, MI 48084. For more information or registration, call (313) 867.4700 or email Bishopelvann@gmail.com. Vendor space available. Presenters: Bishop J. Drew Sheard, Elder Sheila R. Vann, Dr. E.L. Branch, Bishop James Williams, Bishop Corletta Vaughn, Attorney Bertram Marks, Dr. Aaron Chapman. Speakers: Bishop Tejado Hanchell, Dr. Genetta Hatcher, Pastor Welton Smith. Conference Registration: $99 (rate increases to $115 after May 5th). REGISTER TODAY! Online Registration at:
www.secondebenezer.org
. S P A C E I S L I M I T E D. Registration Includes: Thursday night afterglow reception, all worship services, workshops, conference materials, full buffet lunch and dessert break. Conference Room Rate: $109/nightly (plus tax). To secure your room call 800-228-9290 by April 28, 2017. Ask for "The Gathering."
Published 03/4/2017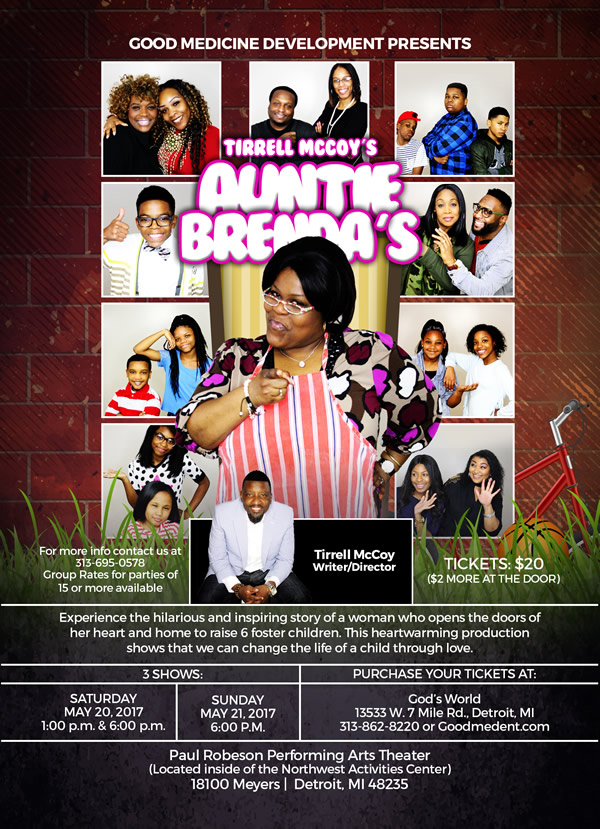 Good Medicine Development presents Tirrell McCoy's "Auntie Brenda's." Experience the hilarious and inspiring story of a woman who opens the doors of her heart and home to raise 6 foster children. This heartwarming production shows that we can change the life of a child through love. 3 SHOWS: Saturday, May 20, 2017 at 1:00 p.m. & 6:00 p.m.; and Sunday, May 21, 2017 at 6:00 P.M. At Paul Robeson Performing Arts Theater (Located inside of the Northwest Activities Center), 18100 Meyers, Detroit, MI 48235. TICKETS $20 (Additional $2 if purchased at the door). Purchase your tickets at: God's World, 13533 W. 7 Mile Rd., Detroit, MI (313-862-8220), or
www.Goodmedent.com
. For more info contact us at 313-695-0578. Group Rates for parties of 15 or more available.
Published 03/1/2017




You are cordially invited to the Book Launch Event for the release of "Yes, You Too!" written By Dr. Gregory Tukes. Inside the Pages: Dr. Tukes shares with the reader invaluable knowledge gained over his 23 years of pastoring True Church Ministries. The book is a manuscript for clergy and anyone who believes that they have a call on their life (of the Lord Jesus Christ) to do ministry! Come and purchase your copy and have it signed Sunday, August 14, 2016, from 2PM to 4PM, at True Church Ministries, 19500 Schoenherr Rd., Detroit, MI 48205. REFRESHMENTS PROVIDED & FREE ADMISSION. RSVP: by email at staff@truechurchmin.org or by phone at 313.254.6984. Book Pricing: Paperback $11.95 / E-book $9.99. For more information, please call: 313.245.6984.
Published 01/9/2017



>> CLICK HERE <<
for more information on Bishop Marvin Sapp's 50th Birthday Jubilee Celebration.
Save
Published 01/6/2017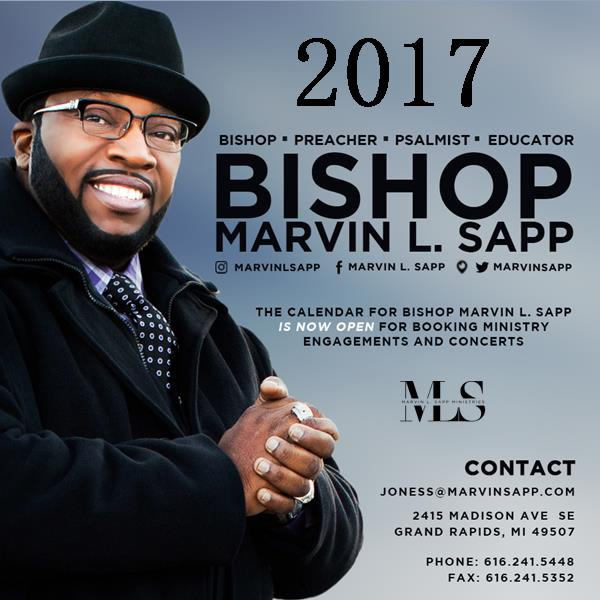 The 2017 Calendar for Bishop Marvin L. Sapp is now open for booking ministry engagements and concerts. Visit
https://gkmd.wufoo.com/forms/bishop-marvin-l-sapp-ministries/
to Book now. Contact
Joness@marvinsapp.com
; 2415 Madison Ave SE, Grand Rapids, MI 49507; Phone: 616-241-5448; Fax: 616-241-5352; Website:
www.marvinsapp.com
.
Published 01/2/2017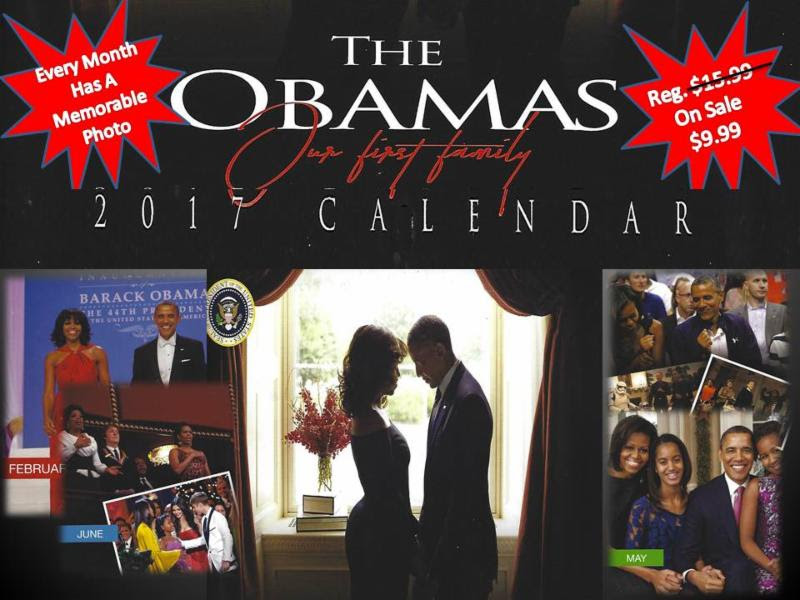 THE OBAMAS (Our First Family) 2017 Calendar. Regularly $15.99; on sale now for $9.99. Every month has a memorable photo. Get yours today @ God's World Superstore, 13533 W. 7-Mile Road, Detroit, MI 48235; 313-862-8220. "If it's gospel, it's God's World."
Published 01/1/2017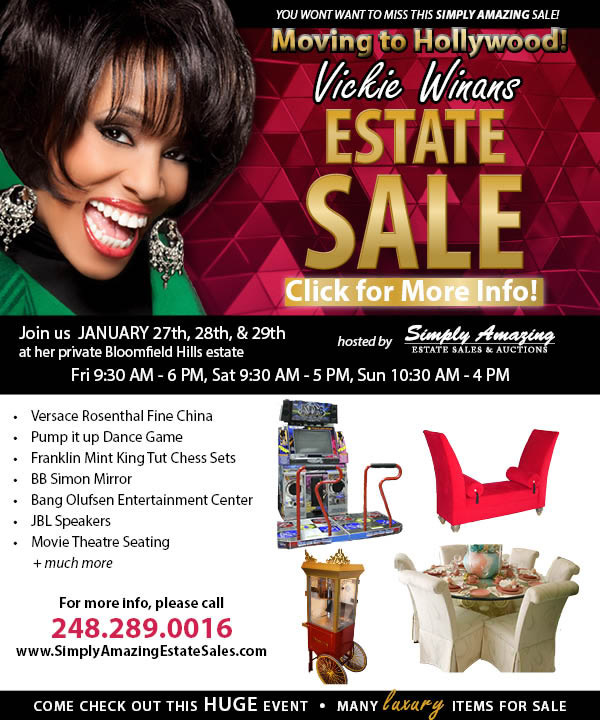 Personal Note From Vickie Winans:
GM to my favorite people!The Lord has tremendously blessed me & after 21 years living in my home in Bloomfield Hills, MI, I'm moving to Hollywood! I cannot move all this stuff with me so everything must go! I'll restock when I get there! DO NOT MISS THIS SALE Y'ALL!!! It will be at my actual home and will be hosted by Simply Amazing Estate Sales, Inc. There is nearly 10,000 square feet of "you name it" up in here! From a full Recording Studio, 19 rooms of furniture, designer clothes, gowns, shoes, large video games, Versace vintage items...oh my goodness, it's too much to type! I've truly been blessed, and I cannot believe all my beloved pieces are about to be left and sold at unreal prices! But, "California, here I come!" The over 1,000-item sale begins on January 27th at 9:45 am and ends on January 29th until everything is gone! For more information call 248-289-0016 (ask for Jake or Zach) or visit
www.SimplyAmazingEstateSales.com
to send an email! Oh, I forgot, I might serve y'all some government cheese and sardines on saltine crackers! LOL I hope to see you at my home on this Friday! You are ALL invited! I am outta here to bigger, better, and more God-blessed ventures! I wished I could tell you, but I just can't at this time! Whew I'm so excited! Lord, I know beyond a shadow of a doubt that You love me, and I only want to please You in all I do and say! I thank You for EVERYTHING you've overwhelmed me with! You are a great God! You can also email me at
vwinans@aol.com
for whatever you need from bookings to estate sale questions!
Published 12/22/2016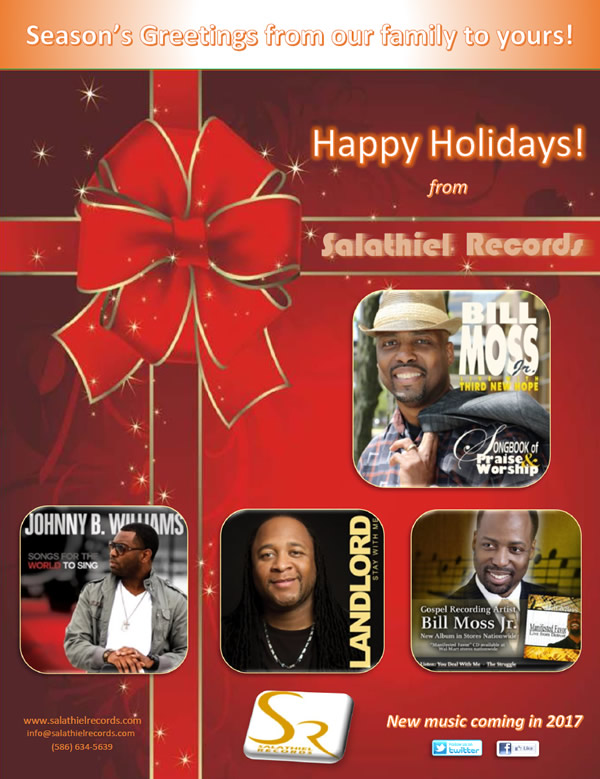 Season's Greetings and Happy Holidays from Salathiel Records and their roster of artists including Johnny B. Williams, Landlord, and Bill Moss, Jr. New music coming in 2017. For more info visit
www.salathielrecords.com
, email
info@salathielrecords.com
, or call (586) 634-5639.