Published 05/5/2013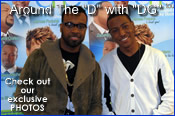 Exclusive photos from gospel events in and around Detroit courtesy of DetroitGospel.com.
CLICK TO VIEW SLIDESHOW
!
Published 06/25/2011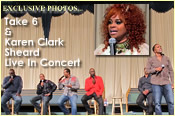 On Saturday, June 25, 2011, Michigan S.W. 1st Jurisdiction C.O.G.I.C. Department of Fine & Performing Arts and MetroPCS presented Take 6 Live in Concert with special guests: Karen Clark-Sheard and Calvin Golden and Shekinah Glory.
CLICK for Exclusive PHOTOS
.
By Renee'
Published 04/21/2011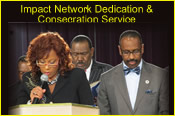 Bishop Wayne T. & Dr. Beverly Y. Jackson, founders of the The Impact Network, invited the city of Detroit to be present at The Impact Network Dedication & Consecration Service on Sunday, April 10, 2011 @ 7:00 pm. Honored guests and participants included Bishop L.V. Hillard, Bishop Andrew Merritt, Bishop Ben Gibert, Bishop Stanley Williams, Bishop Wiley Jackson, Bishop J. Drew Sheard, and Bishop David Copeland. Musical Guests were CeCe Winans and Preashea Hilliard.
CLICK FOR EXCLUSIVE PHOTOS
.
Published 03/12/2011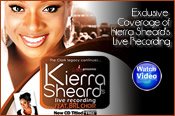 In 1966, Motown song writers Nick Ashford and Valerie Simpson wrote the lyrics, "Ain't no mountain high enough, ain't no valley low enough, ain't no river wide enough to keep me from gettin' to you." This was the motto for Detroiters, February 28, 2011, as they climbed a bus, drove their SUV's or took a plane to be in Chi-Town, to support our own, Keirra Sheard and J Drew Sheard II (JDS), on their first live recording.
EXCLUSIVE VIDEO FOOTAGE & PHOTOS
.
Published 02/7/2011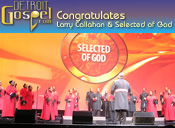 DetroitGospel.com congratulates Larry A. Callahan Featuring S.O.G. (Selected of God) for their appearance in the Chrysler 200 Super Bowl commercial with fellow Detroiter Eminem. Larry Callahan and Selected of God were Detroit Regional "Best Small Choir" winners of the 2008 and 2009 Verizon Wireless "How Sweet The Sound" Choir competition and the choir represented Detroit in the 2009 Finals. Click "Full Story" to view the commercial and find out more about Larry Callahan and S.O.G, including AUDIO snippets from their new CD "The Evolution."
Published 01/29/2011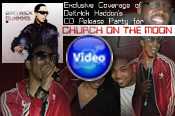 Our roving reporter and photographer, Karen Hunt Barker, was along for the ride as Detroit's own Deitrick Haddon held his CD Release party for "Church On The Moon." Other notables in attendance were Kierra "Kiki" Sheard with fiance' Pastor Welton Smith, "The Superman of Gospel" Eric Deon Taylor, and more. Click "Full Story" to SEE VIDEO FOOTAGE, read Karen's exclusive coverage and see photos from the event.
By Renee'
Published 01/23/2011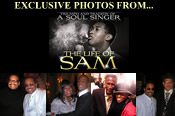 On Dec. 30, 2010 through Jan. 2, 2011, playwrights Robert L. Douglas and Johnnie Washington brought the stage play "The Life of Sam" to The Music Hall in Detroit. The play, produced by Johnnie Washington, chronicled the life of legendary soul Singer Sam Cooke. DetroitGospel.com producer, Renee' and staff photographer, Hatten Young were on hand to snap a few photos. Click "Full Story" to view.
By Renee'
Published 12/15/2010



Published 12/2/2010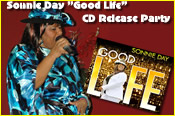 Rooted Records presented Sonnie Day's "Good Life" Album Release Party on Friday, Nov. 26, 2010, at Christian R.O.A.D. Ministries, where Sonnie Day and her band performed live for her many fans and friends. Read more for exclusive photos and coverage.
Published 11/23/2010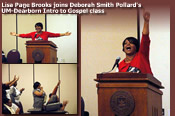 The University of Michigan-Dearborn was graced with the presence of Stellar Award-winning gospel artist Lisa Page Brooks, who was the special guest speaker for Dr. Deborah Smith Pollard's Introduction to Gospel Music class on November 16, 2010. (
Photos by Elizabeth Hancock
)