Published 03/30/2016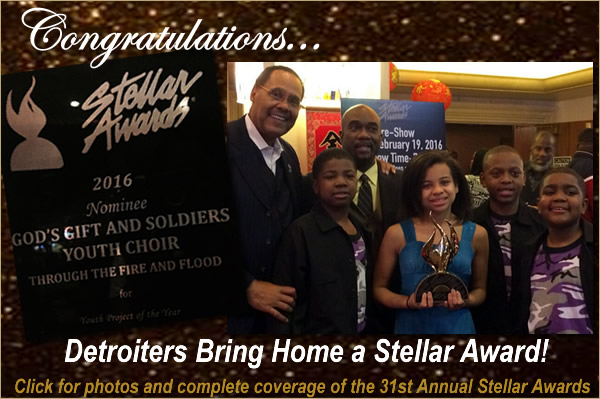 What a great weekend in Las Vegas for the 31st Annual Stellar Awards, held February 19 (Pre-Show) and February 20, 2016, at the Orleans Hotel and Arena. Starting with the
All White Showcase
and ending with the
Stellar Awards Show
, this year was truly awesome. Detroiters were well represented, and one Detroit youth choir, God's Gift and Soldiers, under the direction of Mr. James D. Render, was awarded the Stellar Award for
Youth Project of The Year
. The youth choir is comprised of students from Davison Elementary/Middle School where Mr. Render is one of the Teachers of Excellence.
CLICK HERE for photos and complete coverage of the 2016 Stellar Awards from our roving reporters, Carl B. Phillips and Renee'.

#stellarawards
Published 11/17/2015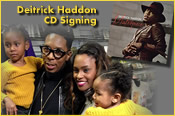 As usual, one of Detroit's own is blowing up the gospel music charts. Deitrick Haddon's new release, "Masterpiece," is Billboard's #1 Gospel album the week of Nov. 28, 2015. Deitrick was spotted all over town last week promoting the project, and made a stop at God's World to sign autographs. Faithful supporters lined up to see Deitrick along with wife, Dominique, and their three beautiful children, including 2-month old, Deitrick, Jr.
Click Here
to check out photos and live coverage from the event.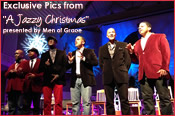 On Thurs., Dec., 5, 2013, local gospel artists and music ministry MEN OF GRACE presented their 4th annual A JAZZY CHRISTMAS CONCERT featuring 10-time Grammy Award winners TAKE 6 & world-renowned flutist Alexander Zonjic. Proceeds from the concert will go to benefit Grace Centers of Hope in Pontiac, MI.
Click to view exclusive photos and to read full coverage >>
Published 11/7/2013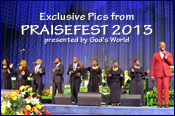 Saturday, October 26, 2013, God's World & Praise 102.7 presented Praise Fest 2013, The Gospel Event of the Year! Gospel super stars J. Moss, Richard Smallwood & Vision, Donald Lawrence & Company, Vanessa Bell Armstrong, Jonathan Nelson & Purpose, Hezekiah Walker & The Love Fellowship Choir, and The Williams Brothers graced the stage at Greater Grace Temple in Detroit and praised the Lord with a full house late into the night.
Published 10/10/2013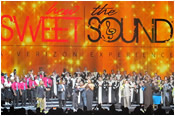 Verizon Wireless's "How Sweet The Sound 2013" hit the historic Fox Theatre in Detroit on Sunday, October 6, 2013, and Carlos Whitlow & Generation Praise were this year's Regional Winners, taking home the $10,000 prize.
Click to view exclusive photos and to read full coverage >>
Published 05/5/2013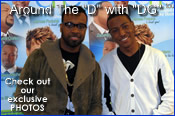 Exclusive photos from gospel events in and around Detroit courtesy of DetroitGospel.com.
CLICK TO VIEW SLIDESHOW
!
Published 06/25/2011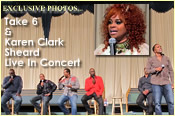 On Saturday, June 25, 2011, Michigan S.W. 1st Jurisdiction C.O.G.I.C. Department of Fine & Performing Arts and MetroPCS presented Take 6 Live in Concert with special guests: Karen Clark-Sheard and Calvin Golden and Shekinah Glory.
CLICK for Exclusive PHOTOS
.
By Renee'
Published 04/21/2011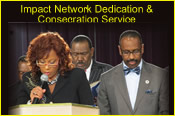 Bishop Wayne T. & Dr. Beverly Y. Jackson, founders of the The Impact Network, invited the city of Detroit to be present at The Impact Network Dedication & Consecration Service on Sunday, April 10, 2011 @ 7:00 pm. Honored guests and participants included Bishop L.V. Hillard, Bishop Andrew Merritt, Bishop Ben Gibert, Bishop Stanley Williams, Bishop Wiley Jackson, Bishop J. Drew Sheard, and Bishop David Copeland. Musical Guests were CeCe Winans and Preashea Hilliard.
CLICK FOR EXCLUSIVE PHOTOS
.
Published 03/12/2011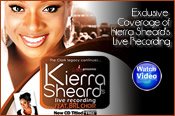 In 1966, Motown song writers Nick Ashford and Valerie Simpson wrote the lyrics, "Ain't no mountain high enough, ain't no valley low enough, ain't no river wide enough to keep me from gettin' to you." This was the motto for Detroiters, February 28, 2011, as they climbed a bus, drove their SUV's or took a plane to be in Chi-Town, to support our own, Keirra Sheard and J Drew Sheard II (JDS), on their first live recording.
EXCLUSIVE VIDEO FOOTAGE & PHOTOS
.
Published 02/7/2011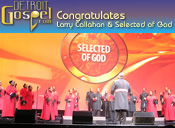 DetroitGospel.com congratulates Larry A. Callahan Featuring S.O.G. (Selected of God) for their appearance in the Chrysler 200 Super Bowl commercial with fellow Detroiter Eminem. Larry Callahan and Selected of God were Detroit Regional "Best Small Choir" winners of the 2008 and 2009 Verizon Wireless "How Sweet The Sound" Choir competition and the choir represented Detroit in the 2009 Finals. Click "Full Story" to view the commercial and find out more about Larry Callahan and S.O.G, including AUDIO snippets from their new CD "The Evolution."