Published 04/14/2008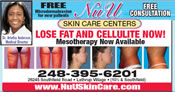 NuU Skin Care is proud to offer for the first time in Michigan the latest program for safe and effective NON SURGICAL fat & cellulite removal AND SKIN TIGHTENING. Mesotherapy has been around for a while in Michigan with a few practioners using it to safely to remove fat and cellulite.
Published 01/9/2008



Nu U Skin Care in Lathrup Village is offering free microdermabrasion for new patients. Click below to view commercial.
Published 01/11/2006



Health = Information + Motivation is the place for accurate up to date health-related information and discussions on realistic strategies for identifying and achieving health goals.