Published 03/30/2012



Watch this quick video interview with gospel artist Vickie Yohe during her recent visit to Straight Gate in Detroit.
Published 03/23/2010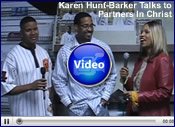 Watch the exclusive video of DetroitGospel.com's Karen Hunt-Barker as she talks with Daryl Beebe and Harry Patton of gospel jazz duo Partners In Christ. Partners In Christ's sophomore release, "Called," is in stores now. The interview was filmed by Shine Productions at God's World in Detroit at the "Called" CD Signing on Mar. 6, 2010.
By Renee'
Published 03/23/2010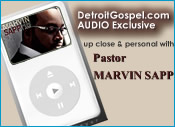 Listen to Renee's exclusive interview with Pastor Marvin Sapp as he talks about his newest release, "Here I Am."
Published 11/16/2009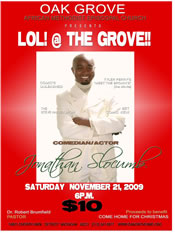 Oak Grove African Methodist Episcopal Church presents... LOL! @ THE GROVE!! Saturday, November 21, 2009 @ 6PM Comedian / Actor JONATHAN SLOCUMB Tickets ONLY $10 Proceeds to benefit COME HOME FOR CHRISTMAS Outreach Ministry Serving over 500 families Sponsored by the: C.H.F.C. Committee Dr. Robert Brumfield, PASTOR Oak Grove AME Church 19801 Cherrylawn Detroit, MI 48221 313-341-8877 www.oakgroveame.org
Published 08/21/2009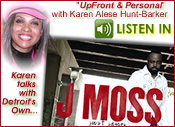 Detroit's own J Moss is one of today's most successful gospel artists. His latest project, "Just James" hits stores on August 25, and it's everything that J Moss & PAJAM have come to be known for; soaring vocals, impecable production, and a very personal message. DetroitGospel.com's, Karen Hunt Barker sat down to talk with J candidly about the new project and some of the most difficult days of his life.
Published 03/19/2009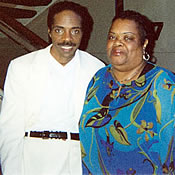 DetroitGospel.com reporter Brenda Underwood talks with
2009 Stellar Award Nominee, and host of TV One's
The Gospel of Music
and Radio One's Sunday Morning Joy, Jeff Majors.
Jeff shares why his "Tour For the Homeless" is so close to his heart and to God's.
Published 03/15/2009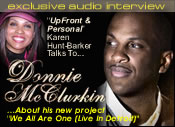 DetroitGospel.com Special Reporter Karen Hunt Barker gets upclose and personal with Pastor Donnie McClurkin. Donnie shares his thoughts on his new project on Verity Records, "We All Are One (Live In Detroit)," set to drop on Tues., March 31, 2009. Donnie also shares something else very special (much to Karen's delight); a snippet from a song sung live.
Click Here
to hear Karen's exclusive interview with Donnie McClurkin.
Published 03/10/2009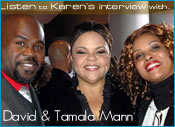 Photo taken at "Madea Goes To Jail Movie Premiere
David and Tamala Mann are riding a wave of success with their syndicated comedy show, "Tyler Perry's Meet the Browns," and their starring roles in the box-office success "Madea Goes To Jail." Those who have followed The Manns' careers since their time with Kirk Franklin and the Family know that this multi-talented couple have a strong foundation in the Lord.
CLICK HERE
TO Listen to Karen Hunt Barker's interview with this "power couple" to find out how they keep their marriage and family strong and much more.
Published 02/23/2009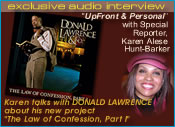 DetroitGospel.com's Karen Hunt-Barker, sits down with Donald Lawrence to discuss the inspiration behind his latest project,
The Law of Confession, Part I
. Listen in as Donald shares his insight on the songs and their meanings, and offers words of advice and encouragement to up and coming artists.
You can also listen to and download songs from the entire project.

Click to read transcript, LISTEN TO INTERVIEW, or download songs
.
Published 02/21/2009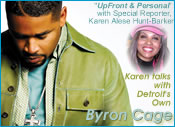 Byron Cage, the "Prince of Praise," is bringing his live recording for his next project,
In The Midst
, home to Detroit. Byron spent his formative years in Detroit, graduating from Henry Ford High School, singing background for Minister Thomas Whitfield, and being a music minister at Greater Grace Temple. Although Byron now has an ATL address, he still considers the 313 home. Karen Hunt-Barker sat down with Byron to discuss his music ministry and his new project. Byron's advice to up and coming artists is particularly insightful, and the entire interview reveals his deeply spiritual commitment to his ministry and God's anointing on his life.
Click Here to listen to or read Karen's full in-depth interview
.