Published 02/10/2016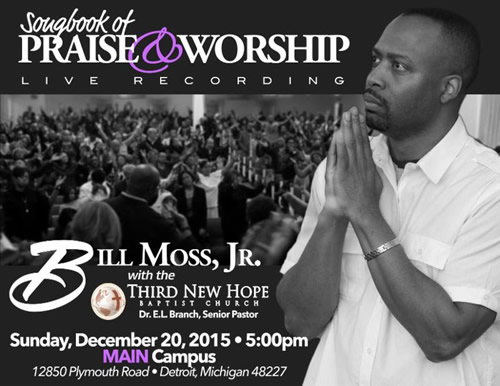 LISTEN to Carl B. Phillips' Exclusive Interview with Bill Moss, Jr.
, where Bill reflects on his family's gospel music legacy, shares advice for aspiring artists (including a key piece of advice from his cousin Twinkie Clark), and talks about his newest project,
Songbook of Praise & Worship
.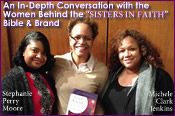 DetroitGospel.com Managing Editor, Mary Crosby, sat down to talk with the women behind the
Sisters In Faith Bible
and brand, Stephanie Perry Moore and Michele Clark Jenkins. This dynamic duo shared their hard-earned insights, goals, dreams, and faith-walk during an in-depth conversation while on a recent visit to Detroit. Individually, among many other endeavors, Stephanie is the author of over 70 Christian fiction books and the wife of a former Detroit Lion; and Michele is a former HBO and Black Family Channel executive. Together they have launched the
Sisters In Faith
brand, which includes the first Bible published specifically for African American women in over five years. If you've ever wanted to be pick the brains of successful authors, entrepreneurs, and business women, this is your chance to hear Godly words of wisdom, advice, and encouragement. We were truly blessed by what they had to say, and we are sure that you will be too.
Click to find out more and listen to the interview in its entirety
.
Published 03/30/2012



Watch this quick video interview with gospel artist Vickie Yohe during her recent visit to Straight Gate in Detroit.
Published 03/23/2010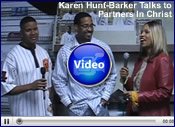 Watch the exclusive video of DetroitGospel.com's Karen Hunt-Barker as she talks with Daryl Beebe and Harry Patton of gospel jazz duo Partners In Christ. Partners In Christ's sophomore release, "Called," is in stores now. The interview was filmed by Shine Productions at God's World in Detroit at the "Called" CD Signing on Mar. 6, 2010.
By Renee'
Published 03/23/2010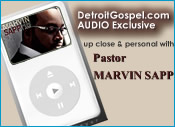 Listen to Renee's exclusive interview with Pastor Marvin Sapp as he talks about his newest release, "Here I Am."
Published 11/16/2009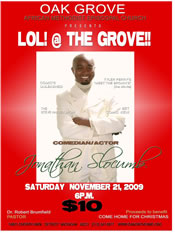 Oak Grove African Methodist Episcopal Church presents... LOL! @ THE GROVE!! Saturday, November 21, 2009 @ 6PM Comedian / Actor JONATHAN SLOCUMB Tickets ONLY $10 Proceeds to benefit COME HOME FOR CHRISTMAS Outreach Ministry Serving over 500 families Sponsored by the: C.H.F.C. Committee Dr. Robert Brumfield, PASTOR Oak Grove AME Church 19801 Cherrylawn Detroit, MI 48221 313-341-8877 www.oakgroveame.org
Published 08/21/2009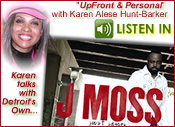 Detroit's own J Moss is one of today's most successful gospel artists. His latest project, "Just James" hits stores on August 25, and it's everything that J Moss & PAJAM have come to be known for; soaring vocals, impecable production, and a very personal message. DetroitGospel.com's, Karen Hunt Barker sat down to talk with J candidly about the new project and some of the most difficult days of his life.
Published 03/19/2009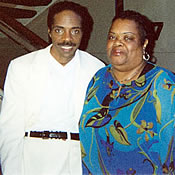 DetroitGospel.com reporter Brenda Underwood talks with
2009 Stellar Award Nominee, and host of TV One's
The Gospel of Music
and Radio One's Sunday Morning Joy, Jeff Majors.
Jeff shares why his "Tour For the Homeless" is so close to his heart and to God's.
Published 03/15/2009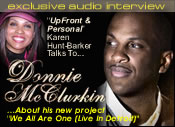 DetroitGospel.com Special Reporter Karen Hunt Barker gets upclose and personal with Pastor Donnie McClurkin. Donnie shares his thoughts on his new project on Verity Records, "We All Are One (Live In Detroit)," set to drop on Tues., March 31, 2009. Donnie also shares something else very special (much to Karen's delight); a snippet from a song sung live.
Click Here
to hear Karen's exclusive interview with Donnie McClurkin.
Published 03/10/2009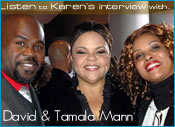 Photo taken at "Madea Goes To Jail Movie Premiere
David and Tamala Mann are riding a wave of success with their syndicated comedy show, "Tyler Perry's Meet the Browns," and their starring roles in the box-office success "Madea Goes To Jail." Those who have followed The Manns' careers since their time with Kirk Franklin and the Family know that this multi-talented couple have a strong foundation in the Lord.
CLICK HERE
TO Listen to Karen Hunt Barker's interview with this "power couple" to find out how they keep their marriage and family strong and much more.