News and Press Releases
Published 10/26/2013



There's been a lot of controversy surrounding Oxygen Network's new reality show, "Preachers of L.A." Well, we decided to flip the script and we asked folks to send us some of the positive things that the "Preachers of Detroit" are doing right here in the city. Special thanks to everyone who sent in info, including Dr. Bobby Jones, whose pastor is in Tennessee doing great things.
CLICK HERE
to read the full submissions for the five pastors selected for this month's "Preachers of Detroit."
Published 10/26/2013



Detroit's own super producers, PAJAM, comprised of Paul "PDA" Allen, J Moss and Walter Kearney, have anounced their new PMG GOSPEL Label and Media Group. MOTOWN GOSPEL was launched in April of this year and already has a gospel all-star roster.
CLICK HERE
to find out more about these two new gospel labels with ties to Detroit.
Published 04/3/2013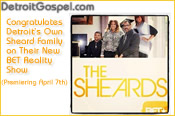 Detroit's own Sheard family; Bishop J. Drew, Karen Clark, Kierra, and J Drew II, have a new docu-series in the works for BET. In a recent interview, Kierra was quick to let everyone know that this is more a docu-series that a reality show, so it's "not going to be trashy!" Instead, she says, it's an opportunity for the world to see a faith-based family with married parents and siblings that get along well. The series premieres April 7th, 2013, on BET.
Published 12/7/2012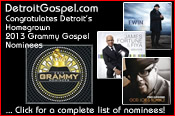 The Academy of Recording Arts recently released the nominees for the 2013 GRAMMY Awards. Grand Rapids-based, Pastor Marvin Sapp and former Detroiter, Fred Hammond, are among this year's nominees in The 55th Annual Grammy Awards Gospel category.
Click Here
for a complete list of Gospel nominees. The live awards ceremony airs on CBS Sunday, February 10, 2013.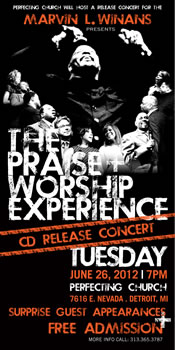 On the day of the CD's release, Tuesday, June 26, 2012, Perfecting Church in Detroit hosted a CD Release Concert for the "Marvin L. Winans Presents: The Praise & Worship Experience," and the church house was packed! DetroitGospel.com was on hand and was truly blessed by the legendary Pastor Marvin L. Winans, the 100-voice strong Praise and Worship Experience Choir, and special guest singers in attendance.
CLICK HERE
to find out who was on hand for the standing-room-only performance, and listen to snippets from the new project.
New Birth COGIC adds 2nd service
Rev. Levell Baldridge, a longtime friend of DetroitGospel.com, invites you to join him for services at New Birth COGIC each Sunday. Beginning March 4th, 2012, they will be moving to (2) services at 12pm (noon) and 3:30 p.m., at 24036 Greater Mack Avenue, St. Clair Shores, MI 48080. For more information call 313-527-4284 or 313-544-0889, or visit http://newbirthchurchcogic.org/
Published 03/31/2012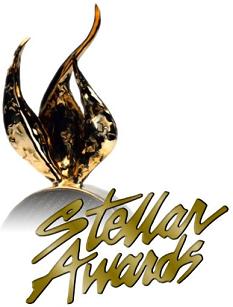 DetroitGospel.com's Renee' was down in Nashville Jan. 14, 2012, for the live taping of the 27th Annual Stellar Awards. The awards were hosted by Grand Rapids-based Marvin Sapp and Detroit-based Dorinda Clark Cole. Other Detroit connections included performances by Fred Hammond and Jessica Reedy; award presentations by Byron Cage, Karen Clark Sheard and Kierra "Kiki" Sheard; and award nominations for Twinkie Clark and Deitrick Haddon. Damita Hadden, performed at The Stellar Awards pre-show on the 13th.
Congratulations go out to Deitrick Haddon for "Music Video of the Year - Long Format" for
Church on the Moon: Part One
(Verity Gospel Music Group).
This year's Stellar Awards will be broadcast on WADL-TV in Detroit on February 5, 2012, at 8PM. For a complete list of winners, click link for
"Full Story."
Published 02/1/2012



Micah Stampley's new album ONE VO1CE available OCT 18! Featuring Hosanna & Shout. Available on
iTunes
&
Amazon.com
.
Click to Watch Video
of Micah Stampley performing One Voice at Crystal Cathedral.
Published 02/1/2012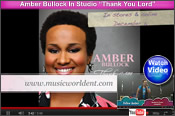 Amber Bullock's new album THANK YOU LORD available DEC 6!
Click to Watch Video
of Amber Bullock in studio performing "Thank You Lord."
Published 02/1/2012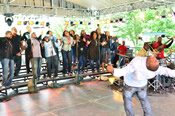 DETROIT, MI, September 14, 2011 - The Academy of Television Arts & Sciences awarded the 2010-2011 Creative Arts Primetime Emmy Awards for programs and individual achievements at the 63rd Emmy Awards presentation. An Emmy was awarded to the Chrysler brand's 2011 Super Bowl commercial "Born of Fire." The two minute commercial features multi-platinum recording artist Eminem and Selected of God's awe-inspiring rendition the rapper's "Lose Yourself", over poignant images of the city of Detroit and Chrysler's 200. (
http://www.chrysler.com/en/commercials/
)