Published 10/10/2013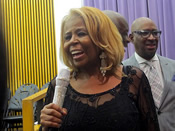 If you missed gospel legend Vanessa Bell Armstrong's 60th Birthday Celebration you missed a real treat. Well wishers gathered at Perfecting Church in Detroit on Friday, September 27, 2013 @ 7PM, for a blessed celebration of Ms. Armstrong's birthday and some great gospel music. Gospel greats joining in the celebration included Bishop Rance Allen, Karen Clark-Sheard, Lisa Page-Brooks, Dr. Michael Fletcher & the Michael Fletcher Chorale, Ernest Pugh, Sunday Best's Tasha Page-Lockhart, Melody Armstrong, Pastor Hurley J. Coleman, and many others.
Click to view exclusive photos >>
Published 12/10/2012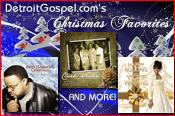 Over the years, many Detroit gospel artists have released some wonderful Christmas albums, so DetroitGospel.com would like to highlight a few that you may want to pick up.
CLICK HERE
to WATCH The Clark Sisters sing an AMAZING rendition of "O Come Emmanuel," listen to Christmas snippets, & download Christmas mp3's from Fred Hammond, Vickie Winans, The Clark Sisters, BeBe & CeCe Winans, Aretha Franklin, and More!
Published 12/16/2009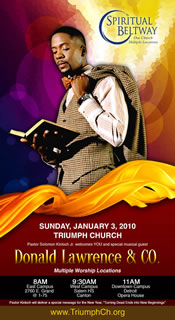 S P I R I T U A L B E L T W A Y One Church Multiple Locations SUNDAY, JANUARY 3, 2010 Pastor Solomon Kinloch Jr. welcomes YOU and special musical guest DONALD LAWRENCE & CO. Pastor Kinloch will deliver a special message for the New Year. "Turning Dead Ends into New Beginnings" T R I U M P H C H U R C H 8AM East Campus 2760 E. Grand Blvd. @I-75 9:30AM West Campus Salem HS, Canton 11AM Downtown Campus Detroit Opera House www.TriumphCh.org JOIN US EVERY SUNDAY at a Location Near You
Published 09/23/2009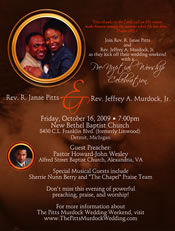 Join Rev. R. Janae Pitts and Rev. Jeffrey A. Murdock, Jr. as they kick off their wedding weekend with a Pre-Nuptial Worship Celebration Rev. R. Janae Pitts & Rev. Jeffrey A. Murdock, Jr. Friday, October 16, 2009, 7:00PM New Bethel Baptist Church 8430 C.L. Franklin Blvd. (formerly Linwood) Detroit, MI Guest Preacher: Pastor Howard-John Wesley Alfred Street Baptist Church, Alexandria, VA Special Musical Guests include Sherrie Nunn Berry and "The Chapel" Praise Team Don't miss this evening of powerful preaching, praise, and worship! For more information about The Pitts Murdock Wedding Weekend, visit www.ThePittsMurdockWedding.com