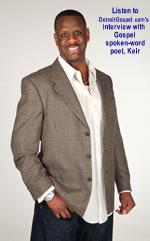 Gospel spoken-word poet, Keir, sat down with DetroitGospel.com to talk about how he got started in poetry, his influences, and more. Listen to hear his exclusive interview.
Inspire is an inspirational poet who was born in Detroit, Michigan. She was the Director of Poetry for Gospel Music Magazine under Maurice and Candace Hunter. Inspire is a member of Praise Temple Church of God under the leadership of Bishop Anthony Johnson and First Lady Wanda Faye Johnson. She is the Vice President of Sisters, Sisters, and Sisters in Christ Women's Ministry. She has been involved with many outreach programs such as Lahser Hills Nursing Home Ministry and the YWCA Interim House Women's Shelter for battered and abused women and children. She is also a member of Poetic Justice for God's Prison Ministry under the leadership of Sis. Estelle Humphrey.
Spoken word and poetry in the gospel arena is really growing across metro Detroit and the nation. No matter what genre of gospel music or entertainment that you like, you'll always find that Detroit has got great artists that can bring it at the highest level.