Published 01/6/2009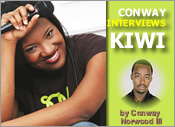 Gospel rapper Kiwi fuses hip-hop with her own brand of spoken-word poetry, inspiring listeners to look to the "hills" and trust in God. She'll soon be releasing her CD, Hand Written, and she spent some time with DetroitGospel.com's Conway to talk about her ministry and testimony.
Published 10/30/2008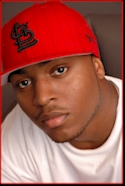 In anticipation of his recent visit to the city of Detroit, gospel rapper Flame spent a few minutes with DetroitGospel.com's Conway Norwood to talk about his latest project, his testimony, and the future of gospel rap.
Published 09/24/2008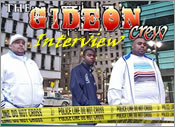 The story of the Old Testament judge Gideon is the inspiration for gospel rappers IOG (Instrument of God), SOD (Spirit of David), and ED (Elder Charleston Day), collectively and fittingly known as the Gideon Crew. DetroitGospel.com's Conway Norwood talked with the Detroit Music Award winning group about their music, ministry, and the impact they're making in the industry.
Published 08/26/2008




Learn more about 103.5 Z2, Detroit's source for Holy Hip-Hop, brought to you in High Definition!
Published 08/13/2008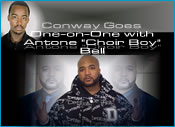 Gospel rapper Antone "Choir Boy" Bell sits down and talks with Conway about his testimony, his upcoming EP, and his future in music and business.
Published 06/19/2008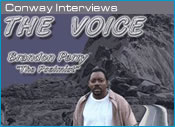 Hip-hop has given a voice to so many individuals, and in turn, those individuals use that gift to express a wide variety of messages. With a great crop of lyricists using their platform to spread themes of the pursuit of pride, superficiality and temporal things, there is yet the voice of one crying in the proverbial wilderness of rap, clearing the path for the move of the Spirit of the Lord; he is the Psalmist, Detroit's own Brandon Perry.
Published 05/14/2008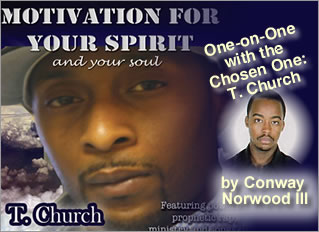 As recorded in the Gospel of Matthew, Jesus addressed a group of priests and Pharisees through a parable and uttered one of the most powerful phrases ever to resound in the gospels: "Many are called, but few are chosen" (Matthew 22:14, KJV). It's an element in truth that takes salvation into a challenging perspective, but Detroit-based gospel rapper T. Church has no doubt that he is just that: chosen.
Published 10/31/2007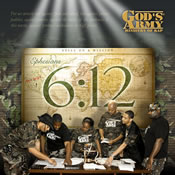 Where it regards the prevalence of worldly influences and ideologies, there is no more capable opponent than the army of the Lord. Detroit-based rap group God's Army are the personification of the strength and victory that God has given his people in the war against the devil. From what began as the union of two separate gospel rap groups a decade ago emerges a unique and nonetheless anointed music ministry. In 2003, God's Army released their debut project, Mission Not Impossible to an incredible reception. This year, they're back for a second round with the promising and powerful 6:12.
Published 07/12/2007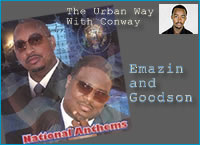 Detroit Gospel presents to some and introduces to others Erik Harvey and Paul Collins, better known as Emazin & Goodson. Their brand is hip-hop without the games and without the compromise. Last month, Emazin & Goodson released National Anthems, the follow-up to their 2005 release Serious. The title alone promises that this is a project that reaches far and wide, and they have every intention of taking advantage of that versatility to inspire and minister.
Published 11/14/2006



"Anyone who does not take his cross and follow me is not worthy of me."
-Matthew 10:38
"If God is so real, then why isn't He in hip-hop?" Years ago, that was a question that stumped Eddie "Substance" Cortes. Now, it's no longer the puzzle it once was. Substance and his partner Jeremiah "Prophesyer" Smaha form the gospel rap duo known as the Carriers of the Cross, and with production by Remy "Remyx" Basuri, they're exhibiting God's power through rap and proving that there is a certain hunger for God's truth that holy hip-hop is perfect for satisfying.