Byron Cage Live Recording
Byron Cage Live Recording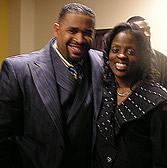 Byron Cage and DG.com's Renee'

Byron Cage brought his high energy live recording home to Detroit to a packed house at Second Ebenezer church on Friday, March 13, 2009. The almost 3,000 in attendance were treated to a tremendous night of praise and worship, and special guest appearances by Tye Tribbett and Detroit's own Marvin Winans and Karen Clark Sheard. Although born in Grand Rapids, Byron spent his formative years in Detroit, graduating from Henry Ford High School. While in Detroit, Byron sang background for the late great Minister Thomas Whitfield and was one of the music directors at Greater Grace Temple.
At his core, Byron Cage is a praise and worship leader, who just happens to have an incredible voice and write incredible songs. And, the evening was a praise and worship experience that just happened to be recorded for others to share in.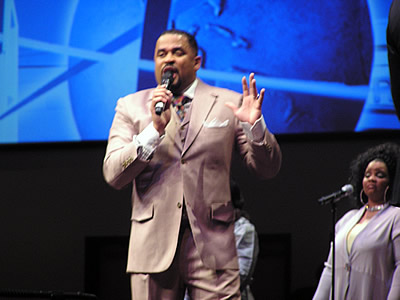 Byron Cage

Byron's choir and band included some of Detroit's best gospel singers and musicians. The producer for the recording was Aaron Lindsey who was the 2009 Stellar Award winner for "Producer of the Year." Lindsey is also a Grammy Award winning producer who has worked with such notable gospel artists as Israel Houghton. The songs on the upcoming project, "In the Midst," had the crowd on their feet most of the night, and were ones that church choirs and gospel fans will be singing for years to come.
In addition to high energy praise songs, there were stirring ballads, and even one song that Byron classified as "Rock." Perhaps the highest energy song of the night Byron said he wrote especially for Tye Tribbett, who leaped out onto the stage part way into the song, to the thrill of the audience.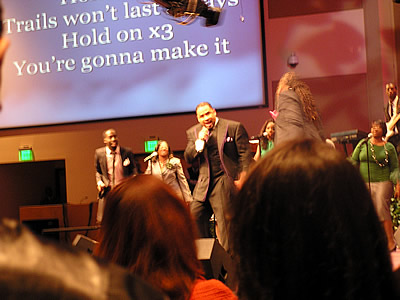 Byron Cage and Tye Tribbett On Stage

Marvin Winans and Karen Clark Sheard brought the house down as they sang with Byron on a song he wrote as a tribute to Ron Winans. As several people left the sanctuary after the song ended, Byron laughed and said, "I'd leave after that one too!" However, most of the crowd was there until the end with many of Detroit's gospel industry fellowshipping and networking long after the final track had been recorded.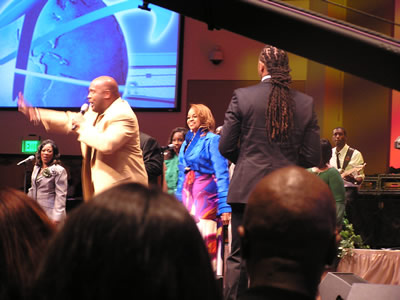 Byron Cage on stage with Marvin Winans and Karen Clark Sheard

Detroit's gospel community turned out in full force. Spotted at the event were many of Detroit's gospel artists, musicians, and producers including Darius Twyman, Michael Curry, Lexi, Michael Fletcher, Michael Mindingall, Pastor Oscar Hayes, Pastor Tolan Morgan, Chip Dixon of 4 Runners Music Group, and members of the Whitfield Music Company. Radio personalities included FM98 WJLB's Deborah Smith Pollard and her husband, and former WMUZ "Gospel Connection" host Darryl Ford and his wife. Second Ebenezer's pastor, Bishop Edgar Vann and his wife Elder Sheila Vann were also in the mix.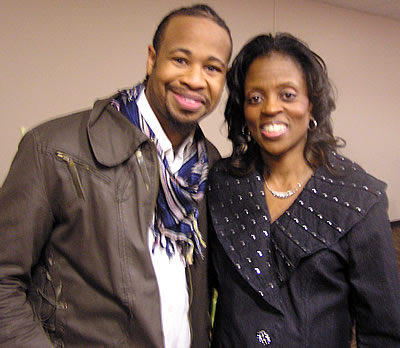 Dwayne Woods and DetroitGospel.com's Renee'
Chicago-based Dwayne Woods directed the choir, just as he did at Byron's live recording in Atlanta. Mark Hubbard was also in from the Windy City and Elder Louis Cage, Byron's mother, came in from Atlanta. Byron's co-pastor, JoAnne Browning of the Ebenezer A.M.E. Church in Fort Washington, MD sat next to Byron's mother, niece and nephew. Other out of towners made the trip from Ohio, Illinois, Indiana, and Grand Rapids to support and be part of the live recording. Jackie Patillo, VP of A&R and Artist Development from Verity Music Group, was on hand making sure that all went smoothly. Crystal Rose recording artist Earnest Pugh kept the spirit high during intermission.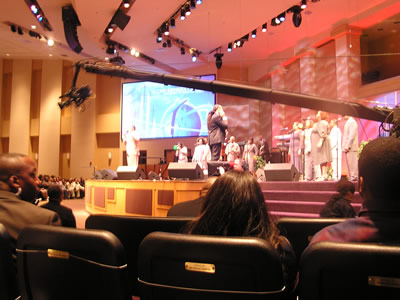 View of stage
"In the Midst" is scheduled to drop Tuesday, September 29, 2009. DetroitGospel.com will keep you updated on its release, and we're sure this is one you'll want to add to your gospel CD collection.
CLICK HERE for DetroitGospel.com's Exclusive Interview with Byron Cage