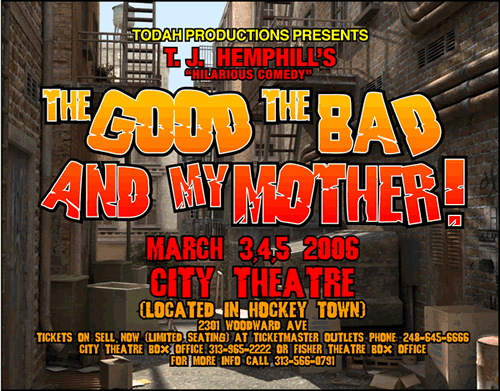 T. J. Hemphill's
"THE GOOD, THE BAD, AND MY MOTHER"
THREE DAYS ONLY
at the newly renovated CITY THEATRE at 2301 Woodward, Detroit
(the old "Second City Theatre" located in Hockey Town - adjacent to the Fox)
OPENING DAY, Friday, March 3, 2006, 8PM
Saturday, March 4, 2006, 8PM
Sunday, March 5, 2006, 3PM
The play is a hilarious comedy about three sisters, their mother, and a wacky aunt. They've had their share of men problems, so they decide to go on a forty-day fast from men. Everything seems to be going ok until the cable man shows up. He's cool, calm, and collected, and tells each sister what they want to hear. The rest you'll want to see.
>>CLICK HERE TO BUY TICKETS ONLINE NOW
Limited Seating - Get Your Tickets Today at all TicketMaster Outlets (Phone: 248-645-6666), City Theatre Box Office (313-965-2222) or Fisher Theatre Box Office (Inquire About Group Sales). For More Info: call 313-566-0791
BE SURE TO FORWARD THIS EMAIL ON TO A FRIEND
---